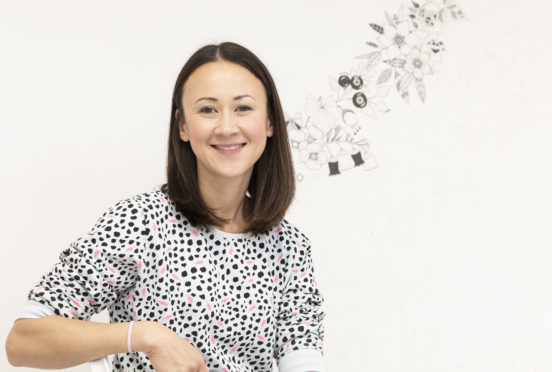 From a blank canvas, Johanna Basford appears to have sketched the perfect life.
Professionally, the talented artist has been a pioneer of the worldwide craze for adult colouring-in, selling more than 21 million copies of her books.
Personally, her husband is James Watt, the multimillionaire businessman and co-founder of the Brewdog craft beer empire, and the couple live with their two children in the same Aberdeenshire village where she grew up.
While the pair might resemble a bona fide Scots power couple, Johanna is unconvinced.
"I don't know what a power couple is," said Johanna, speaking from her studio in her home in Auchnagatt, near Ellon.
"I know nobody treats us any differently really. They're more likely to say to me, 'Your dad owes me a sack of tatties.
"You know what the north-east is like – everyone knows your mum and dad."
Johanna, 36, has a new book out next month, How To Draw Inky Wonderlands.
As the title suggests, it's a slight departure from the woman whose first book became a global bestseller.
Released in 2013, Secret Garden had an initial print run of 16,000, but sold more than a million copies within months of its release.
Six years on, Johanna's colouring books have sold more than 21 million copies and are especially popular in Asia, but her latest work encourages readers to draw for themselves.
"It's the book everyone thought I was crazy to make," she admitted.
"When I tell people they say, 'Well, they're probably not going to buy your colouring books any more!'.
"To me, that's a job well done. My mission is to inspire other people to pick up a pencil or pen and to be creative.
"I would be delighted if people stopped buying my books. I would just go back to drawing my own pictures. It would mean my mission in life was complete!
"A lot of us are scared to draw. There's a basic formula, and then I just tweak it.
"I think a lot of artists hide their methods and tactics, whereas I like to share mine and to show people how it's done.
"I've got a method I use which is pretty similar to the way you write. The way I draw, I'm not the most talented drawer or draughtsperson by any means."
As a child, Johanna was once ridiculed in front of the entire class for her drawing abilities, an incident which she admitted fuelled her determination.
She worked part-time to afford supplies and eventually made it to art school.
It's another, more positive, incident as a child which she credits with where she is today, though.
"I used to draw on the walls when I was younger, but the weirdest thing is, I don't remember getting told off for it," she recalled.
"There was one incident where I drew on the wall with black paint.
"My dad had been sealing the underside of his aging Subaru Estate car and left a tin of paint in the hallway.
"There's a tin of paint, a white wall, I'm four years old…so I created a masterpiece.
"And I honestly don't remember anyone being angry at me, which is unusual, given the circumstances – I guess my dad probably got it in the ear severely when I wasn't around. He shouldn't have left that there but I'm glad he did!
"Part of me thinks, well, that must have been right, and it nurtured my creative spirit.
"But it's a dilemma now I'm a mum. I have kids who like to draw on the walls, so now it's about finding that balance between nurturing their creative instincts and protecting my emulsion!"
Creativity, Johanna explained, is a way of life in the family home.
Becoming a busy parent to two daughters, aged five and two, has made mum and dad aware how difficult it is to keep them engaged and creative – and away from tablet screens.
"It's just part of my life," she said. "Drawing for us is the same as eating or going for a walk or making breakfast. We're not intentionally a creative household, it's just the way we are.
"We have iPads, but they're hidden whereas the pads of paper and the sharpened colouring pencils and nice paint brushes are all to hand – that just encourages them and piques their curiosity.
"And the kids copy me all the time. I say to my friends, if I was a hairdresser, I wonder if they would be mimicking me, or if they genuinely are creative wee souls."
Drawing, she believes, is the simplest method to relax. And her previous colouring-in books have gathered a dedicated fanbase from around the world.
"I get messages from all types of people, whether it's mums who are just maxed out with kids during the day and are turning to creativity in the evening, kids who are anxious about exams, or those in rehab.
"I had a 911 call handler from a US city message me to say they use the books in their break room.
"They get off a really stressful call and then go and do a bit of colouring, decompress and fire back into helping people.
"For me, that's incredible.
"There's a reason people doodle, whether on the phone or you're sitting having a conversation with me.
"It's a way of having a creative output, when you're perhaps a bit more constrained.
"It's very overwhelming when people tell me they find the books incredibly soothing, that they've turned to the books in times of anxiety or depression.
"You have this creativity when you're younger but you might lost it as you get older and start worrying about Brexit and mortgages.
"There's a definite underpinning of joy in all the emails and messages I get. That's wonderful."
---
Whoever sold the most books didn't have to do the bins
Some couples get competitive over Scrabble, others about Who Wants To Be A Millionaire.
For James Watt and Johanna Basford, their source of competition is how their books are doing on the Amazon charts.
"We are competitive, but only in a jokey way!" said Johanna.
"Obviously he can't draw and I can't run a massive business, but recently we both released books in the same week. Mine was a drawing book, his was about business.
"The deal was, the lowest person on the Amazon chart had to put the bins out.
"There was no way he was going to win that bet. That was my glorious moment!"
The pair met when they both had big dreams. Johanna was a struggling artist while James was a fisherman.
"It's always been a bit unusual with us, we've never had a 9-5," she explained.
"We both had big dreams and ambitions. Unlike me, he is completely unwavering in his self-belief.
"If you asked him he would tell you it was always going to be this way, he was always going to have this huge company.
"With me, it was always about the passion involved in the work and any success that came was lovely, but I just love to draw. I would say the big game-changer has been the kids coming along.
"I don't know any couple that can survive two babies and not be changed by it."
Like a lot of couples who work, it can be a struggle to find the time to fit everything in.
"We send a lot of emails as we're like passing ships in the night," she added.
"I think being in the same area that we grew up in, and, our kids having some of the same teachers that we had, gives us continuity.
"We're both really lucky to have jobs we love, and we're living in a place where we're so grateful to have our families here."
James's company's success – it's valued at £1 billion – has been credited to its dizzying array of beers, IPAs, porters and saisons.
Johanna wasn't a beer drinker when she met James, though.
"I wasn't a fan of craft beer before I met James," she explained.
"But you quickly start getting geeky about it.
"James's passion for it rubs off on you, you can't live in the same house as the man and not feel the same way.
"And he's a dab hand at drawing – he excels at sharks and Minions.
"He actually takes a lot of time to draw with the kids as well, as they love to do it.
"And it's a whole thing the family can do that doesn't involve fighting over an iPad or staring at a screen."