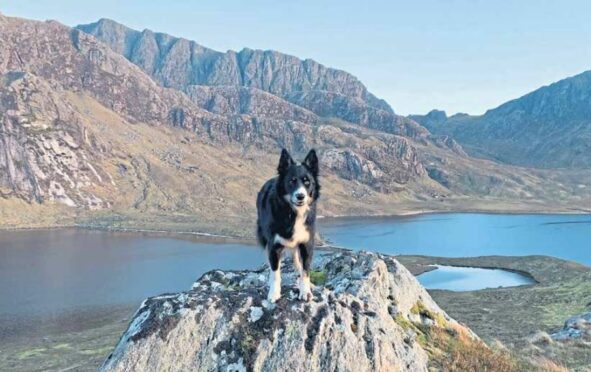 Ralph has become the first dog to complete a round of Scottish mountains called Grahams.
The six-year-old collie took five years to reach all 219 summits in the classified list of peaks that are between 610 metres and 760m (2,000ft and 2,500ft) stature, with at least 150m (490ft) of descent on all sides.
He celebrated his feat with a big bowl of sausages after reaching his final Graham – Creag Ghuanach above Loch Treig, Lochaber – in July, accompanied by owners Anne and Bill Butler.
Ralph, who was born on a farm in Dunkeld, Perthshire, before moving to live with the Butlers in Aviemore at the age of 10 weeks, has also completed a round of Scottish hills called the Donalds. He finished the list of the 140 610m-plus (2,000ft-plus) hills in the Lowlands of Scotland in 2020.
Of course, Ralph must rely on keen mountain bagger Anne to keep a record of his summits. However, for him, it's the simple joys of fresh air, freedom and exercise when in the hills and mountains that keep him motivated. That and a lunch of his favourite dog food and the last bits of Anne's picnic.
It was on his first "listed" hill, Càrn na h-Easgainn, near Moy, in the Highlands, that Anne and Bill realised the countryside was Ralph's "happy place". Anne says: "Ralph is a generally anxious and nervous dog. Despite a lot of training and socialisation techniques, he seems to hate our modern world.
"He has a long list of dislikes – including cars, trains, bikes, skis, dustbins, lawn mowers, vacuum cleaners, flashing lights and strangers. But when he is in the hills and the mountains he is very happy. On his first hills, we could see how confident and content he suddenly became.
"I guess, like many people, Ralph enjoys the freedom of the country – in particular, he loves the more remote and wild places."
Anne believes it was during Ralph's early days on the Donalds that he developed a passion for heather-covered slopes, peat hags and rough ground. She says: "I took Ralph to many Donald summits as part of my own walking trips and, because these hills have less ascent than the more northerly Scottish mountains, they provided the ideal training place for him.
"He built up his strength and stamina, and learned many hill skills. Now I think he most enjoys really rough terrain – the sort many humans find such hard work – and he associates these with early happy days. He just bounds along and makes it seem so easy to cross landscapes that are pathless."
However, Ralph isn't so keen on routes with steep slopes or drop-offs. Anne, a retired nurse who moved from Devon to Scotland in 2008, says: "We have noticed that while Ralph is very happy on wide open mountain slopes and moorlands, he doesn't seem comfortable where there is any exposure or steep drops. Again, he is not unlike many humans. When he seems scared I attach him to a lead and that appears to give him the confidence to continue."
Ralph, whose dad was a champion sheepdog and mum a farm dog, has a different nature to two other collies that Anne and Bill have previously owned. Anne says: "The breed found me when I lived in the south of England and owned a horse. I wanted a dog that would enjoy spending time outdoors on Dartmoor and that fitted in with an outdoors lifestyle.
"Meg came first and then we got Molly. Both dogs were much more laid-back than Ralph, but I guess each dog has its own character."
Molly, who passed away in 2016, was also a keen hill and mountain bagger and she accompanied Anne on 1,227 Munros – Scottish mountains with a height of at least 914 metres or 3,000ft – as well as 312 Corbetts and 131 Grahams. She was the first known dog to complete a full round of Corbetts.
Over many decades, Anne has completed five rounds of Munros, two Corbett rounds and what is known in mountain bagging circles as a "full house".
The list includes all the hills in the categories recorded by the Scottish Mountaineering Club – Munros, Munro Tops, Corbetts, Grahams and Donalds. A full house also extends to Furths, which are defined as mountains that are Munro height in England, Ireland and Wales.
Anne hopes to have finished a second full house by September next year, and she is ticking off her second round of Donalds, as well as "tidying up" second lists of Grahams, Munro Tops and Furths.
She says: "There are 34 Furths, including six in England, 15 in Wales and 13 in Ireland. The crux for me will be the Furths in Ireland. Once I have done these, I will have my second full house in sight. I plan to finish on the Graham, Meall Tairbh, near Loch Tulla, by Bridge of Orchy, in the Highlands next September."
While Anne and Ralph's focus since early 2022 has been to finish their Graham round, they have moved on to walking the Corbetts. These are Scottish peaks of between 762m and 914.4m (2,500ft and 3,000ft) stature, with at least a 150m (500ft) prominence, total 222.
Anne says: "I have a big spreadsheet and I noticed at New Year that Ralph had 38 Grahams left to finish his round. Some of these were very remote so I started using an e-bike and a dog trailer. In this way, we were able to do some very big days. It would be too much to expect Ralph to do some of the walking routes that were up to about 30 miles each. Of course, he isn't keen on the trailer, but he does accept it as a form of transport.
"Now all the Grahams have been bagged, we are doing the Corbetts. Ralph has already done more than half of these. Many are remote and wild, and they attract far fewer people than the Munros.
"I become more antisocial as time goes by and the less popular hills and mountains, including the Grahams and Corbetts, seem to best suit both Ralph and me."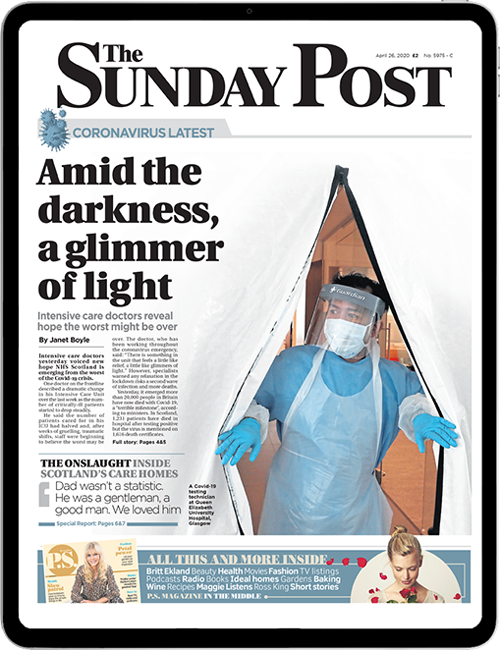 Enjoy the convenience of having The Sunday Post delivered as a digital ePaper straight to your smartphone, tablet or computer.
Subscribe for only £5.49 a month and enjoy all the benefits of the printed paper as a digital replica.
Subscribe