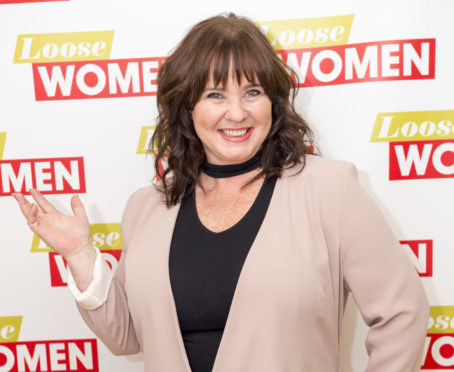 It has been a period of change for Coleen Nolan. She has watched her three children blossom into adults, divorced her second husband and, having previously turned down all offers, decided to have a go at acting.
The Loose Women favourite is taking the opportunity to do something for herself after years of putting others first.
"I feel really happy in life," smiled Coleen, who turned 55 earlier this month.
"As soon as you're divorced, as a woman, everyone tries to set you up and says, 'Don't worry, you'll soon meet someone new', but I'm loving my independence.
"My eldest boy is 31, so I've spent the past 31 years looking after people and turning things down because I didn't want it to affect them. Now, at 55, the world's my oyster – and I couldn't be happier."
One of those new opportunities is her acting debut in stage play, The Thunder Girls, which previewed to sold-out audiences in Manchester last year and will embark on a three-month UK tour in the autumn.
"I was approached for many years about acting – opportunities in the West End and touring in companies – but the timing wasn't right because my kids were young, especially my daughter.
"It was year-long contracts and I live in the north, so I wasn't for leaving my girl six days a week or uprooting them all to London, but now the kids are all independent and I only have myself to think about, so I thought, right, I'm going to do this.
"To even be asked at my age is amazing and I know these opportunities don't come around every day."
Although she loves being part of The Thunder Girls, overcoming her crippling nerves is a constant battle – one she's been facing since she made her debut with The Nolans in 1974. "I suffer terribly from stage fright, but only in the minutes before I'm due to go on," she explained.
"Once I'm on, I'm fine.
"If I let it, I could run away. I get angry with myself and ask why I'm putting myself through it. In those moments, I can't even remember my name, far less my lines. I have to force myself through.
"I've been doing Loose Women for 19 years and, before every show, I'm nervous. It's just something I have and the older I become the worse it gets."
It's not the only personal battle Coleen struggles with.
"I don't look after myself as well as I should," she admitted.
"Three of my sisters have had breast cancer and I'm very vigilant about that, being checked all the time and going to the doctor with any worries.
"But as far as healthy eating and exercise, I need to up my game.
"Then there's part of me that thinks about how Bernie very much got into that before her diagnosis. She lost loads of weight and exercised and it got her anyway, so the devil on my shoulder tells me just to enjoy myself.
"I need to find a happy balance. At the moment, I'm really happy with the way I am, but I'm also getting older so I do need to think about eating right for health reasons.
"I've been doing it for so many years to please people aesthetically and now I don't care about that. I like me and if you don't, that is your problem.
"But for health reasons, I know I need to try."
The Thunder Girls, based on the bestselling novel of the same name, follows a fictional '80s girl group whose members haven't seen or spoken to each other in 30 years, after greed, envy and ego tore the band and their friendships apart.
The group's lead singer Chrissie, played by ex-EastEnder Carol Harrison, is desperate to pull herself out of bankruptcy and organises a reunion dinner with her bandmates, but it soon becomes clear the only thing being served is revenge.
Coleen continued: "Reunion shows are so popular, but first you need to have a get-together to see if you can make it work.
"I remember when the Spice Girls were photographed going for dinner and the next thing a tour is announced without Victoria – I would love to have been at that dinner to find out why.
"I can identify with the show in the respect that The Nolans did a reunion tour in 2009 after 25 years of not working together and it's hard when you've been independent to then be thrown back into a unit, but that's the only way I can relate.
"The Thunder Girls hate each other and it was never like that with us."
Coleen describes The Thunder Girls, which also stars Corrie actress Beverley Callard, as "Dynasty meets Dinnerladies, with some funny, sad and shocking moments alongside some great songs".
She also commends writer, Melanie Blake, for standing firm when she was told to reduce the characters' ages.
"She was trying to have this show made for the past 20 years and was told to make the characters younger," Coleen said.
"In the Manchester previews last year, when we were receiving standing ovations, it touched my heart to look at Melanie.
"Good on her for sticking to her guns, because it would have been easier for her to re-write it, but she proved the critics wrong as the shows were packed out.
"With people like her around there's hope for women over 50 to be given more opportunities."
Coleen, who describes herself as a homebody, says she'll need to see how bad her homesickness is on tour before deciding whether to continue with stage acting.
But one thing she's quite certain she won't return to is another reunion tour with The Nolans.
"We were meant to tour again in 2010, the year after the first, but that's when Bernie was diagnosed.
"Since she died we've been asked to do it and I think my three sisters – Linda, Maureen and Anne – would do it, but I just don't know if I can do it without Bernie.
"We still get together and sing, but I don't know if I could go out on tour as The Nolans when Bernie is missing.
"I know she loved it the most out of all of us and she was brilliant at what she did, and I think it would make me miss her even more than I do, because it would be so in my face.
"Everything I do, I think, Bernie would love this. So at this moment, to go out on tour without her, is a no from me."
---
Strictly yes, but no moths!
She's skated on Dancing On Ice, been cooped up in the Celebrity Big Brother house and slimmed down on Celebrity Fit Club.
But the one reality show Coleen truly wants to do is Strictly.
"It's the one thing I've wanted to do since it started," she said.
"I love learning to dance and I'd love to learn to do those dances properly.
"And then there are the gorgeous outfits.
"Every year I watch it and think I would love to give it a go, but I've never been asked.
"Someone there mustn't want me to do it.
"Being a homebody, I'm never sitting here thinking I should be at work. My manager says I'm a nightmare, because I'm the only person on her books who doesn't answer the phone instantly.
"Sometimes she has to talk me into things, but with Strictly that would be a call where I would say yes straight away."
I'm A Celebrity… Get Me Out Of Here is the other reality ratings winner, but Coleen wouldn't be quite so keen to do that one.
"I watch it every year and think I couldn't do it if I was ever offered," she added.
"My manager would probably have a seizure if I said no and my kids would go crazy if I declined, but I really wouldn't be keen – if a moth gets into my house I turn into a lunatic!"
The Thunder Girls, Edinburgh ICC, Oct 13-17.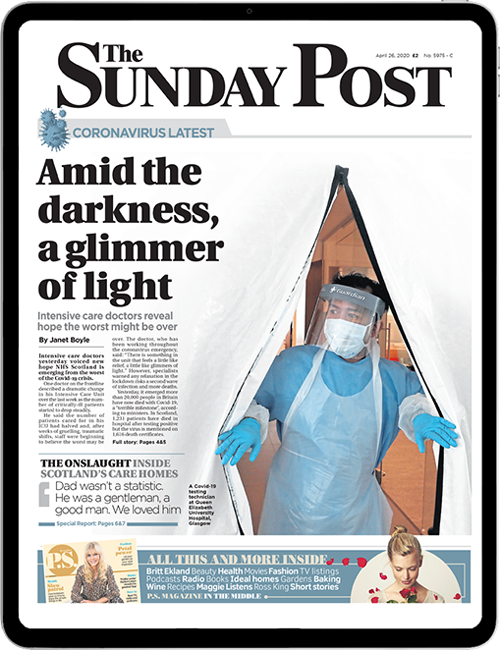 Enjoy the convenience of having The Sunday Post delivered as a digital ePaper straight to your smartphone, tablet or computer.
Subscribe for only £5.49 a month and enjoy all the benefits of the printed paper as a digital replica.
Subscribe