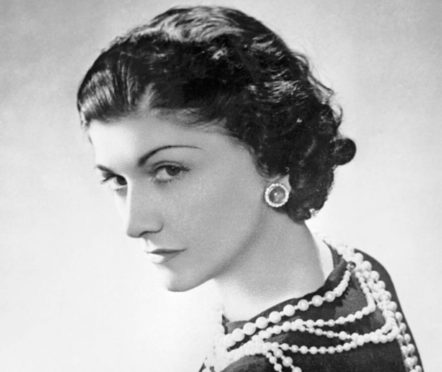 Her designs have become synonymous with chic Parisian style, her name alone is shorthand for elegance and sophistication, but few who knew the young Gabrielle "Coco" Chanel would have guessed her legacy would last through generations of dedicated followers of fashion.
Orphaned at a young age and raised in a convent, Chanel's early life was a far cry from the fashion houses of Paris, where she built an empire that, today, on the 50th anniversary of her death on January 10, 1971, still influences style around the world.
But it was her humble upbringing, says Chanel expert and author Caroline Young, that provided the young mademoiselle with the determination to forge her own path.
"What I like most about Chanel is that she came from nothing," explained Caroline, from Edinburgh, who wrote the book Living With Coco Chanel, which explores the homes and locations that influenced the designer's work. "She was effectively an orphan and abandoned at a convent, where she was raised from the age of 12. She created this fashion empire from nothing, just by using her skills, her personality and sheer determination. It's a really remarkable story."
Born in France in 1883, Chanel used sewing skills she learned at the Aubazine orphanage to find work as a seamstress, although initially wished to pursue a career on the stage. However, she soon realised fashion was her true calling, and opened her first small boutique in 1913.
Her simple, unfussy and ultimately comfortable style, which was a far cry from the traditional, constricting fashion of the time, soon attracted legions of fans, and by the 1920s Chanel had revolutionised the way women dressed – and lived.
Caroline explained: "Living in France, at that time, women couldn't own property on the their own so Chanel almost broke the rules of how women were supposed to behave. She really was one of the leaders of the movement for women gaining new freedoms in the way they not only dressed but also lived, too.
"She did have to rely on men in a way because, at the beginning of her career, she had to use the men in her life to fund the opening of a little hat shop in one of their apartments. But once she found success, she was able to branch out on her own."
Caroline added, with a laugh: "I have a feeling she probably wouldn't want to be called a feminist, but I would say she definitely had that feminist sense of self because she didn't marry and she certainly chose work over settling down."
From the Little Black Dress and tailored suits to quilted handbags, strings of pearls and iconic perfumes – No. 5 famously being the only thing Marilyn Monroe wore to bed – Chanel has become synonymous with timeless elegance.
As Karl Lagerfeld, who headed up the fashion house from 1983 to 2019, famously said: "There are things in fashion that never go out of style: jeans, a white shirt and a Chanel jacket."
Today, the fashion house still uses many of Chanel's original designs, which were heavily influenced by the icon's personal life. "Everything about Chanel's designs had a personal meaning to her, so it's really interesting to decode the symbols and context behind them," explained Caroline, whose new book, What Coco Chanel Can Teach You About Fashion, is published in August.
"For example, she was very much into astrology, and the Leo symbol was very significant to her.
"You can see the lion in a lot of her designs, as well as stars and the moon. I went to visit Aubazine, where she was raised, and even the windows in the abbey appear to have influenced her – in the panes, you can almost see her now famous 'interlocking C' logo, so a lot of people think that's where she got the idea.
"Plus, in the convent, the corridor has a mosaic with star and moon patterns. It was the same corridor she would have walked daily, so that definitely had an influence on her use of those patterns."
From humble beginnings, Chanel created a legacy that has lasted more than a century, and her eponymous fashion house is reportedly now worth billions. And, as Chanel said herself, it was all born from a dream of wanting more: "My life didn't please me, so I created my life."
---
Coco in quotes
You can be gorgeous at 30, charming at 40, and irresistible for the rest of your life.
A girl should be two things: classy and fabulous.
The best colour in the whole world is the one that looks good on you.
Fashion changes, but style endures.
Simplicity is the keynote of all true elegance.
A woman can be overdressed but never over-elegant.
A woman who doesn't wear perfume has no future.
Dress shabbily and they remember the dress; dress impeccably and they remember the woman.
I only drink Champagne on two occasions, when I am in love and when I am not.
I don't care what you think of me. I don't think of you at all.
Before you leave the house, look in the mirror and take one thing off.
Nature gives you the face you have at 20. Life shapes the face you have at 30. But at 50 you get the face you deserve.
If you're sad, add more lipstick, and attack.
You live but once; you might as well be amusing.
A woman who cuts her hair is about to change her life.
I don't do fashion. I am fashion.
---
Coco in Scotland
Although Coco Chanel is the mother of quintessential French chic, the origins of one of the designer's most iconic outfits can, perhaps surprisingly, be traced back
to Scotland.
In 1924, while building her reputation as one of Paris' most sought-after dressmakers, Chanel met Hugh Grosvenor, the second Duke of Westminster, and began a love affair that would ultimately lead to the design for the tweed Chanel suit.
During their five-year-courtship, Chanel and the Duke spent summers at his estate in Sutherland, before he later purchased Rosehall House, near Inverness, for her to decorate. It was during this time that Chanel became enamoured with
the fabrics and design of men's hunting clothes.
"Chanel loved coming to Scotland. She found it incredibly relaxing, and even threw herself into things like salmon fishing," explained author Caroline Young.
"The location of Rosehall is incredible. It's a really beautiful spot, very isolated and hard to get to, so she would have been able to switch off and just enjoy her surroundings.
"There are photos of her wearing Westminster's tweed jackets, big boots and trousers, and she took that masculine look and turned it into feminine fashion. It became the 'Chanel look' from about 1926."
The Chanel fashion house has confirmed Coco was "heavily influenced by the dressing habits of the English aristocracy and above all by the wardrobe of the Duke of Westminster", and the now iconic collarless tweed jacket, which was launched in the 1950s, was born from those early trips to Scotland.
Caroline added: "She sourced tweed from a Borders company called William Linton. They custom-made colourful tweeds for her, which she used to make her cardigan jackets, which were very popular at the time.
"She had a big influence on the tweed industry, elevating it to haute couture status.
"In Paris, ladies wore their tweed jackets with pearls. It's really nice to see that Scottish heritage is still appreciated."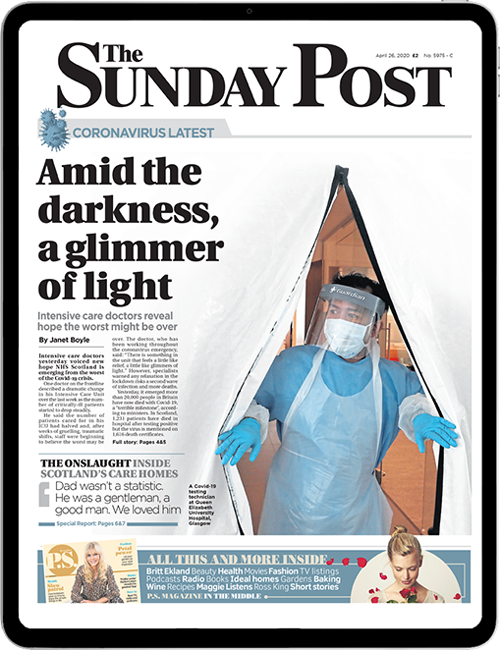 Enjoy the convenience of having The Sunday Post delivered as a digital ePaper straight to your smartphone, tablet or computer.
Subscribe for only £5.49 a month and enjoy all the benefits of the printed paper as a digital replica.
Subscribe