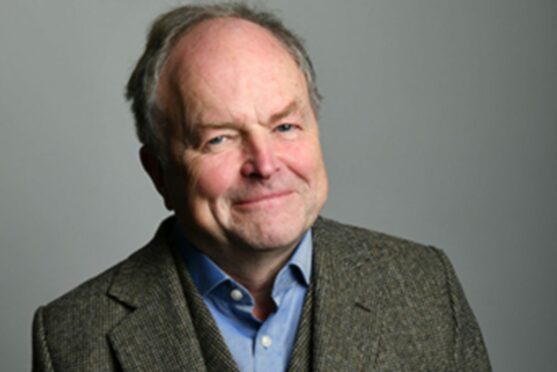 Standing among the vaulted arches and lengthening shadows of New York's spectacular Grand Central Station left broadcaster Clive Anderson struck with wonder.
He may have just been passing through, like the 750,000 visitors the lavish terminal hosts every day, but that heart-stirring moment in midtown Manhattan set him in a different direction to the throng of commuters.
From a career as a barrister, to comedy writer, to TV and radio presenter, Anderson's stop in New York resulted in him taking a new avenue, one as a podcast host.
The result was My Seven Wonders, where Anderson's guests reveal their own marvels: From soaring architectural rarities, to beloved cars or even sentimental scraps of paper on their mum's fridge.
The former Whose Line Is It Anyway host recalls the trip a few years ago.
He said: "I was sitting there chatting away and I said, 'you know this place is a wonder of the world', and so then I started to think.
"Originally it was a television programme where I would talk about my Wonders, then guests would choose theirs. I originally thought of things like the Great Rift Valley in Africa, or the Brazilian Rainforest.
"But while I've been doing the show, those types of things aren't really the most interesting ones. It's their personal Wonders: you know, the last teddy bear, or the trip you went on to nowhere in particular but it stuck in your mind because your granny was there. Those are the wonders that really work."
Among the guests so far on My Seven Wonders have been Dame Esther Rantzen, Sir Trevor McDonald and Stephen Fry.
He brings the show to both the Edinburgh Fringe and Fringe By The Sea in North Berwick in August.
Anderson said: "The comedian Shaparak Khorsandi and her family came to this country from Iran and one of her wonders was a drawing she'd made of an English Tudor house.
"It was an idealised house, this was the sort of Britishness and Englishness she and her family were aspiring to. It's still on the fridge at her parents' home.
"Her talking about why she did this drawing for her parents and that they've still got it tells us a lot about her early life and her family's life."
When it comes to his own family, Anderson speaks proudly of his Scottish heritage; his father, Frank, moved south of the border to become a bank manager in Wembley. A young Anderson became a fan of both local team Arsenal, and his dad's side, Rangers.
"Whenever he came back from Scotland he brought back delicacies, much as you might if you go to France or Italy. but the specialist foodstuffs were mutton pies, Irn-Bru and Tunnock's Tea Cakes," he laughed.
He recalls going with his father to a League Cup tie, against the freshly minted European Champions, Jock Stein's Celtic.
Rangers had narrowly been beaten by Bayern Munich in the Cup Winners' Cup and it was only after the 1-1 draw at Ibrox between the Old Firm he would realise what a golden era it was.
He said: "In the very ancient history of football, Scottish football pioneered quite a lot of stuff and were ahead of England for quite a while. In that way the world works, England just imported lots of Scottish players instead of learning how to pass the ball. But that's a long while ago now. These things might come back."
Anderson was called to the bar in 1976 as a criminal barrister, but swapped dry legal arguments in front of a judge to performing in front of crowds at The Comedy Store with Griff Rhys Jones.
He went on to host Channel 4's improv sketch show Whose Line Is It Anyway for 10 years, and hosted chat shows Clive Anderson Talks Back and Clive Anderson's All Talk between 1986 and 1999.
It was on the latter show where he experienced his most infamous moment as an interviewer, with pop group the Bee Gees. His approach involved ribbing the guests, and the group eventually stormed off.
It's a moment he's still asked about, and he included it in his one-man show Me, Macbeth & I.
His head may have sunk into his hands as the credits rolled on the episode but it was, at least, spectacularly entertaining. "I don't know if it's the worst moment or the best moment but at the time, I felt a bit, 'oh no, what have I done here?" he said while shifting in his seat at the memory.
"In my mind I wasn't really thinking I was doing anything dreadful. At the time, I thought I was just jollying them along, and my technique was to treat everybody roughly the same as though we were almost like friends or work colleagues.
"You can only be rude to somebody or to make a joke at their expense if they occupy a respected position in the world. You wouldn't bring on somebody you've never heard of and start teasing them remorselessly.
"But if they come on as big stars everyone's got a view about, you play with that. Well, that's my excuse."
Comedy audiences, since he was President of Cambridge Footlights in the mid-70s, have changed: these days they are much more likely to voice their displeasure.
American comedian Dave Chapelle's recent Netflix special The Closer was met with criticism thanks to jokes targeting the transgender community.
Despite only being cancelled by three 70s disco legends, Anderson recognises comedians have to be careful of their targets.
He said: "Yet you shouldn't be too rigorous about it, because it's sort of condescending to say, 'Well, I'm not going to make a joke about you because you're beneath me'.
"Look at nationalities, you can say something rude about Americans, because they are, broadly speaking, the top nation. Can you still make jokes about the French, who are roughly on a par with Britain? Yes, probably.
"In Scotland, you can make jokes about the English but does it come across quite the same the other way around? I don't know, it probably should.
"And we all make jokes about the Welsh, they get quite angry about that…"
Clive lives with wife Jane, who he married in 1981, and has three children.
At 69 years old My Seven Wonders is another direction for Anderson when many would be thinking of winding down. Does he consider how much longer he'll be hosting, performing and telling jokes? He said: "It's the sort of work, if that's the right word for what I do, where you don't so much retire as you just realise nothing much has come in, in the way of offers.
"For the moment I still do Loose Ends on Radio 4 once a week, which is quite time-consuming. I don't imagine that's going to go on forever.
"I've just done these Macbeth stage shows and I've quite enjoyed that, but I don't know. Whether I'll retire is a good question, but a depressing one because I either say, no, I'm going to go on forever, which sounds a bit pathetic. Or no, you're right, I should stop and put my feet up. And I don't want to say that either."
Good start, not bad ending but there's a lot of middle
Appreciating drama, chat, playing an instrument, sport, nature and architecture are impressive but a little hound wins the day for Clive Anderson
Macbeth
"It's the best play ever written by the slightly spurious logic that William Shakespeare is the best playwright who has ever existed and I think Macbeth is his best play. It's one of the great tragedies, but it's pretty much the one that most people want to go and see. Whereas King Lear you might think is a great tragedy. But do I want to sit through three and a half hours? It is quite good at the beginning. And it's not bad at the end in a tragic kind of way. There's an awful lot in the middle."
Grand Central Station
Grand Central Station in New York is a rather magnificent, beautiful building, especially for what it is, which is a local, suburban station. Long-distance trains don't really go there. It has different layers: oyster bars, little cafes, elegant shops. And below ground you get onto the subway and there are commuter lines. But it's enormous, beautiful and fantastic.
Trees
Trees aren't one thing, they're a lot of different things we've grouped together and have called trees. It's like saying "things that fly" and it would include insects and birds and bats. They're just fascinating.
Football
I remember getting this old-fashioned football as a birthday gift, sent by relatives from Scotland, and being enormously excited by it. It was one of the old-style ones, with laces you would undo, take out the bladder and pump it up. The only disappointing thing is I lost it and can't remember how. I was so excited to get it but I've blocked losing it out of my memory. It's funny how the mind works.
Music
Every couple of years I sit down and try to learn a musical instrument without much joy. And I introduce musical artists on Loose Ends and listen to them and think that's great, what a great sound. But I've got no idea why it's great; I'd love to be able to understand why the music I'm hearing is so good.
Radio
It ought to have died out by now but radio could survive better than television which is being overwhelmed by YouTube and TikTok. I always have the radio on, well unless my wife switches it off. I like the sound of people talking on the radio although you do hear too much news which can get a bit depressing. My new wonder is Radio 4 Extra, which cuts out the news and plays old comedy programmes and dramas I don't remember ever being made.
Dogs, generally (my white West Highland Terrier in particular)
Dogs have 10,000 years' worth of living alongside humankind, that they enjoy being with us as far as we can tell, and we enjoy having them around. They can do a variety of jobs but, mostly, they just sit around being happy and annoying to everybody else. They're great creatures. I had a white West Highland Terrier whose name I won't mention because, like your mother's maiden name, these things are often used online for security purposes. It was very brave. And I admired that it never backed away from any other animal – dogs called Tyson, cows, horses. It was very brave, and that's not something I can claim to be myself. When he was put down he was still very brave, he even bit the vet who was trying to give him the sedative.
---
Clive Anderson's My Seven Wonders is at the Fringe by the Sea on August 12 and the Edinburgh Fringe August 6-15, 17-28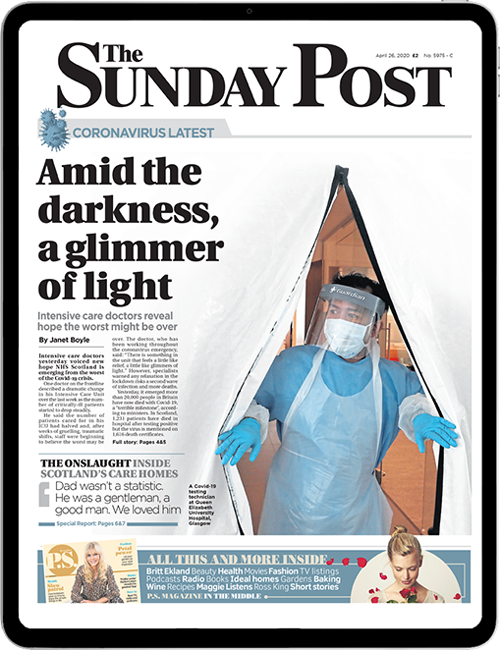 Enjoy the convenience of having The Sunday Post delivered as a digital ePaper straight to your smartphone, tablet or computer.
Subscribe for only £5.49 a month and enjoy all the benefits of the printed paper as a digital replica.
Subscribe