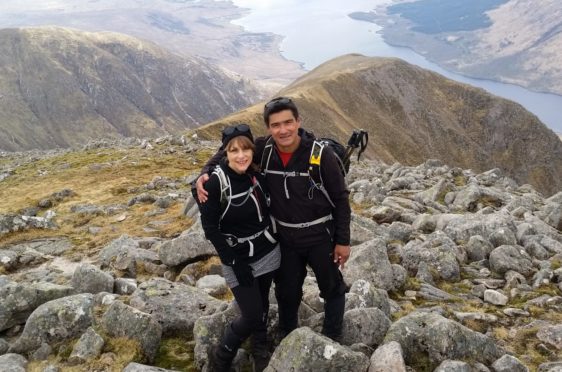 It is claimed that shared interests benefit a marriage but would you choose to spend all your spare time hiking mountains with your partner?
Three couples say they can think of nothing better to do, as they share a passion for climbing Scotland's highest peaks.
The six lovebirds are intent on reaching the summits of every Munro: the 282 Scottish mountains with a height of at least 3,000ft.
These include the tallest, Ben Nevis, at 4412ft and across all points of the compass from the most northerly peak, Ben Hope, to the most southerly, Ben Lomond, and from Skye's Cuillin in the west to Mount Keen in the east.
Here, they reveal why there really ain't no mountain high enough when it comes to true love.
---
Lesley & Manuel
We've ticked off nearly 150 Munros and are still going strong. The only way is up
Like many parents, when their children left home for university Lesley Tobin and Manuel Fuentes, of Stirling, were left with a gap in their lives.
They decided to start hill walking together – and seven years later they have ticked off almost 150 Munros.
Lesley says: "When our children Joel and Gaby were at home we were always busy with their school and sports activities, as well as working full time.
"Then they went off to uni and suddenly we had more time on our hands. We still work hard in the week so it's our weekends that we use for Munro bagging."
The couple, who have been married for 27 years, met in Manuel's home country of Ecuador when Lesley was teaching English. They have lived in Stirling since 1994.
At first it was smaller, local hills they walked including Dumyat and Ben A'an, before tackling their first Munro together, Ben Lomond. To date they have ticked off 147 of Scotland's highest mountains alongside one another.
Lesley says: "We have always enjoyed being outdoors and walking and camping as a family but our new shared goal of the Munros has given us a great joint focus in recent years.
"We mostly like to walk the Munros on our own, although we do enjoy having Joel and Gabby, who are now 24 and 23, along when they are free.
"Our hobby is a good way to get fit and it allows us to touch base with each other after a busy week."
Manuel, who enjoys the route planning, adds: "It's wonderful to be able to switch off and to be surrounded by nature and the peace and quiet of the mountains.
"Scotland is so beautiful and we have seen places that we might never have been to if we were not walking Munros."
The couple have learned to be supportive of each other and to be tolerant of differences.
Lesley says:  "My husband is a faster walker and I was worried I would slow him down.
"But it works out well because he can go ahead to check the route and I can keep up better in the downhills due to Manuel having a dodgy knee.
"I am also fearful of heights but Manuel has helped me to manage my worries and I have more confidence now.
"Doing the Munros together is definitely a benefit to our relationship."
---
Fiona & Stuart
We've both had other relationships… now it's just us and the hills
A chance meeting in Glenshee on a walk of six Munros led to a love-match for Fiona and Stuart Clark, of Dunkeld, Perthshire.
The pair quickly became friends and then fell in love. Less than two years later, they had finished their first round of Munros together, on Buachaille Etive Mor in Glencoe.
On the same day, in September 2013, Stuart proposed and Fiona said: "Yes."
The couple, who have seven grown-up children between them from previous relationships, were wed in 2014.
They have since gone on to walk another full round of Munros, finishing that on Christmas Day 2017, and they have only a handful of the smaller sister mountains, the 222 Corbetts, to complete.
Fiona, 47, says: "We are probably a bit obsessed but walking mountains is something we both enjoy doing.
"On week days we spend more of our waking time at work than together, so we really appreciate the company of each other every weekend."
Fiona, a teaching advisor, believes they are fortunate to be at the same stage in life when they can enjoy their own freedoms.
She says: "We've both had previous relationships and raised our families so now it's just us and there is a lot of time to head for the hills.
"The housework does suffer a bit, I guess, although Stuart does what he can because he's home from his work first through the week."
The couple have walked most of their Munros and Corbetts together.
Stuart, 54, a driver, says: "We both like the lists of mountains as a focus for our walking. We especially like the Munros but we do tick off other lists as well."
Fiona reports that the couple rarely fall out. She says: "We get on well on the hills and we complement each other by giving and receiving support in equal measures.
"For example, I am better at map reading and calculating times for walking the Munros, while Stuart is stronger at interpreting the landscape in front of us.
"We're on the same wavelength and we enjoy our shared experiences."
There are some occasional "minor frictions" when priorities clash.
Fiona says: "There can be some small frustrations, such as when one of us has set a self-imposed target to do a route or there is a misunderstanding about our chosen route.
"Stuart likes to push himself faster than me, too, but then he can end up burning out. Meanwhile, I plod along and often take over the encouraging leader role, especially on longer walks.
"But the shared 'wow' moments by far outweigh these small differences.
"It's our shared interest and passion for the mountains that led to our first meeting and we continue to explore new places together."
---
Elaine & Kenny
On our first date we climbed a mountain, it's such a cool hobby
A joint passion for hill walking has become a family affair for Elaine and Kenny Veitch and their twin sons Calum and Lewis from Newton Mearns.
Teacher Elaine, 45, and quantity surveyor Kenny, 46, met in 2000 and married in 2003.
Elaine says: "Kenny and I first clicked on a Glasgow night out because we discovered we both liked hill walking.
"Our second date was climbing a mountain in Stirlingshire.
"Then we decided to tick off all our Munros together. We wiped the slate clean of any Munros we had previously walked and, before the boys came along, we had done 70 Munros."
Now, as a family, they have walked 80 Munros together.
Elaine says: "We had to wait a few years for the boys to be able to walk hills themselves and we built up with easier routes locally and in the Lake District.
"But they were keen and as soon as they were able we started on the Munros.
"They did their first, Ben Lomond, when they were six.
"There is no holding them back now and at 13 they are fitter and faster than us."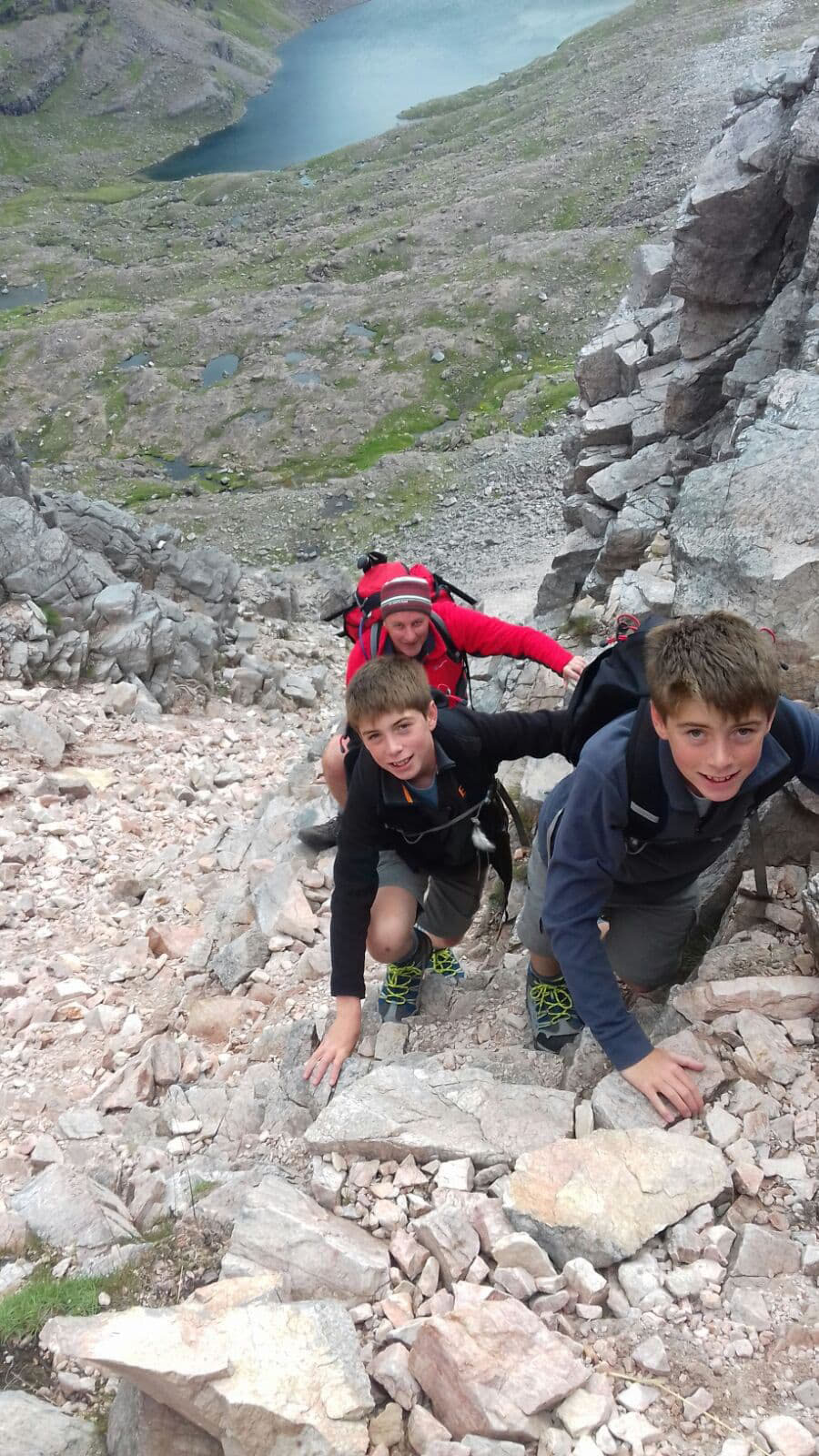 Elaine admits she is surprised that more couples – and families – do not walk together.
She says: "I rarely see couples walking the Munros as it's usually men and women in groups or on their own.
"Yet we love spending time together outdoors. It's wonderful to be away from modern technology and the fast pace of life at work and home.
"We chat a lot and immerse ourselves in the views.
"The boys learn about wildlife and how to navigate by map and compass.
"They think it's a cool hobby, and it is, isn't it?"