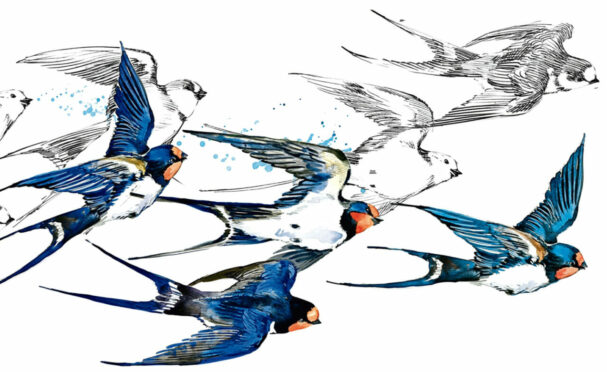 Watching birds soar across the sky, dipping in and out of the clouds, has always filled Stephen Rutt with fascination and wonder. It's a pastime he inherited as a boy from his dad, and one that still brings as much joy now as it did then.
But, during the height of lockdown, while finding solace in the outdoors, the naturalist began to see the subtle rhythms of the seasons in a new light, the global slowdown revealing anomalies that would otherwise go unnoticed.
From country fields and forests to city parks and gardens, seeing and hearing nature more clearly was, the author and avid birder admits, a silver lining during a disconcerting time.
"It seems a bit trite to take away positives from this awful time where so much misery has happened but the pandemic has provided us with this opportunity to listen to nature," explained Rutt, who was born and raised in Suffolk and now lives in Dumfries.
"It's not 'healing' or anything like that. Nature has always been there. But, finally, by having that enforced time to stay still and be quiet, we started noticing it again. So many people said they started feeding the birds or started noticing and listening to birdsong every day. Even my publisher, who is in central London, all of a sudden, every night started hearing birds, which is an amazing, powerful thing.
"I spend most of my days outside bird watching, just for fun. I'm totally used to these things, and it's really lovely having people who might not be used to nature suddenly, almost overnight, having access to them."
With more time on his hands to explore the natural world he loves – and the general public taking a renewed interest in the natural world – Rutt decided to document the changes he witnessed, tracing out of the gap between what should be and what is happening during summer, the most abundant season for plants and animals.
News special: "The world is on fire and all voters hear about is sleaze and referendums – what about climate change?"
From the nuance of the wrong birds singing at the wrong time to the everyday changes in our weather, the author began to wonder; what does summer really look like today, and how will it manifest in the future?
The thoughts and observations turned into a book, The Eternal Season, which aims to uncover the "light, abundance, adaptation, disarray and decay" that happen across the beginning, middle and end of our warmer, sunnier months.
Although set against the backdrop of the pandemic, Rutt's questions were, naturally, influenced by the potentially disastrous consequences of climate change, the other global catastrophe currently facing the world.
However, he was determined to avoid the fatalistic discourse that often surrounds the topic of global warming.
The 29-year-old said: "I'm relatively young, and I've grown up always knowing that climate change is occurring, and is going to lead to catastrophic damage. It has always been painted in this apocalyptic fashion. Yes, it is a disaster, there's no getting around that – but viewing climate change through the lens of 'Oh God the asteroid is coming' is perhaps unhelpful.
"It doesn't encourage people to make changes or achieve anything. You don't hear the positive or hopeful stories, which I wanted to change with the book. The book is not what I expected or intended to write, but I think it's so much more powerful and interesting."
By looking at summer through wildlife, landscape and historical nature writing, Rutt expertly explores trees, plants, dragonflies, butterflies, moths, arachnids and, of course, birds, in a book that engages with the season and, surprisingly, finds happiness and hope alongside despair and confusion.
News special: When things go badly for our glaciers, they go badly for all of us. They are our lifelines
He continued: "Ultimately, nature is such an incredible source of joy. I wanted to write a book that didn't lose sight of that. I hope that doesn't sound twee, but birding really does keep me sane and happy, and we shouldn't lose sight of that, even in the midst of all the signs of declining gloom. If I only saw birds as a sign of everything going wrong, there would be no fun in birding any more."
The Eternal Season may uncover a wider ecosystem to animals and plant life, but Rutt's previous works have been focused solely on majestic birds – animals that he describes as connecting us to the wider world. His first book, The Seafarers: A Journey Among Birds, was a love letter to coastal species, while his second, Wintering: A Season With Geese, traces the movements of six of the most common species of goose that winter here in the UK.
His fascinating with birds began at a young age, after visiting an RSPB reserve with his dad. He said: "As dusk fell, we saw a Cetti's warbler, which is smaller than your hand, plain brown and really quite shy – they're not much to look at and quite hard to find, too.
"It just started singing from the branches of a sapling, and my dad got really excited because he had never seen one before, and that excitement just completely rubbed off on me. It's still one of the best views I've had of a Cetti's warbler.
"That was over half my life ago and ever since then I've loved birds. The best thing about birds really is that you can look for them anywhere. I'm currently standing in an alleyway in Kendal and I'm noticing swifts flying overhead while we talk. That's birding. Just noticing all the birds around you – it's like a sense that you can't switch off.
"That's what so much of being a naturalist is – going out, seeing what you find and then working out what it means."
The Eternal Season: Ghosts Of Summers Pasts, Present and Future is published on July 1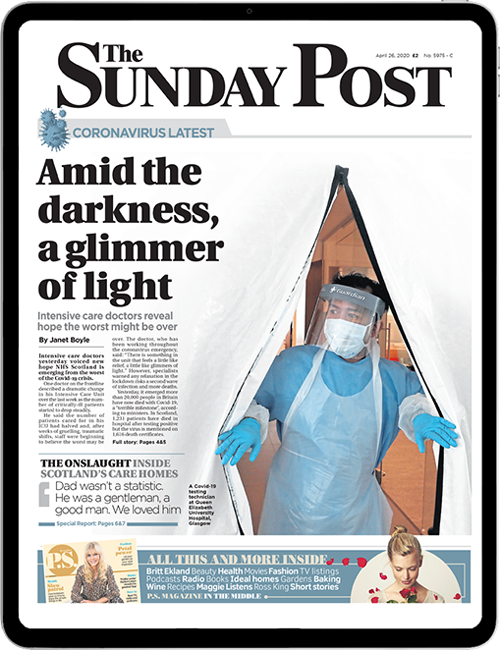 Enjoy the convenience of having The Sunday Post delivered as a digital ePaper straight to your smartphone, tablet or computer.
Subscribe for only £5.49 a month and enjoy all the benefits of the printed paper as a digital replica.
Subscribe