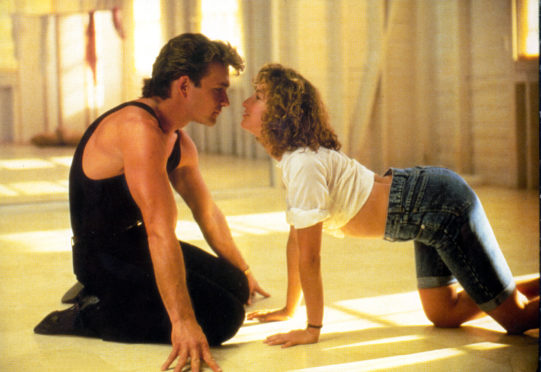 "Get me dancers who can act."
That was director Emile Ardolino's demand when it came to casting the hit musical romance Dirty Dancing.
He didn't want to use the "stand-in" method, as had been done in other 80s dance movies such as Flashdance.
He'd already cast Jennifer Grey in the female lead role of Frances "Baby" Houseman and she certainly had the right pedigree, being the daughter of actor and dancer Joel Grey who'd won an Oscar for his portrayal of the master of ceremonies in the classic Bob Fosse musical Cabaret.
For the male lead, the producers first considered the 20-year-old Billy Zane but his screen tests with Grey didn't sizzle.
The next cab off the rank was Patrick Swayze, at 36 eight years Grey's senior, who was a seasoned dancer with experience at the Joffrey Ballet.
The studio was thrilled – but there was a problem.
Swayze's resume stated "no dancing" after a knee injury.
However, he read the script, liked the complex character of Johnny and took the part anyway with Johnny's heritage being changed from Italian to Irish to suit him more.
Swayze's knee wasn't the only problem.
Grey was unhappy with the choice as she and Swayze had co-starred in Red Dawn a couple of years previously, and hadn't got on at all.
But they did a dancing screen test and their chemistry was obvious, with scriptwriter Eleanor Bergstein describing it as "breathtaking".
It was indeed, and helped make Dirty Dancing a global phenomenon.
Made for just $5 million – most films at the time cost $12m – it took more than $200m at the box office and became the first film to sell more than a million copies on home video (remember those, folks?!).
The soundtrack was a smash, too, spawning not one but two multi-platinum albums and hit singles, including (I've Had) The Time Of My Life which won the Oscar for Best Song and a Grammy.
I'm absolutely positive that I don't have to remind you of what is, after all, a fairly straightforward plot, a young woman falling for the dance instructor in a holiday resort during the early 60s.
Perhaps the reason it all rang so true was that it was in fact based on screenwriter Bergstein's own childhood.
She, like Frances, was the younger daughter of a Jewish doctor from New York who spent summers with her family at holiday resorts in the Catskills, where she participated in "dirty dancing" competitions, and was nicknamed "Baby" as a girl.
She wrote the screenplay for the Michael Douglas rom-com It's My Turn but when the producers cut an erotic dancing scene from her script, she took it and used it as the basis for a new story based on the dance competitions of her youth.
Bergstein wanted to cast her friend, the famous sex therapist Dr Ruth Westheimer, in a supporting role with Jennifer Grey's dad as her husband but she backed out after learning the part involved her being a thief.
The producers couldn't find a suitable location in the Catskills, in upstate New York, and so scenes were shot in resorts on Lake Lure, North Carolina and Mountain Lake, Virginia.
This was another problem as principal photography started in September when the temperatures could still hit 100°F, and with the lighting equipment it sometimes hit 120°F, meaning 10 people passed out in the space of 25 minutes one day.
As filming progressed the set decorators had to spray paint the autumnal leaves green, while the lake temperature for the famous swimming scene plummeted to just 4°F with Grey describing it as "horrifically cold".
Swayze required a hospital visit when, after insisting on doing his own stunts, he repeatedly fell off the log during the film's "balancing" scene and injured his already troublesome knee, requiring fluid to be drained from it.
Relations between the co-stars deteriorated along with the weather, with Swayze and Grey bickering before every scene, though the fraught atmosphere helped create one of the movie's most memorable scenes.
When Grey has to stand with her back to Swayze as he runs his fingers down her arm, the exhausted actress found it ticklish and couldn't stop giggling, much to her co-star's irritation – with the director deciding to keep his absolutely genuine exasperated reaction in the picture.
When the film was shown to the studio head, he was so unimpressed he told them to "burn the negative, collect the insurance" and the plan was to give it just a week in cinemas before rushing it out on video to hopefully recoup some of the costs.
Acne treatment Clearasil had agreed to sponsor the movie in order to reach its predicted teen audience but pulled out when they learned of the abortion subplot.
Despite all the problems, word of mouth saw Dirty Dancing take off, particularly with women thanks to its feminist stance and strong female characters – the film was nicknamed "Star Wars for girls" – and a lucrative legend was born.
---
Dirty Dancing (1987) – Channel 5, Saturday May 16, 5.15pm.