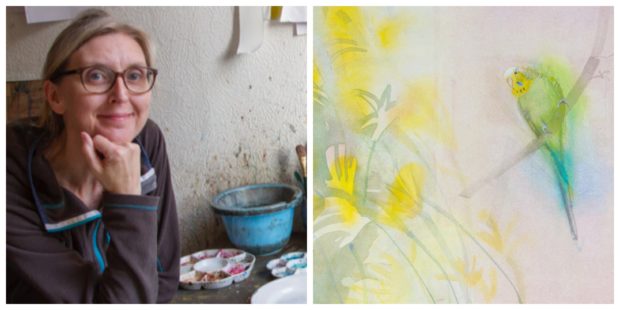 A deer exploring Glasgow's busiest high street, foxes roaming the capital's train station and goats skipping through a Highland village are just some of the unusual sightings which suggest nature has been reclaiming its territory during Scotland's lockdown.
Wildlife artist Claire Harkess was surprised to spot four gnawed trees lying on one of Perth's then-deserted golf courses – the work of the area's resident European beavers which seem to have become bolder since the greens were closed.
"I don't think they would have chosen there if the golfers were still playing," Claire said."Wildlife has certainly been flourishing on a small scale throughout lockdown. I passed a school playing field and the grass hadn't been cut and it looked like a wild meadow. You just know that there's going to be insects and butterflies and birds in there."
Since becoming artist in residence at Edinburgh Zoo 20 years ago, Claire has travelled all over the globe to paint the world's wildlife and landscapes, which, she said, "seems even more precious now we can't go anywhere". Her trips have taken her to Antarctica, The Galapagos Islands, India and Greenland – to name a few.
It goes without saying, then, that the artist is intrinsically in-tune with nature. During the pandemic, she has been taking time to herself to explore the local woods, which turned out to be the ideal setting for a spot of badger watching.
In fact, Claire – who grew up in Ayr and studied at Glasgow School of Art – has noticed that people's appreciation of the outdoors has increased during the Covid-19 crisis when they have been forced to stay at home.
"It's brilliant that nature is suddenly a wee bit more on everybody's radar. It's always been there but it's something people haven't noticed as much, being so busy and hectic," she said.
"We're all appreciating nature now, as soon as we walk out our doors and realise just how lovely it is to be able to go out for a walk. Hopefully this will be a meaningful and lasting impression on everyone to just appreciate it."
Some of Claire's captivating wildlife watercolours are to be featured in The Scottish Gallery's upcoming Modern Masters Women exhibition, from 30 July to 29 August.
The socially-distanced exhibition at the re-opened gallery will shine a spotlight on the work and talent of Scottish female artists, who were often undervalued and unrecognised until women started to become regarded as equally vital contributors to the art world.
One of Claire's paintings which will be exhibited was inspired by a "strange experience" near her home.
"I live across from a church, and in the entrance way, there was this bright flash of green. I realised someone's budgie must have escaped! I didn't know what to do. I love that picture because I spent about half an hour talking to the budgie, and there were some bird feeders in the grounds of the church so I took some food and tried to coax it down.
"I spent about two hours trying to work out what I was going to do with it. There's a local Facebook page for lost pets so I spoke to a lady on there, but unfortunately it had flown off by then. I went home and painted it after it happened."
All of her pieces which are to be shown for Modern Masters Women are brand new watercolours inspired by Claire's lockdown experiences.
"There's been fantastic sunsets in Perth during lockdown so I did a couple of paintings of that. The birds also seem to be very loud – although I'm in the middle of town, I'm hearing birdsong in the middle of the night. The silence has been incredible, especially during the first few weeks, so I think that's why that's coming out in these paintings," she explained.
The exhibition includes works by an eclectic mix of great female artists of Scotland's past, leading contemporary painters and some up-and-coming names which are less well known. Anne Redpath, Barbara Balmer, Lil Neilson, Kate Downie and Emily Sutton are a few of the select names whose pieces will be featured.
When sexism and gender biases were rife in the art world just as in everyday life, women were often seen as models, mistresses or muses instead of viable candidates for the Royal Scottish Academy (RSA).
Claire thinks the situation has vastly improved for women in her profession: "We are a lot more equal now when it comes to art. I think now, first and foremost, we call ourselves artists. Before it was female artists or women artists.
"I don't think I've been part of an all-women exhibition before. Just to see the names there, I feel very honoured to be part of the tradition. The exhibition is a reminder of how far we've come down this equality road.
"If you look at someone like Anne Redpath, a very well-known Scottish artist, and one of the first females to go to Edinburgh College of Art just before World War One. That was before women had the vote, and there were two wars, and then in amongst this she had her children. She still had this fantastic career and became an OBE.
"Then, it wasn't until the 1980s that the art clubs in Glasgow and Edinburgh accepted women. We owe such gratitude to the artists like Anne who had grit and determination and worked so hard."
Despite trailblazers like Redpath paving the way for their contemporary counterparts in the 21st century, Claire admits there is still a bit to go before women are equally represented in the art world.
"If you look at the number of women and girls who go to art school, compared to the numbers that have a career in art, there's an imbalance there. And, higher up, when you look at international names, it's mainly males that are up there," she said.
"However, there's more and more women getting jobs as directors and curators at museums, and attitudes are changing. But this exhibition is a subtle reminder that it's not equal yet and there's still work to be done."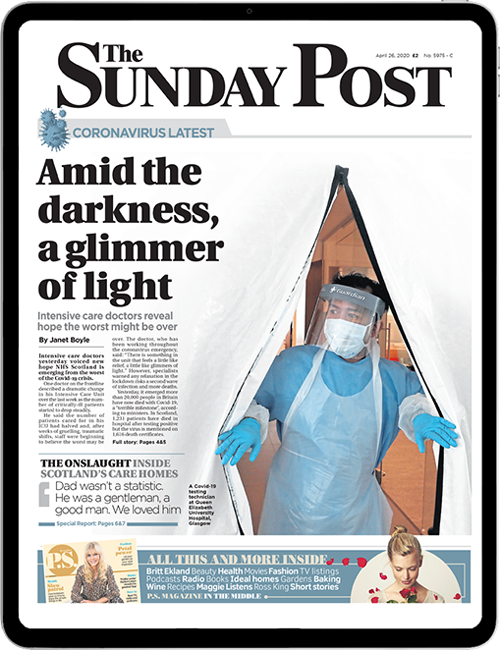 Enjoy the convenience of having The Sunday Post delivered as a digital ePaper straight to your smartphone, tablet or computer.
Subscribe for only £5.49 a month and enjoy all the benefits of the printed paper as a digital replica.
Subscribe