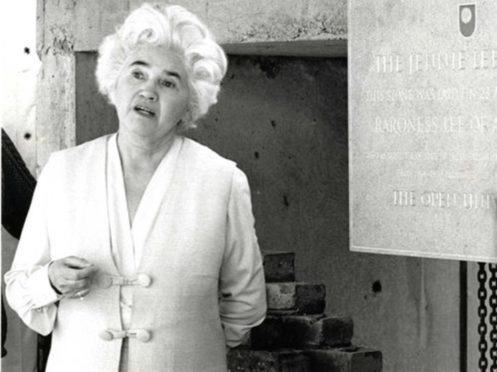 She was a fearless woman, and she made a huge contribution
and difference to people's lives
Claire Baker on Jennie Lee
Claire Baker grew up listening to stories of what her gran's cousin, Jennie Lee, had achieved. Now the Labour MSP is pleased to see a growing recognition of what her inspiring relative accomplished.
Lee, born in Lochgelly, Fife in 1904, was a miner's daughter and the youngest woman to be elected into Parliament, winning a seat in 1929 aged 24. Women under 30 were unable to vote at the time.
She was later made the first Minister For Arts by Harold Wilson and was instrumental in establishing The Open University. Baker, Scottish Labour culture spokesperson, said: "I was aware of the connection growing up, but she wasn't as recognised as she is now. She was a fearless woman and the impression I get is she didn't have much time for barriers getting in her way.
"She had a great self-confidence and determination and that's how she got to where she did in politics."
Baker (inset) also describes Lee as a great orator. Her first speech as an MP saw her attack Winston Churchill's budget plans, and it was so well delivered it received praise from Churchill himself.
"She knew how to make an impression, and how to convince and persuade people," said the MSP.
"She was a force of nature who would drive and get things done.
"Harold Wilson asked her to deliver The Open University, and she ensured it was of a high quality and standard. She moved the arts policy into the modern age from the post-war time when it was elitist and London-centred. She made it more outward-looking, relevant and focused on young people.
"She shifted the way resources were spent and recognised the importance of youth arts. I found a quote where she said she was determined that all children should be given the kind of education that was the monopoly of the privileged minority of the past, and talked about the importance of bringing education and arts together."
Baker questions whether Lee's marriage to fellow politician Aneurin Bevan, who was heavily involved in bringing in the Welfare State, saw her achievements overshadowed in the past.
She added: "It's good to see there is an increased recognition of the contribution she made. She believed in class politics and wanted to bring socialism and equality to everyone.
"She is one of the leading figures of the Labour movement and one of the first significant women politicians who made a huge contribution and difference to people's lives."
Claire Baker takes part in A Pioneer Of Social Justice: Exploring The Legacy Of Jennie Lee, tomorrow at 7pm, and on Friday there will be a read-through of a new play, Jennie Lee: Tomorrow Is A New Day. See knightstheatre.co.uk
---
She is fabulous, fabulous with integrity, and as vocal and visible as ever
Leonie Bell on Vivienne Westwood 
She leads Scotland's premier design museum, the V&A Dundee. But the inspiration behind Leonie Bell's love of design was Dame Vivienne Westwood.
With her late husband Malcolm McLaren, manager of the Sex Pistols, she propelled punk into fashion.
Leonie, who was a teenager at that seminal moment in youth culture, said of the now 79-year-old: "She is fabulous, but fabulous with integrity. She caught my attention because of her ability to subvert the traditional and the conventional.
"As a teenager I was aware of her relationship to punk, but also of her amazing ability to be true to textile and dress-making principles; the way she could deeply subvert and create something that felt very new from convention and traditional in an uncompromising way.
"I love that she is this incredibly strong figure that over the decades has really endured. I just love that she is as noisy, vocal, and visible as she ever was; that she is ageing with rebellion and grace.
"Westwood transcends fashion. She does her own thing. We need to see more women that keep working, keep creating, and keep expressing their views in really powerful ways; from all walks of life and from all decades in their lives." Leonie, whose daughters are 18, 15 and 11, first splashed out on Westwood garments in a sale at the designer's Princes Square store in Glasgow.
She revealed: "I spent £200 on an incredible, bright orange and burnt orange blouse, and a shirt with enormous balloon sleeves.
"I loved the volume, the colour, and the texture. I couldn't afford them. That was 18 years ago and I still treat them as my most special items of clothing today."
Leonie said Westwood was not just about style and culture, but "sustainability". She added: "I hope my kids will be wearing my Westwood designs. They are timeless and endure."
The museum chief is proud to have a Westwood design on display at the V&A that celebrates Scottish tartan and tweed.
She added: "It is important to take a moment to mark International Women's Day.
"I will raise a toast to Vivienne Westwood, and to my mother and my daughters and all the women in my life who are most influential and closest to me."
But she said all women should look back on this pandemic year and be proud: "It is a day when women everywhere should look back and think about what they have accomplished."
---
She transformed my musical life. She opened an awareness of my potential
Patrick Doyle on Edith Ferguson
He has written scores for some of Hollywood's biggest films but hails his childhood piano teacher as the inspiration for his glittering career.
Now Patrick Doyle has paid a moving tribute to Edith Ferguson and told how he keeps a picture of her above his piano in his workroom at Shepperton Studios.
The twice Oscar-nominated composer has written the scores for movies including Harry Potter And The Goblet Of Fire, Murder On The Orient Express, Carlito's Way and Calendar Girls.
He has rubbed shoulders with film greats Robert De Niro, Kenneth Branagh, Andy Garcia and Helen Mirren but it's all thanks to the woman who taught him to play the piano as a child.
Patrick – who grew up in Birkenshaw, near Uddingston, Lanarkshire – wrote a piece of music during lockdown called Chateau Ferguson, which is the name he gave the council house he visited every week for seven years for his piano lessons. Ahead of International Women's Day tomorrow, he paid tribute to Edith, who died in 2011.
"She lived like the Queen in this lovely council house in Viewpark," said Patrick. "She was very posh when she spoke, but she was just the same as the rest of us.
"When you went to her door, she opened it as if she was opening the door of Buckingham Palace. It swung open with her scarf flying in the air and she would shout, 'Come in, come in!'"
Patrick, seventh in a family of 13, started taking lessons with Miss Ferguson at the age of 12. He said: "I was a late starter. I didn't ask for lessons as I didn't think my parents could afford it. Edith gave me singing lessons too and helped with my harmony. She was an outstanding pianist and soprano.
"Her house was like the Tardis. She had two pianos in her living room. I remember thinking: 'How can you get two pianos in a council house?'"
He worked hard and secured a place at the Royal Scottish Academy of Music and Drama, graduating in 1975.
Patrick, 67, said: "I remember Edith telling me I wrote lovely melodies. And I remember my secondary school music teacher, Inga Marshall at Dalziel High in Motherwell, saying, 'I've never had a child who writes melodies like you.Between her and Edith I thought, 'That's two people who have said this, so there must be something.'"
His first big break came in 1989 when he was asked to write the music for Kenneth Branagh's Henry V for which he won an Ivor Novello Award for best film theme.
He has since collaborated with Branagh on 17 films including Much Ado About Nothing, Hamlet and Cinderella, and has received nominations for two Academy Awards, two Golden Globes, one Bafta and two Cesars.
Patrick was thrilled to be made a Fellow of the RSAMD in 2001 and Edith was there to share the occasion. He said: "She was so proud. I had such respect for her as she was such a lovely, lovely person.
"She transformed my musical life. She was paramount in opening an awareness of my potential. I thanked her repeatedly which I'm glad I did. Behind me in the studio on the wall I have a picture of her playing a big white piano in a hotel. She was a great friend."
When Edith died, Patrick read the eulogy at her funeral. He said: "That's when I first christened her house Chateau Ferguson. Everyone laughed in the church because she behaved like a dowager who wasn't a dowager. She was gorgeous, like the nicest grand duchess in the world.
"The piece I've written in her memory is totally inspired by her. The melody is Scottish, as she loved Scotland. It's only a little piece but her genteel nature and her love of Scotland shines through.
"She loved the culture and the great, great soulful music the country produces. I had no idea Edith was also a composer until she stage-managed her own funeral. She'd written two solo airs for violin which were played at the graveyard and were very poignant.
"I remember listening to the music with the name Chateau Ferguson in my head and thinking, 'You know, I am going to write this.' Lockdown allowed me to do that."
Patrick has also had time to complete another project close to his heart after uncovering 60-year-old recordings of Doyle family get-togethers.
The tapes feature singers including his mother and father performing songs at their home in Third Street, Birkenshaw. And Patrick has set their voices to music with a full orchestra. Patrick explained: "My father bought a Grundig tape recorder in 1960. He knew it would be good for the family but he didn't know then what it would lead to.
"Of course the Doyles were always having huge big parties and he recorded those shindigs with people singing at our house. These were all outstanding singers. My father had a lovely tenor voice.
"I would have been seven at the time, and I have managed to find those recordings, have them digitised and cleaned up, while still keeping the atmosphere.
"There's nothing fancy done to them but what is remarkable is that these people are natural born singers. It's astonishing.
"I've put an orchestra behind the singers – my granny, my father, my mother, my great uncle Patrick and his son, my auntie Cathie, my auntie Maggie and so on – and it's absolutely out of this world."
"Edith was part of all that, too. She was an extension of the family. She was part of that incredibly musical community and she was the glue that held a lot of it together.
"She was hugely influential and her feedback and support throughout the years was remarkable. I owe so much to her."
---
Chateau Ferguson opens the album Fresh Air…Breathe In, released by Air-Edel in aid of musical charity Breathe Arts Health Research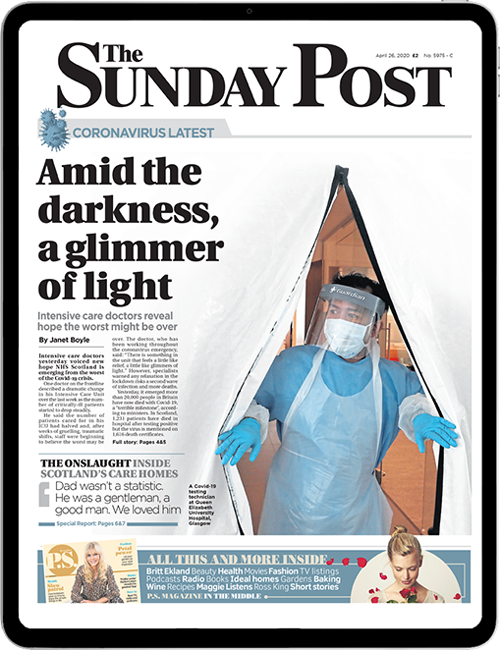 Enjoy the convenience of having The Sunday Post delivered as a digital ePaper straight to your smartphone, tablet or computer.
Subscribe for only £5.49 a month and enjoy all the benefits of the printed paper as a digital replica.
Subscribe