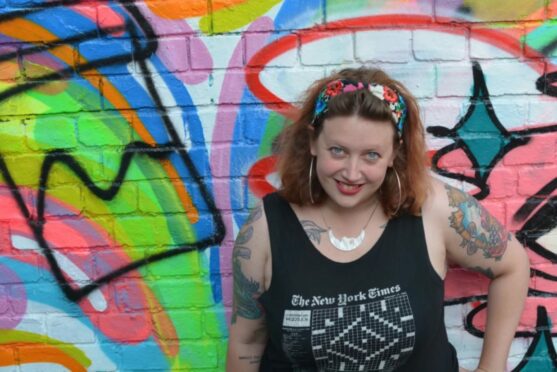 Claire Askew loves ink. Not surprising for a multi-award-winning crime writer who makes her living from the printed word.
But for this author ink is not confined to the page.
It is in her blood, literally, and displayed on her body – the body she was once ashamed of. Ink, she says, saved her.
As a teenager Askew, now 36, was embarrassed by her 5ft 11in frame and painfully impacted by the willowy supermodels of the time, and "fat-shaming" magazine headlines. She fell into a series of starvation diets and "disordered eating".
The writer, who grew up in the Scottish Borders, says: "I have always been someone who has had body image issues. As a teenager, I had disordered eating.
"I have spent a lot of time puzzling about why I felt this way, because I come from a family of strong women. I had good role models around me as a teenager who all would have said, 'do what you want, eat what you want.' But I have been 5ft 11in tall since I was 12. I was head and shoulders above my peers and aware that I was different because of that. I felt very large and that I was taking up a lot of space. I wished I was petite and skinny. I tried a lot of silly diets – celebrity diets.
"It was the Kate Moss era. I remember the magazines were so ferociously body shaming and seeing cover pictures of someone perfectly normal in a bikini on the beach with some fat-shaming headline. I was very aware of that."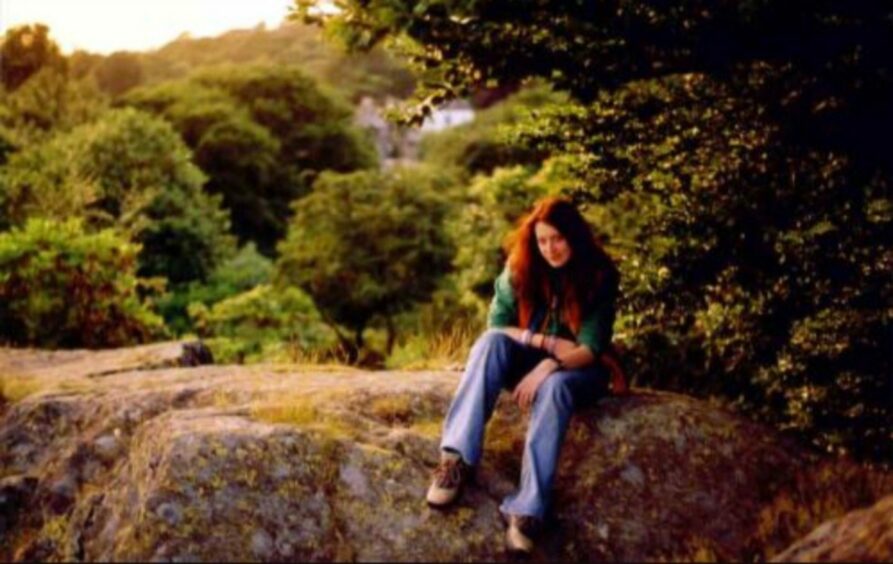 Things began to change, she says, when she first went under the tattoo artist's pen at the age of 21.
She recalls: "I was on holiday in Victoria, Canada, with my then-boyfriend, who had tattoos. He was going to get another and I had always toyed with the idea. When we walked into the studio they said the guest artist was free, so I just did it – a pair of little flowers with faces inside them; a cute, appropriate first tattoo. I was bitten by the bug. I thought of other things meaningful to me that I could put somewhere."
There have been many since, the most recent to mark coming through the pandemic . It sits just above a tribute to her late Spitfire engineer grandfather Alan Robinson. And she vows not to stop until her entire body is covered: "Having tattoos feels like a way I can reclaim my body. That sounds quite dramatic but I used to hate my upper arms and I would never wear anything without sleeves. Now I have big half-sleeve tattoos on both my upper arms and I feel great about them because now they are works of art. It has been liberating in a way that I never expected.
"I got one last week. I am still going, and I will probably keep going until I am completely covered."
Askew's teenage experience bled into the creation of the lead character in her hit series, DI Helen Birch, who would not be a super-slick, pin-up protagonist but rather "an ordinary woman with a hard job" who "eats Chinese takeaway and drinks wine".
"It has been very important to write Helen Birch as a character who lives her life in a normal way, to not make her super glamorous or too much of an aspirational, model person," says Askew. "I want her to be like anybody, partly because, growing up, I was aware of all these strange models of femininity that were floating around."
The aesthetic has resonated with readers, particularly female. The first DI Birch book, All The Hidden Truths, won the Lucy Cavendish fiction prize and was crime debut of the year at the Bloody Scotland crime-writing festival.
Her fourth, A Matter of Time – a tense hostage thriller with its roots in the devastating foot and mouth outbreak of 2001 – was longlisted for this year's prestigious McIlvanney Prize. Askew has also twice been in the running for the coveted Crime Writers' Association Dagger Award.
Her latest novel, set in the Borders, takes Birch out of her comfort zone. Askew, who will be present for Bloody Scotland's 10th anniversary celebrations in Stirling this week, explains: "It takes place over the course of 24 hours and at the start Helen Birch thinks she is having the day off. Then within the hour, she discovers there is some state of emergency in the Scottish Borders.
"Shots have been fired at the Border Union Show and the gunman is on the run. Police find him holed up in an abandoned farmhouse. He has a hostage, and he wants to talk to DI Birch and nobody knows why she is the only person he will talk to. "The man at the centre of it all is someone who was caught up in the foot and mouth outbreak. He is living with the weight of unaddressed trauma from that time that has come to a head, and that is what Birch is having to draw out in this negotiation."
Askew is often asked how much of herself is in Birch. The character is, according to Askew, the kind of woman she aspires to be and hopes is an antidote to a recent wave of "too perfect" female protagonists. "People ask me a lot if she is me, and that is very flattering, because she is the sort of person I would like to be," she says. "She is much stronger, braver and more sensible than I am.
"In crime fiction, you get a lot of male maverick characters who don't care about the rules and who do quite dodgy things in the name of getting the job done. In response to that, there has been a wave of crime writing that has female characters at the centre, and sometimes that righting the balance goes a bit too far in the other direction. So you get these female crime protagonists who are always 10 steps ahead of their male colleagues and are so good at their jobs they are almost a super hero.
"I wanted to avoid that strong female character stereotype; that Birch would be that unbearably brilliant woman. I wanted to make her flawed. So she is very good at her job and she is very strong, clever and capable, but she also makes mistakes.
"She is not very good at parallel parking, and she spills coffee on herself, she is human. I am also not good at parallel parking so in that sense she is like me."
Askew, a former Edinburgh College English teacher and writer in residence at Edinburgh University, stays in Cumbria, where she moved to be close to her parents Chris, 63, and John, 65, during the pandemic.
She released her third book, Cover Your Tracks, during that strange period when the world stopped. She said: "In a weird way, it was meditative but in the background there was the stress of, 'how bad is this going to get, am I going to get it, is someone I know going to get it?' I was afraid for my mum and dad. I didn't know where the world was going."
But with lockdown came love. She met her partner, network engineer and crime fiction fan Al Smith, 40, online in November 2020 when Covid restrictions meant they could not travel to see each other. "Al lives in West Yorkshire, so we have a bit of a long-distance thing going on. We had to wait five more months before we could actually meet. When we did meet, we could only go for a walk. It was April the following year before we had our first kiss."
Of course, when lockdown came to an end, she marked it in the same way she does every milestone – with a tattoo. "My mum's side of the family are Clan Armstrong from the Canobie area of Dumfries and Galloway," explains Askew. "Their motto is Invictus Maneo, which means 'I remain unvanquished'. It is such a badass, cool family motto. So last week I went and got it tattooed on my shoulder."
Foot and mouth 20 years on
Claire Askew began writing A Matter Of Time in 2020 as the Covid crisis took hold.
She recalled: "The book is about the foot and mouth crisis, so it was very odd that I found myself in the middle of pandemic, writing about an epidemic. It was strange how the two coalesced."
The outbreak of foot and mouth in the UK in 2001 plunged agriculture and tourism into crisis. There were 2,000 cases of the disease in farms. More than six million cows and sheep were slain in an eventually successful attempt to halt the disease.
Askew says: "As a teenager, I worked on a sheep farm in the Bowmont Valley during lambing season. I felt close to the animals. I wasn't a farmer but because I worked on a farm, I felt the anguish.
"It was one of the most disturbing and traumatic things I had experienced – living in that community and hearing from people that I knew whose entire livelihoods were gone because their herds had been slaughtered.
"I carried that experience with me and always thought that one day I would do something with it. I would write about it in some way.
"The symmetry that came along with Covid was very strange and it did help fuel the writing. This thing that happened 20 years ago suddenly felt more timely and relevant now."
---
Claire Askew will appear at Bloody Scotland on Friday. See bloodyscotland.com for details. A Matter Of Time is published by Hodder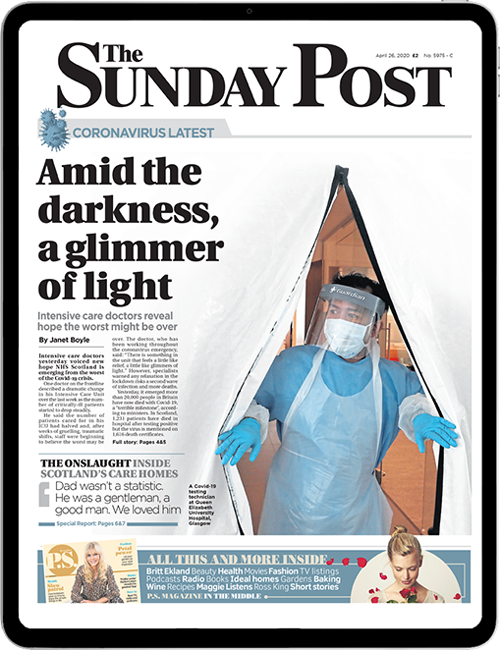 Enjoy the convenience of having The Sunday Post delivered as a digital ePaper straight to your smartphone, tablet or computer.
Subscribe for only £5.49 a month and enjoy all the benefits of the printed paper as a digital replica.
Subscribe