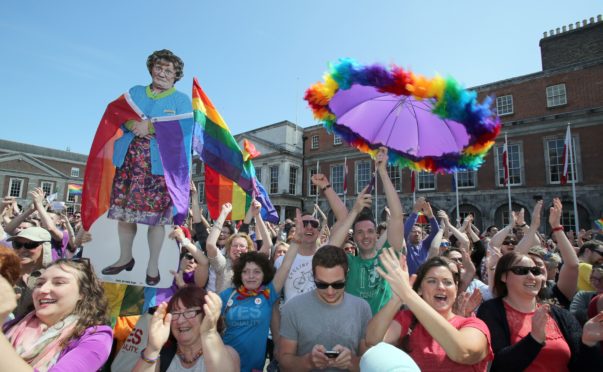 A senior figure in Ireland's Citizens' Assembly has urged Scotland's new forum to be open and transparent to avoid being branded an SNP stitch-up.
Despite being co-convened by former Labour MEP David Martin, Scotland's own Citizens' Assembly has already been accused of being a pro-independence stunt.
Suspicion among political opponents hardened after SNP MP Joanna Cherry described the Assembly as "the perfect way" to advance independence and Mark Diffley, the research and polling adviser to former SNP depute leader Angus Robertson, was hired to find its members.
The Scottish forum will be made up of 120 randomly selected members of the public, who will be reflective of the population and debate the future of the country.
It is based on Ireland's citizens' assemblies, which recommended referendums on same-sex marriage and abortion and led to changes in the law.
Professor David Farrell was research leader of Ireland's second Citizens' Assembly, which ran between 2016 and 2018. He said: "It is very important the organisers of the Citizens' Assembly make sure from the get-go they are running this in as objective way as possible.
"A lot of that can be done by ­making sure the process is as open and transparent as possible.
"In Ireland all briefing ­materials were available on the Citizens' Assembly website for anyone to look out and the main discussions of the Assembly were live-streamed.
"The identities of the expert advisory group that advised on the expert witnesses were revealed and every effort was made to ensure members of the advisory group had no particular beef with the issues."
Prof Farrell, head of politics and international relations at University College Dublin, said many citizens' assemblies have been attacked politically.
He said: "That sort of air of criticism from certain quarters is so familiar. We had it in Ireland and I've tracked citizens' assemblies around the world and it is very common to see this kind of criticism.
"A lot of it is based on not being aware of what these processes actually entail. What you tend to find is a lot of those who are critical over time, particularly those who take the effort to turn up and observe, become converted to the potential this process can involve."
In 2015 Ireland became the first country to approve gay marriage and last year it voted to overturn the country's ban on abortion. Prof Farrell said: "The Citizens' Assembly can play a very important role helping to move the political debate along, particularly when dealing with hard-nut issues politicians have had difficulty dealing with."
David Martin, who was a Labour MEP for 35 years, is co-convener of Scotland's Citizens' Assembly, said one of the issues he would like the body to discuss is post-Brexit free movement of labour.
He said: "There is a perception that Scotland needs a different immigration system from the rest of the UK because of the ageing society, labour shortages and such like.
"The first thing would be to test that. If it is believed we do need a different system, the next stage would be a discussion on what kind of constitutional arrangements we need to deliver that.
"Could you do that within the existing framework? Would you need further devolution? Or could such a system only exist within an independent Scotland?
"That would be one way of ­discussing the constitution without the constitution being the issue.
"One of the things I have made clear is the assembly is not there to decide if we should have indyref2. That is a matter for the Scottish Government and the British Government."
Martin admitted Ms Cherry's comments had raised suspicions it is a vehicle for Scottish independence.
He said: "Once the assembly is up and running, I hope some of that suspicion will dissipate."
The Citizens' Assembly is being boycotted by the Scottish Tories and Liberal Democrats.
Martin also said he hope the Citizens' Assembly would "improve the tone of the debate" in Scotland.
He said: "Scotland has become very binary on both independence and Brexit. I hope having this dialogue and debate will improve the atmosphere and, without being too grand about it, be a healing process."