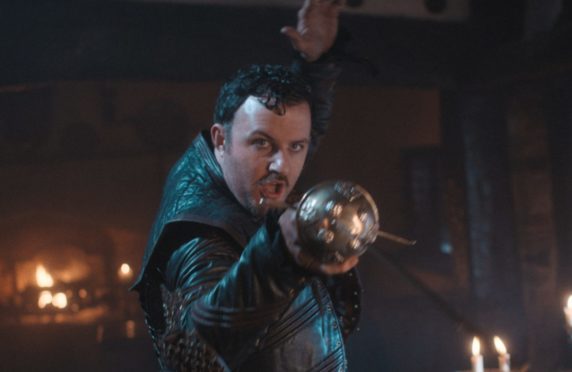 After earning rave reviews at the Edinburgh Fringe, comedian Ciarán Dowd can't wait for his swashbuckling alter-ego Don Rodolfo to make his television debut.
Dowd, who won the best newcomer award at the 2018 festival for his solo show, will reprise the role of the narcissistic swordsman in a short airing on BBC Two later this week.
After delays in production due to the coronavirus pandemic, viewers will finally be able to see how the tall tales of the shameless libertine translate from stage to screen.
"I feel like I've been working on it for years," Dowd said. "The live show started in 2018 and it's all been building towards this in a way.
"It got commissioned back in March last year, but everything with Covid pushed it back so we ended up shooting in February. I'm just excited after this long process that it's finally going to be out there, and obviously a little bit nervous as well. I'll be really interested to see what people make of it.
"When you feel so close to something and have gone through the edit and seen it so many times, you start to question if it's funny any more. We all stopped laughing a long time ago so it needs an audience again!"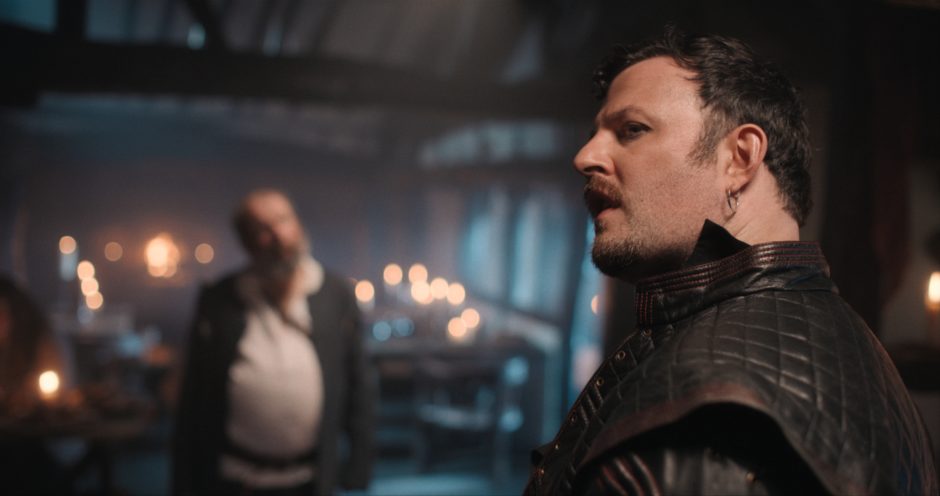 Don Rodolfo started life as a character dreamed up by Dowd while at university. He wrote a short play featuring a larger-than-life, arrogant swordsman out to avenge the death of his father.
"I was a student so it was absolute garbage but the first iteration was probably there," Dowd explained. "I put it away and only started thinking about it when I was looking to do my first solo show in 2018.
"I've always been really interested in the historical genre, whether it's Shakespeare or big old plays like The Libertine, The Rover, The Duchess of Malfi. There's such a rich, interesting world around all of that, but there's also more of a pop culturey influence too.
"Don Rodolfo also owes a big debt to films like The Princess Bride – it was a chance to make my own version of one of those. The idea was to make a modern Blackadder that has the same kind of sensibility in terms of jokes and comedy but feels less sugary and more modern, more like it's been directed by the people that make Game of Thrones."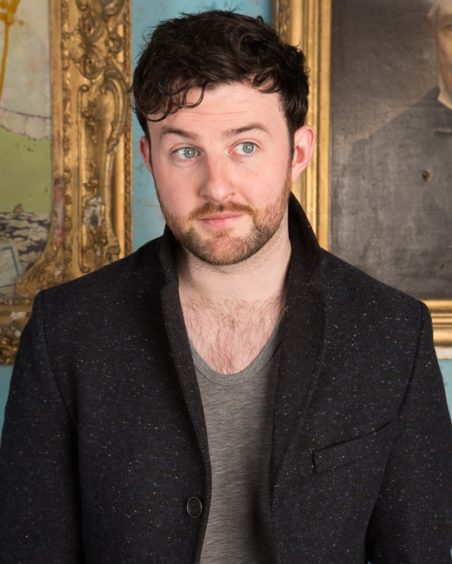 While assuming the character of Rodolfo is quite the shift from Dowd's regular persona, it doesn't take too much to get into the headspace to perform.
He said: "Before I go on stage and before I got in front of the cameras it was just about getting the twinkle in his eye, the cheeky impishness.
"I'm more worried about that funniness and lovability of the character than the accuracy of the accent. He's arrogant and boorish, and it's all about how you make that fun for the audience so that they'll go along with him and love him in spite of all his failures."
The show is normally performed live in front of an audience, with Dowd the solo performer.
But also starring in the TV adaptation are fellow comedian Jayde Adams, His Dark Materials star Ariyon Bakare and The Pact's Abbie Hern.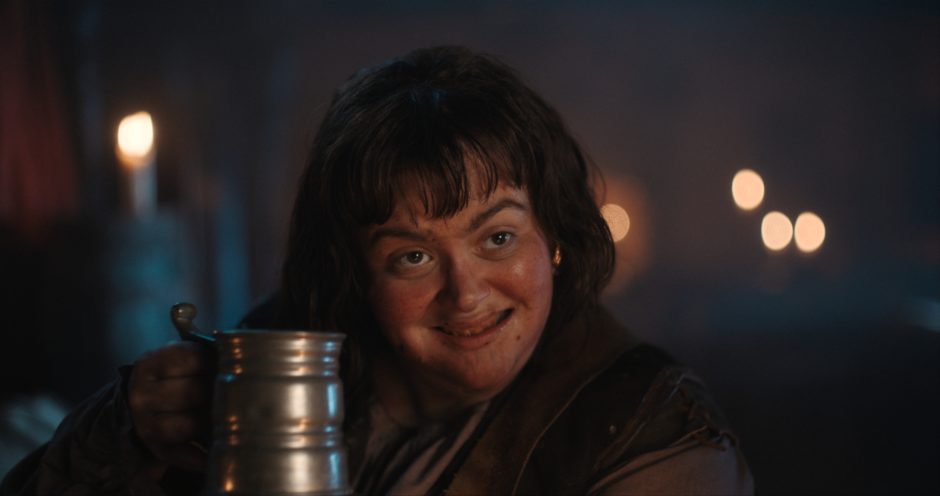 The short sees Rodolfo barricaded inside a remote tavern, surrounded by the Catalan army and facing almost certain death. He has just ten minutes to drink a bottle of Valdepañas and tell his epic tale.
"What you lose in the lack of an immediate response and connection with the audience, you make up for in how it looks," Dowd said.
"It looks incredible, there's such texture and other characters added to the solo show. You're adding things and losing things but it's about balancing that and hoping it's still a good version of what you were doing before.
"There's always a look in my eye on stage that's held the audience, a connection that says I know it's stupid nonsense and that's very funny live. I don't think it works on camera, you have to commit to what you're doing or you get into Mrs Brown's Boys territory of a knowing look and a wink."
The live show versions of Don Rodolfo's adventures sold-out at the Fringe in 2018 and 2019.
Along with rave reviews, it earned Dowd 2018's best newcomer award, previously won by the likes of Tim Minchin, Sarah Millican and Josie Long.
"The most important thing about the award is that it happened it will always be beside my name, I'll be on the Wikipedia page alongside all these people I have so much respect for," Dowd said.
"It got my name more known, bigger audiences and a bigger reach. I never thought it would be something that would happen to me. I'd done a few years with the sketch group before that and it was always something that we looked at from a distance, absolutely unattainable. In my first solo show to have gotten that was incredible."
Last year's Fringe was cancelled due to the pandemic, and this year's will have a much different look and feel to previous years.
"It's hard to tell what could be lost, who was going to go up and have a great year this year or last year," Dowd said. "You would hope that they would just come up a year later but there will be people affected by it financially, and when it comes back they might not have the ability to go up like they were planning before.
"There will be people that we lose, but there are no instant successes in Edinburgh. Most people who do really well have been doing it for years. They'll have more years to build it up.
"The slightly weird thing maybe happening, is being on a trajectory like me. I was going upwards in terms of audience numbers, size of venue, interest from the industry. All of that has gone on hold for potentially two years, so when you come back in, are you at the same level or has that all changed? Do you have to build that momentum again from a lower point? It's going to be very interesting what the lay of the land is."
He added: "Everyone's in the same boat though, it's not like you've not been able to do anything while others are out there thriving.
"I think there's a big debate around the festival too about whether it can change, using this break to reflect and do it in future in a way that supports the acts a bit more, makes it less expensive, makes it better for the people of Edinburgh to experience.
"It's not necessarily the worst thing to have had a break and come back to it, it just depends how we go back."
Whatever the comedy scene looks like in the months to come, the most important thing for Dowd and his fellow performers is to get back in front of audiences.
"Sitting at home with one other person for company doesn't fill the void," he laughed. "I need that adoration, I need the cheers, my life is empty without them and the sooner we can get back to it the better."
---
Don Rodolfo, BBC Two, Thursday April 22, 10pm and on BBC iPlayer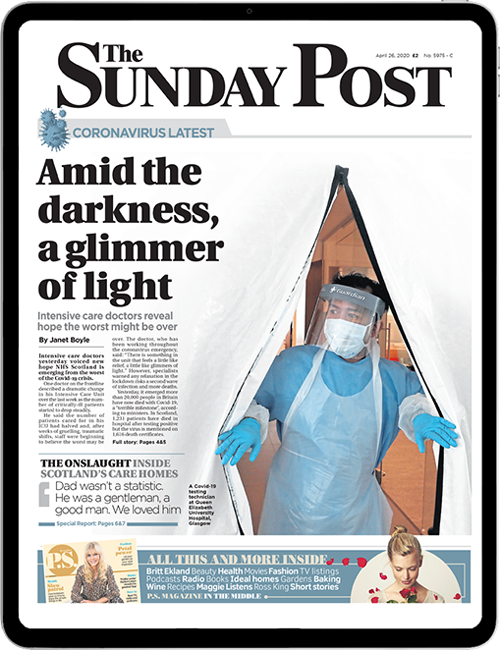 Enjoy the convenience of having The Sunday Post delivered as a digital ePaper straight to your smartphone, tablet or computer.
Subscribe for only £5.49 a month and enjoy all the benefits of the printed paper as a digital replica.
Subscribe