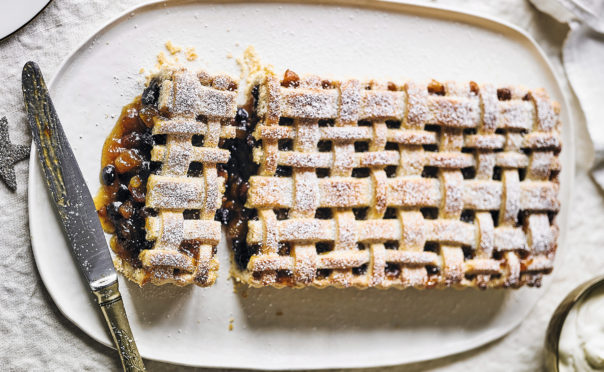 Preparation time: 25-30 minutes
Cooking time: 50-55 minutes
Total time: 1 hour 15 minutes
Serves: 8
Ingredients
2 x 410g jars Duchy Organic Apple, Cider & Walnut Mincemeat
1 British Blacktail Free Range Medium Egg, beaten
½ tsp caster sugar
Icing sugar, to dust
For the pastry
500g plain flour
Pinch salt
250g cold unsalted butter, diced (or 125g unsalted butter and 125g lard)
Method
1. Start by making the pastry. Tip the flour into a bowl with the salt. Rub in the butter (and lard, if using) with your fingertips, alternatively, pulse the flour and butter in a food processor. Either way, continue until the mixture resembles breadcrumbs.
2. Adding a tablespoon at a time, sprinkle about 8-10 tbsp cold water over the mixture, using a knife or fork, to work it gently into the crumbs until you have added just enough water to form a soft dough. Lightly flour your hands and briefly work the dough into a ball, picking up all the crumbs. Wrap the pastry to prevent it drying out and chill in the fridge for at least 30 minutes (preferably 1 hour).
3. Take ½ of the pastry and dust a rolling pin with flour. Roll the pastry out so that it's the thickness of a £1 coin and slightly larger than a 35.5×13.5cm tarte maison (rectangular, nonstick, fluted) tin. Use the rolling pin to lift the pastry and lay it over the top of the tin. Press the pastry into the tin, leaving the edges overhanging and return to the fridge to chill while you make the lattice topping.
4. Preheat the oven to 200°C, gas mark 6 and put a baking tray in to heat up. On a piece of baking parchment, roll out the remaining pastry into a rectangle larger than the tart tin, and the thickness of a £1 coin. Cut the edges off the dough and cut into strips of irregular width, and chill for 10 minutes.
5. Meanwhile, fill the pastry case with the mincemeat and brush the edge of the tart with a little beaten egg. Carefully weave the chilled pastry strips onto the tart to neatly cover the mincemeat. Press the edges together to seal and slice off any excess pastry with a sharp knife. Brush the top of the lattice with egg and sprinkle with caster sugar.
6. Place the tin onto the hot baking sheet, reduce the oven temperature to 180°C, gas mark 4 and bake for 45-55 minutes, until the pastry is crisp and golden. Leave to cool slightly, then serve, dusted with icing sugar. Delicious served warm with cream.
---