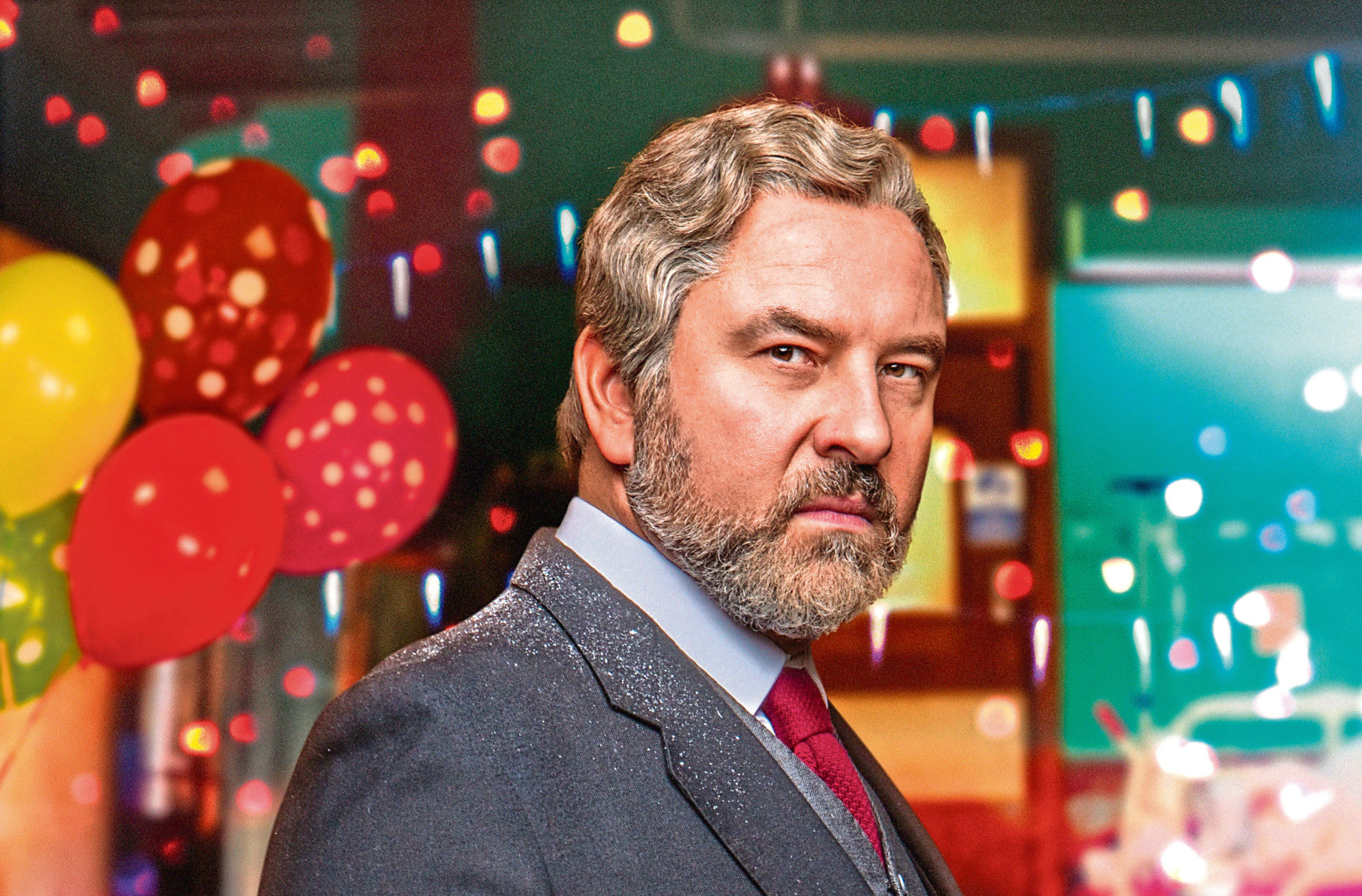 HE'S become Mr Christmas, as much a part of the festivities as The Queen, turkey and mince pies.
Gangsta Granny, Billionaire Boy and The Boy In The Dress are just a few of the seasonal treats enjoyed by millions.
Now, after last year's rib-tickling but emotional Grandpa's Great Escape, comes the latest adaptation of David Walliams books, hospital-set The Midnight Gang.
So, as he settles down in his casual T-shirt and jeans to talk to iN10, does he feel a weight of expectation on his shoulders?
"It's definitely nice being on TV at Christmas," says David, 47. "Yes, there is a pressure, but most pressure is good.
"It just makes you try harder. I thought last year was pretty special, having someone as legendary as Sir Tom Courtney in Grandpa's Great Escape.
"And the story about dementia and the treatment of old people was pretty moving.
"It turned out better than I could have imagined, so it is a bit overwhelming thinking this is the next one.
"But this is about a group of kids in a hospital, so while you want it to be the same quality, you can't really compare."
The adaptation co-stars Alan Davies and Haydn Gwynne, with David taking the role of the dastardly headmaster.
"I'm quite a wicked character. Then I meet Haydn's matron and we bond over the fact we hate children.
"I drew on memories of people I'd come across who were like that. I had a dinner lady at school who threatened to hit you with her ladle if you didn't like her food."
There's actually a double dose of David over the festive period as he also stars in Sky One's The Queen & I, based on Sue Townsend's comic novel.
He plays the Prime Minister, with Samantha Bond as Her Majesty, forced to move to a council estate.
"My PM has a beard because I have one in The Midnight Gang and I've been doing both at once," he explains.
The adaptations of David's books have proved perfect family viewing for millions. And if they have to be tweaked for the screen, that's just fine with him.
"Things get cut and elements of the story get moved around. I'm not too precious. I'm not one of those authors that sit in their ivory tower saying don't change a word.
"I'm happy for it to evolve and get better."
In fact, the process of writing and getting the thoughts in his head down on paper has become part of life for David, who used to be so much better-known for his TV comedy.
"If you're doing a sketch show it might take a couple of months filming, but you'll be writing for seven or eight months. I found I enjoyed that more.
"A script is a guide for everyone to do their jobs, but a book is just you and the reader. As soon as I started doing books I realised how special it was and how much more I could do in a book than in a comedy sketch.
"But I feel a bit ashamed when people ask if I always wanted to write books when I was younger, because I really didn't – I wanted to be a comedian."
David, who has a five-year-old son Alfred with former model wife Lara Stone, is obviously comfortably at home in Glasgow.
It's somewhere he knows well, not least because Grandpa's Great Escape was filmed in the city.
"It's much better – and cheaper – to film out of London. I've got friends here and I like it a lot."
The underlying theme of The Midnight Gang is about dreams coming true.
So, what were David's own childhood wishes?
"I wanted to meet Brian Blessed and I wanted to be on TV, it's that shameless," he laughs.
David, who had his own lengthy spell in hospital with hepatitis in his late 20s, has regularly visited poorly youngsters as part of charity involvements.
"I've been in children's wards in hospitals across the country and I've always thought it'd be nice to do a story about them.
"Seeing those kids was part of the inspiration for this. It's lovely when you stay in touch with the parents and you see them get better.
"The nice thing about doing Britain's Got Talent is that it's a pretty easy thing for them to come to and you can spend time chatting to them.
"There are a number of kids who come every year." And BGT, joining Simon Cowell, Amanda Holden and Alesha Dixon on the judging panel, is a part of his calendar he always looks forward to.
"When you come back each time you think how you had a really good winner last year and how can you top it.
"Or that you have to be more outrageous because people have seen me do so much. But hopefully you find some way of moving it on."
David's own Christmas plans are low-key and might just involve a viewing of The Midnight Gang, although not at his insistence.
"My brother-in-law is a good cook, so he does Christmas lunch. It's him, my sister, my two nephews and my son and while I always think the build-up is better, it's all about the kids.
"I tend not to force my stuff on other people because I feel a little shy, but if it's suggested, we might watch it.
"Same with my books. I have read a couple to my son but I prefer him to decide himself what he likes – otherwise he'll be in therapy one day saying I made him read them!"
Books by Roald Dahl, Julia Donaldson and Dr Seuss, a long-time favourite of David, are among the other authors whom he does read to Alfred.
"It's always fun reading things again that you read as a child.
"I love books and a first edition of something like The Catcher In The Rye would be a dream Christmas present for me. For Alfred it's Lego – you can never have too much Lego."
While we've become accustomed to some Walliams wit and whimsy over the festive period, there may be an obstacle to further adaptations.
"My books are getting a bit more ambitious – and I'd love one to be made into a movie.
"My new book, The Ice Monster, is about a woolly mammoth coming back to life in Victorian London and you'd need a huge budget for a CGI mammoth.
"So, if Mr Spielberg is interested. . . Actually, Michael Morpurgo told me he had a rule when they went away for the weekend that it was phones off unless Stephen Spielberg called. And one day he did!
"I love the TV but if a movie comes out right it can take your career to a new level."
And while fans will have to wait to see what adaptations we might see next, David knows he'll always have a demanding audience.
"I can guarantee the day a new book comes out I'll get a tweet about 4pm from someone saying, 'Right, I've read that – when's the next one?'"
---
The Midnight Gang, BBC1, Boxing Day, 7.30pm
The Queen & I, Sky One, Christmas Eve, 6pm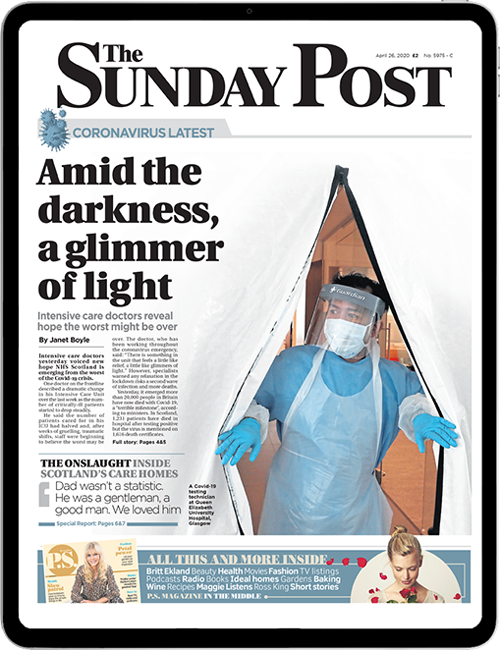 Enjoy the convenience of having The Sunday Post delivered as a digital ePaper straight to your smartphone, tablet or computer.
Subscribe for only £5.49 a month and enjoy all the benefits of the printed paper as a digital replica.
Subscribe