PREPARING Christmas dinner for lots of guests can leave budding chefs quaking in their boots.
Many worry about how to cook the turkey properly, make sprouts edible or avoid lumpy gravy.
It needn't be a nightmare though, just arm yourself with a few Christmas dinner hacks and your festive meal will turn out perfectly.
Andy Morris, Chef Tutor for Waitrose Cookery School has given his insider tips which will save you time but mostly importantly, impress your guests.
---
Prep, prep, prep
Andy says: "Do as much of the Christmas dinner preparation in advance as possible. You can even start weeks earlier with things like cranberry sauce. A little bit of work carried out before the big day, such as roast potato prep or gravy prep (more details below!) can make your Christmas so much easier and you'll get to see your guests!"
Make a military operation plan
"Writing a time plan for Christmas day in advance removes all the stress. Start from the time you want to sit down to eat and work backwards, adding in all the detail and timings."
Potato prowess
"Par-boil your potatoes one or two days before the 25th to save time and washing up. For the crispiest roast potato on earth, after you've par-boiled and drained the water, spread the potatoes out evenly on a baking tray to dry. If you leave them in a colander, the potatoes on the bottom will continue to cook and become soggy. Losing all the moisture means once cooked in the oven, the outside of the potatoes will be super crispy. Whether you prefer olive oil or goose fat, this will give you perfect roast potatoes every time."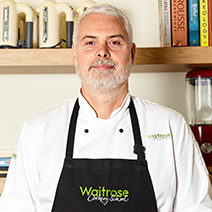 All aboard the gravy train
"For the most delicious, fool-proof gravy, follow the 'double gravy' method which can be done in advance and provides immense flavour. Brown the giblets off in a pan if your turkey came with them, or use chicken wings instead. You want to get a really caramelised finish, so keep the temperature high.
"Meanwhile roast onions, carrots and parsnips in the oven until they are soft and caramelised. Buy a good quality fresh chicken stock and add the caramelised giblets or chicken wings and the roasted vegetables. Lastly add a few fresh herbs such as thyme, rosemary or marjoram. Keep this covered in the fridge. Before you're ready to serve the gravy, strain off all the vegetables and meat into a jug and then heat through."
Super sprouts
"To avoid soggy sprouts, cut each one in half and blanch in boiling water for no more than two to three minutes. Then drain the boiling water and blanch the sprouts in ice cold water – including the ice – for up to 15 minutes. Drain again and then pat dry with kitchen roll, add to a frying pan with chestnuts and bacon. Voila, super sprouts everyone will eat."
Add a meat thermometer  to your Christmas list
"Over cooking the bird, is one of the most heinous Christmas dinner crimes. The best way to avoid this happening is to invest in a meat thermometer. Put the thermometer into the deepest part of the leg and breast. Cooked turkey needs to be at 75 degrees Celsius on the meat thermometer for around two minutes."
Create your Cranberry in advance
"Cranberry sauce is another faff Christmas day task that can be done in advance. In fact you could make this weeks ahead as it will give the sauce time to mature. Why not create several batches at once and give them as edible Christmas gift?"
To brine or not to brine, that is the question
"Wet or dry brining the turkey is a fail-safe way of having delicious, succulent meat. Wet-brining is my particular method of choice – this can be done 24-48 hours before Christmas day – and I always add a nice blend of herbs and spices like star anise and parsley.  Dry-brining – adding salt to the cavity and outside of the bird – also produces great results and again, this can be done on Christmas Eve."
Keep leftover crusts
"In the lead up to Christmas keep any left-over crusts or scrappy bits of bread, then freeze them. This will be perfect for your bread sauce on Christmas Day. A word of warning on the sauce – don't go too heavy on the cloves as this is one of the most powerful flavoured spices in the kitchen."
Rest and cover
 "Once the turkey has reached temperature, it needs to rest for at least an hour. Most cooks worry that the meat will go cold, but this can be avoided by wrapping the turkey in two layers and tin foil and a clean tea towel. This method keeps the turkey piping hot. Don't forget to transfer your bird to a dish that will collect the juices – rather than a chopping board – or you'll have it running down the kitchen cabinets!"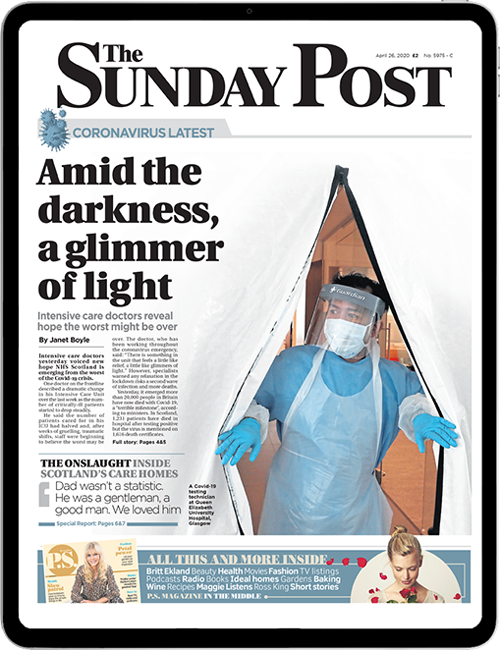 Enjoy the convenience of having The Sunday Post delivered as a digital ePaper straight to your smartphone, tablet or computer.
Subscribe for only £5.49 a month and enjoy all the benefits of the printed paper as a digital replica.
Subscribe