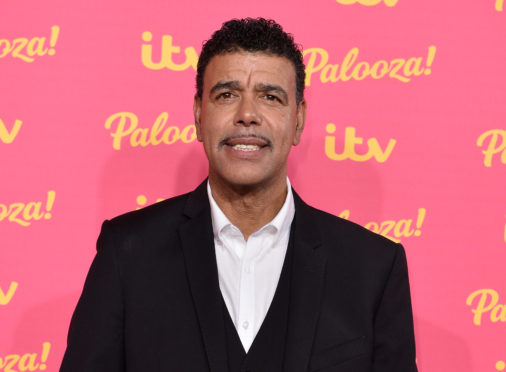 The former footballer, cult icon and Soccer Saturday favourite chats about his unlikely bid for the Christmas number one.
What led to you recording a Christmas album?
I was on All Together Now, the BBC One singing show, and the head of Silva Screen Records heard me and thought I would be perfect to sing with a 22-piece band. I sang Elton John's Your Song but had wanted to do Brown Eyed Girl. The producers said there was already too many singalongs on the show and they wanted a ballad. At first I said no, but I probably wouldn't have a record deal if I'd sung the other one.
What did you think when you were approached to record with a 22-piece big band?
I thought it was a wind-up. I genuinely thought Ant and Dec were going to jump out, especially when they asked me to go down and sing Let It Snow to a backing track.
Is this your first time singing?
I've always liked to sing. I remember singing in front of my Leeds United team-mates in Dublin. I also have a stake in a bar in Tenerife and when I go over, I sing Brown Eyed Girl.
Did you enjoy recording with a big band?
I don't get nervous, but I was so nervous on that first occasion. These guys have played the Royal Albert Hall, with the Prague Philharmonic, and here's me standing in front of them, throwing out a tune. I thought they would be upper class and wouldn't want to talk to me, but I couldn't have been more wrong.
What do your colleagues on Soccer Saturday think?
They only found out a couple of weeks ago. The record company wanted to keep it quiet for as long as possible. Plus, I wasn't sure until it was all finished whether the record company would think it was good enough to be released. I spoke with Jeff Stelling first and he said it was fantastic.
It looks like you have lots of fun on Soccer Saturday?
I had 12 moves when I played football across nine clubs. The longest I stayed with one club was three years, but I've been with the Soccer Saturday guys for more than 20 years. We have a real bond and camaraderie.
Can you believe you're being talked about for the Christmas number one?
It's the pension if you get a good Christmas song, isn't it? It would be flippant if I said I didn't care.
Is this the start of a new career?
If it works out, hopefully we'll do more. We've provisionally booked the Royal Albert Hall for November 2020, where we would sing these songs. If the record doesn't work out, then that won't happen, but the record company says people will love my voice as much as they'll enjoy the music.
---
Chris Kamara's Here's To Christmas album is out now, produced by Silva Screen Records