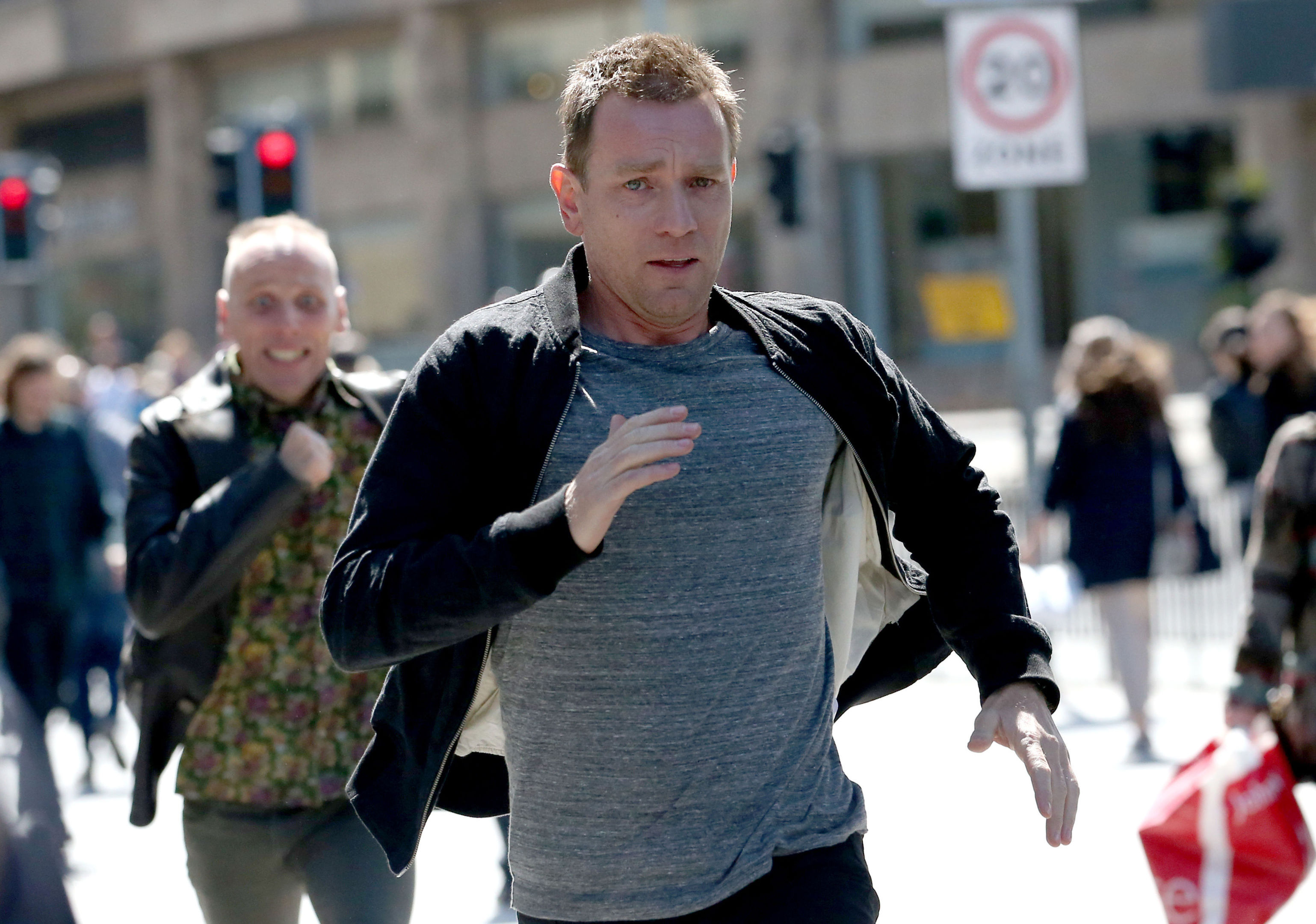 TRAINSPOTTING'S long-awaited sequel has won over most critics – although all agree it can never leave the same legacy as the original.
Ewan McGregor and most of the original cast have reunited with director Danny Boyle for the follow-up to the ground-breaking 1996 hit.
Based on the Irvine Welsh novel Porno, T2 Trainspotting is set in the present day with the main characters – Renton (McGregor), Sick Boy (Jonny Lee Miller), Spud (Ewen Bremner) and Begbie (Robert Carlyle) now in middle age.
In the Guardian, Peter Bradshaw gives the film four stars, writing: "Reuniting the cast of Trainspotting for a new adventure 21 years on could have gone badly."
But he says that "Boyle and his four musketeers give it just the right frantic, jaded energy and manic anxiety".
He concludes that while "T2 isn't as good as T1", it "has the same punchy energy, the same defiant pessimism, and there's nothing around like this. This sequel was a high-wire act, but Boyle has made it to the other side".
Geoffrey Macnab writes in The Independent that, with Boyle describing Trainspotting as "Scotland's Star Wars", "the sense of anti-climax would have been huge" if the new film had been a disappointment.
Awarding the film five stars, he writes: "What's so impressive about T2 is how skilfully it manages to stay true to the spirit of the original while acknowledging just how much has changed in the intervening years."
The Telegraph's Robbie Collin gives the movie three stars.
He writes that "it's now impossible to work out whether it (the original film) was a product of its time or if the time was a product of it".
He adds: "There's no chance of its successor matching that legacy, but it won't tarnish it either: though the film feeds on its forerunner, it's worthwhile on its own terms."
The Scotsman's Alistair Harkness is less impressed.
"The best that can be said about the new film," he writes, "is that it hasn't completely tarnished the original."
Awarding the film three stars, he adds that it "certainly shows flashes of brilliance" but "Boyle's frenetic, collage-like directing style" gives "the film a trying-too-hard feel".
The Scottish Daily Record's Chris Hunneysett was more convinced, calling the film "an addictive hit of pure cinema".
While the film "won't capture the youthful zeitgeist the way Trainspotting did", the director "has created an unapologetically abrasive tale of longevity, loyalty and friendship", he writes.
Hollywood Reporter's Neil Young, like many other critics, complains that "women are very much on the sidelines, even more so than in Trainspotting".
And while many fans will be happy to enjoy the nostalgia, there is a "fundamental gulf in quality between the two films" which means that "T2 never threatens to find its own distinctive voice".