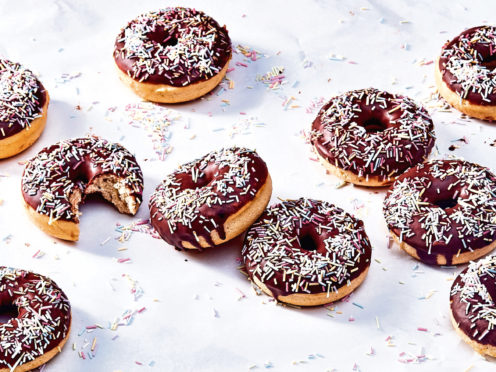 You'll need
250g all-purpose flour
240g sugar
2 tsp cornstarch
2 tsp baking powder
½ tsp ground nutmeg
½ tsp salt
360ml unsweetened nondairy milk
3 tbsp refined coconut oil, melted, plus extra for greasing
2 tsp pure vanilla extract
240ml non-dairy milk
130g semi-sweet chocolate chips
1 tbsp agave
Sprinkles for decorating
---
Method
Preheat oven to 175C. Grease two doughnut pans with refined coconut oil.
Sift together the flour, sugar, cornstarch, baking powder, nutmeg, and salt. Make a well and add milk, coconut oil, and vanilla.
Spoon the batter into the baking pans, filling each compartment about three-quarters full. Bake for 18 mins, until lightly brown and puffy.
Cool in the baking pans then invert on to a cooling rack.
To make the glaze, bring the milk to a boil in a small pot. Turn off heat and add chocolate chips and agave. Stir until melted.
Dip each doughnut into the warm chocolate, then return to the cooling rack and decorate with sprinkles. Place in a cool spot to let the chocolate set.
---
Recipe from I Can Cook Vegan by Isa Chandra Moskowitz, Abrams, £22.99