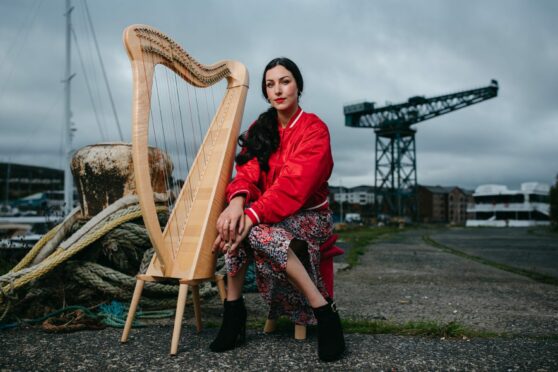 Chloe Matharu has always felt the call of the sea, the music of the waves.
As a child standing on the shore, looking out at the endless horizon, she dreamed of being surrounded by ocean and "feeling a sense of awe at the natural world".
Much to her parents' surprise, she decided the best way to do that, to experience life, was to join the Merchant Navy and, in 2013, signed up to explore the world from the deck of a coastal oil tanker.
"They are really small ships – there's only about eight people, nine crew tops, operating them," explained Matharu, who grew up in Edinburgh, but developed a passion for the sea while visiting her mother's native Wales, where the Pembrokeshire oil port sparked a childhood fascination.
"Because it's such a small vessel, you feel like it's just you, this metal ship and the sea. That's why I wanted go to sea – to feel that kind of vulnerability, a sense of awe at the natural world."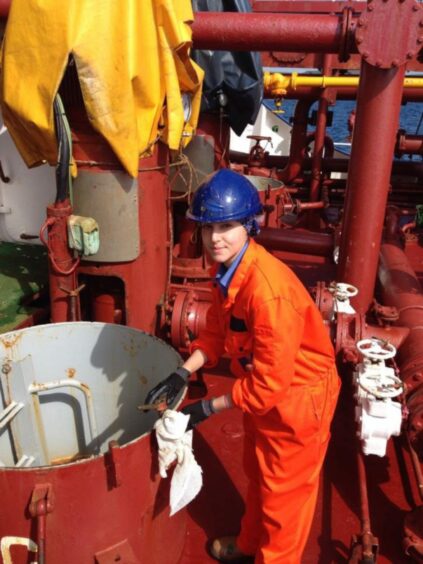 Rising through the ranks
As a cadet, Matharu was the only woman in a class of 80, which she admits made her even more determined to succeed. Having risen to the rank of navigational officer and travelled the world, from Papua New Guinea and Alaska to Bora Bora and Europe, she now wants to share her experiences to give an insight into the life of a modern seafarer.
As well as having the opportunity to see the world, she points to the moments of beauty that can only be witnessed from the deck of a silent ship. Although she has battled storms off the coast of Tasmania, seen glaciers caving in Alaska, watched Beluga whales rise up from the waves, and even swam alongside tropical fish, Matharu will never forget a hair-raising moment far closer to home.
She said: "The Pentland Firth is notoriously difficult to navigate because the tidal stream picks up in different directions and it goes very fast. I was on an old oil tanker, which the wheelhouse card said was able to do something like 12 knots, but because it was so old the best speed it could do was 10 knots.
"The tidal stream was about six knots, and you have to time it just right so you're going against the tide, and have control to navigate. It was quite a scary moment because the whole ship was creaking, and going from side to side. It was only about 80 metres long, this little coastal tanker, so it was relatively small – and old – so it was almost vibrating.
"Being a cadet at the time, I thought it was really exciting, but I was looking at my older officers and they didn't look that excited about it. I think they were actually a bit out of their comfort zone!"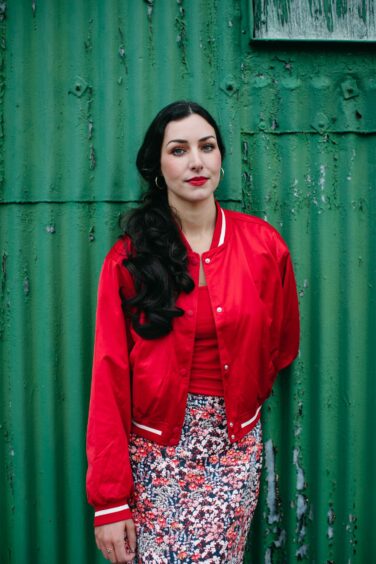 She continued: "It's funny, when you read the publicity stuff the Merchant Navy put out to encourage people to go to sea. They always say, 'No two days are the same'.
"But, actually, when you're at sea for a long time, and the weather doesn't change, it can be very monotonous. So, when something exciting happens it really sticks in your mind, especially as a younger cadet or officer. It's not until you get a wee bit older that you think about your responsibility for the vessel and the danger of the situation. You get a bit more sombre about it."
A different perspective
Matharu says that, unlike an office job or career on land, being at sea gives sailors a different perspective on life and relationships – and the small, everyday things, become even more wondrous.
"During my cadetship on coastal turnkeys, the ship was very dark," said Matharu, who now lives in Inverclyde with her husband, who is a fellow seafarer, only with the Royal Navy.
"It's not a passenger vessel so you don't light the decks and there's no background light at all. I remember standing on the bridge watching fireworks off the coast of Scotland and thinking about how different the town looked.
"Everything looks so different when you've been at sea for a couple of months. You've got this sense of longing for having a nice cosy time with your family all around, so when you see something beautiful, like fireworks going off, it's so much more magical because you are so far removed. As a seafarer you don't feel, in some ways, part of the main community on land. It feels like somehow you're in a little bubble at sea, with your crew members."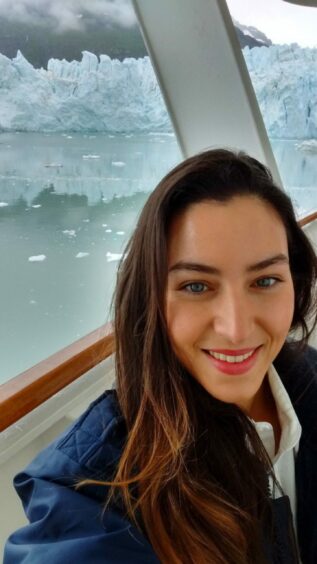 It is these moments, separated from friends and family by miles of water, that Matharu likens to the isolation felt by so many over the past 18 months. "When I'm at sea, I wouldn't say I feel lonely," she said, "but I would compare it to the isolation many people talk about feeling during lockdown. You spend months at a time seeing very few people, so you do need to have the emotional stamina to cope."
One of the traditional ways sailors would share their stories was through sea shanties, so it's perhaps unsurprising that, when on land, Matharu writes and performs her own music, inspired by her life at sea. She sings in English and Welsh – a nod to her mother's heritage – and plays the harp, which she says recreates the eerie sounds she hears from the belly of ships.
The genre may have been given a modern update by folk musicians, and even Airdrie postman Nathan Evans, who went viral online, but Matharu wants her "she shanties" to give listeners a different perspective.
"My aim with my music is to give an insight into the modern seafarer's life," she said. "In folk music, there are a lot of songs about the sea, but they are mostly from man's perspective, also often sung by people who aren't actually seafarers.
"It's great they are keeping the tradition alive, but I also think those songs aren't really relevant any more. It's keeping the song alive but is it keeping actual tradition of being at sea, as a story, alive? I don't think so. I think it's time for new traditions, especially ones that incorporate a female perspective."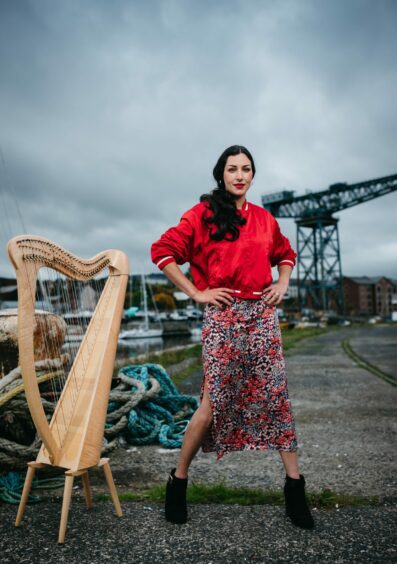 Working in a male-dominated industry, she's aware that writing music and playing the harp can raise a few eyebrows.
"I was a bit timid about making it public, the types of music I play, and what I do in my spare time," said Matharu, who has been singing and playing the harp since she was a child.
"I thought it might make people look at me less seriously when I'm in the workplace, which is something you have to bear in mind.
"When you are a female at sea, there are still some old-school outlooks – that I'm not going to be as strong or as on the ball. You are constantly fighting with that image, but you just have to be true to yourself."
Her new album, Small Voyages, written during long months of free time between voyages, will be released next year, and even features field recordings, such as ice breaking, storms at sea and waves breaking on the ship's hull.
She drew inspiration from the different ships she has sailed, the eerie silence, and even the feeling of being separated for so long from loved ones.
She said: "I've drawn a lot of inspiration from the natural world, and the harp also lends itself so well to this type of music because, in some ways, if the sea could be an instrument it would be the harp. It's really immersive because I want the listener to, hopefully, be lent a little peek into my world when I'm on ship."
---
Women on board
From a Jacobite heroine to a world record holder, many women have shown their love of the sea
Flora Macdonald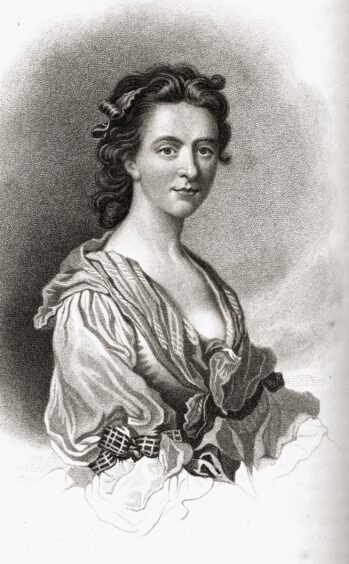 Flora Macdonald was visiting her family on Benbecula in the Outer Hebrides when Charles Stuart and a small group of aides took refuge there after the Battle of Culloden in June 1746. The island was controlled by a pro-government militia commanded by Flora's step-father, Hugh MacDonald but, despite this, she agreed to help the fugitive prince to escape in a small boat to Skye with Charles disguised as an Irish maid. She was arrested but released under a general amnesty in June 1747.
Skipper Thuridur
Skipper Thuridur is one of the world's earliest female sailors. Born in 1777 in Iceland, she was only 11 years old when she joined her father's fishing crew to become a sailor. Her perfect skills, especially rowing and steering of heavy wooden open boats, made her one of the most efficient fishing captains in the world. Her ability to sail in all sea conditions helped her not to lose a single crew for many years.
Grace Darling
Lighthouse keeper's daughter Grace Darling was just 22 when she took part in the rescue of five people from the paddle steamer the Forfarshire.
Spotting the wreck on rocks from an upstairs window of her Northumberland home on September 7, 1838, Darling and her father William braved rough seas to row nearly a mile out to the wreck, and rescue four men and a woman. Her bravery made her a national heroine.
Shirley Robertson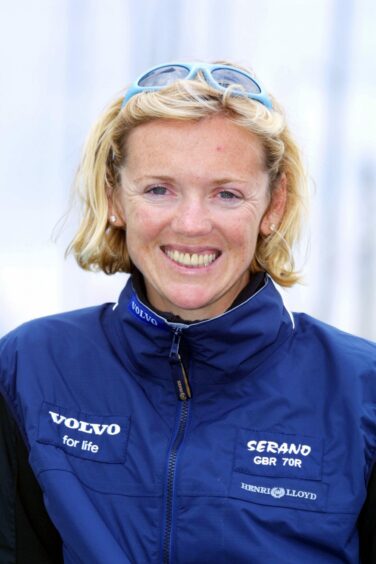 Sailor Shirley Robertson, 53, became the first British woman to win two Olympic gold medals at consecutive games, Sydney 2000 and Athens 2004. The Scot was named female World Sailor of the Year by the International Sailing Federation in 2000. She is also the only woman to take the helm on the superyacht circuit steering the stunning 45-metre Salperton in three regattas in the Caribbean and Sardina.
Dame Ellen MacArthur
Dame Ellen MacArthur, 45, broke the world record for the fastest solo circumnavigation of the globe, completing the 27,354 nautical mile trip in 71 days, 14 hours, 18 minutes, and 33 seconds. She beat the previous record by one day, eight hours, 35 minutes, and 49 seconds. Now retired, she set up the Ellen MacArthur Cancer Trust, which takes young people recovering from serious illnesses sailing, to help them recover their self confidence.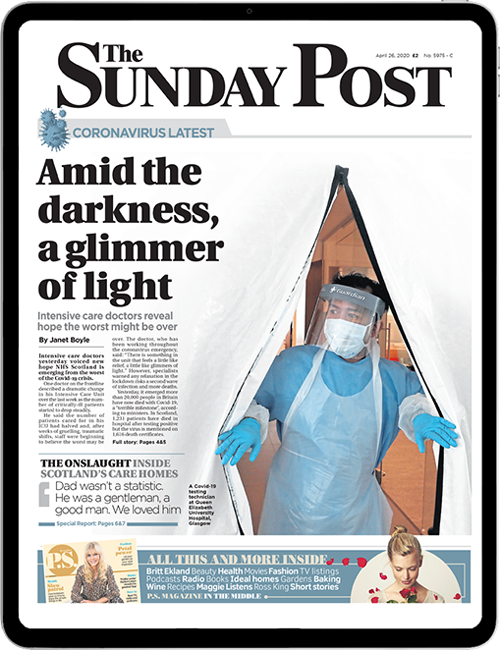 Enjoy the convenience of having The Sunday Post delivered as a digital ePaper straight to your smartphone, tablet or computer.
Subscribe for only £5.49 a month and enjoy all the benefits of the printed paper as a digital replica.
Subscribe