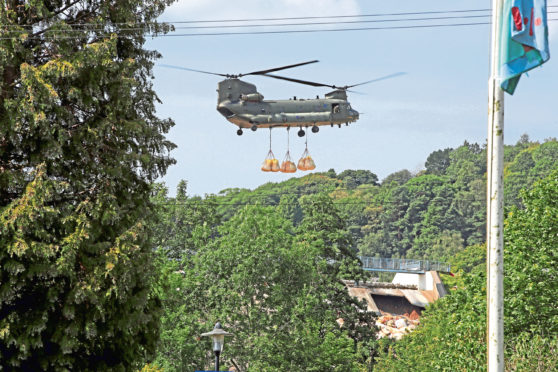 A desperate race against time was under way yesterday to prevent a 180-year-old dam from bursting as forecasters warned of thunderstorms and floods.
Workers have been pumping water from the 300 million gallon Toddbrook Reservoir near Whaley Bridge in Derbyshire which has shown signs of cracking after a recent heavy rainfall.
Yesterday, the risk of collapse remained "critical" despite pumps being installed and military Chinook helicopters continuing to drop bags of ballast to shore up the dam wall.
Prime Minister Boris Johnson promised a "major rebuild" after visiting on Friday.
Some 1,500 residents of Whaley Bridge were evacuated when part of the reservoir's spillway broke off on Thursday after heavy rain.
Yesterday, residents were allowed into their homes for 15 minutes to collect essentials, but were told it was at their own risk.
The government warned there was still a threat to life in the town ahead of more bad weather today forecast for today.
Joan Pass, 78, was in tears after she went back for the first time since the evacuation.
She said: "It was terrible. The helicopter was coming over. You see pictures on the television, but when you come home it all seems real."
Mrs Pass, whose daughter's home was damaged by flooding in nearby Kettleshulme on Wednesday, said she had to get out of her home within about 10 minutes when the alarm was raised.
Deputy chief fire officer of Derbyshire Fire and Rescue Service Gavin Tomlinson said crews had worked all night building pumps to lower the water level of the reservoir.
He said: "We are hoping the weather will be kind to us, but everyone is working as hard as possible to get ahead of the curve and remove as much water as possible today, overnight and into tomorrow, to minimise the impact of any bad weather that does materialise.
""Our aim is to prevent more water getting into the reservoir and working as hard as we can to make sure the dam wall retains its integrity."
An RAF Chinook has so far put 400 tonnes of sandbags on the damaged section of the dam.
According to a 2011 Environment Agency report on national dam incidents, Toddbrook "has a history of leakage". The report gave details of events at the reservoir in 1964 and 1977.
The 19th Century reservoir was built using a method common in the area, with a clay core, supported by using thousands of tonnes of earth.
It is owned by the Canal and River Trust as it was built to feed nearby Peak Forest Canal not for drinking water.
Julie Sharman, chief operating officer of the Canal and River Trust, said: "A full investigation has got to be the next phase."