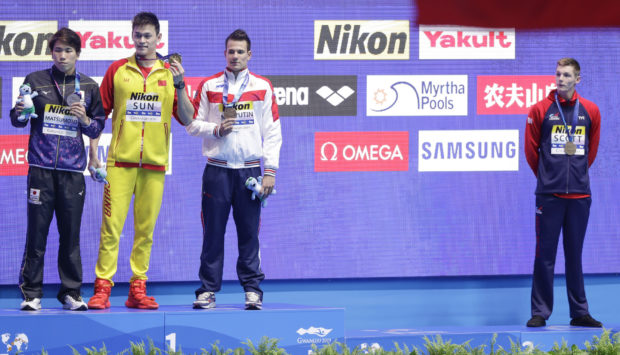 State-sponsored trolls are suspected of launching an online offensive against Scots swimmer Duncan Scott.
The pool star was bombarded with abusive messages from fake social media accounts after he refused to share a podium with a notorious Chinese swimmer.
Analysis by academics has linked some of the critical and abusive tweets to Chinese automated accounts, known as bots.
They repeatedly branded Scott, 22, a loser, with one saying he "couldn't win a pig".
The onslaught came after Scott, from Glasgow, refused to share the podium or be photographed with Sun Yang, who took gold in the 200 metres freestyle at the World Aquatics Championships in South Korea on Tuesday.
Sun, who served a three-month ban in 2014 after testing positive for the stimulant trimetazidine, confronted bronze medal winner Scott and called him a "loser".
Sun, 27, was accused of smashing vials of blood with a hammer last September to prevent anti-doping testers from leaving his Chinese home with a sample.
In the hours after Scott's protest, his account @Dunks_Scott was relentlessly attacked by abusive trolls on social network Twitter.
One account with no followers sent more than a dozen critical tweets in English and Chinese.
The messages described Scott as a "loser", echoing Sun Yang's tirade. Another message directed at Scott demanded evidence that his rival took banned drugs.
Another account, set up in China and with two followers, also called the Scottish swimmer a "loser".
One account with no followers sent at least 20 critical tweets in the space of an hour. The messages in English and Chinese repeatedly described Scott as a loser.
Financial economics Professor Sasha Talavera, from Birmingham University, found dozens of automated accounts targeting the swimmer. He analysed tweets sent between 2.30pm last Wednesday and 8am on Thursday.
One account, which posted 55 tweets during that short time frame, is now restricted for "unusual activity". Another Chinese account sent 14 tweets in English and Chinese.
Professor Talavera said: "There are suspicious accounts. Around 20% of Tweets (to Duncan Scott) are from automated accounts.
"You don't know 100% where these accounts are from. Some of these could be genuine Chinese people supporting a Chinese swimmer. However, some accounts are newly created and have a Chinese screen name or China as a location."
He added: "Twitter is not allowed in China but there are academic papers suggesting the Chinese government uses social networks to achieve its goals."
Two months ago, Twitter suspended thousands of Chinese language accounts for "engaging in a mix of spamming, inauthentic behaviour, and ban evasion". Among those targeted by bots were Guo Wengui, a Chinese dissident now living in New York.
In a series of similar tweets, he was called a liar. Many posts were sent simultaneously from different accounts which were later suspended.
Scott's supporters were also targeted. Sharron Davies, 56, a former Olympian who is now a TV commentator, was rounded on after defending his stance.
She said: "I absolutely applaud Duncan Scott.
"It was a brave thing to do and a lot of swimmers support him. Sun is an unsavoury character and if he has nothing to hide why would he behave that way?"
Davies has disabled notifications on her mobile phone's Twitter app because she has been relentlessly targeted by abusive trolls.
She said: "Twitter and other social media platforms have a lot to answer for. They have responsibility to police it a lot better than they are."
Dr Clare Llewellyn, a social media expert at Edinburgh University's Neuropolitics Research Lab, said Twitter was "getting better" at removing bots.
She said: "You have bots that are fully automated accounts with a certain message to push. You can set up 1,000 or 10,000 bots quite cheaply.But they are easy to identify which means they can be removed."
Two people have died and 16 others have been injured after an internal balcony at a nightclub next to the championships' athletes' village collapsed yesterday.
Eight of those injured were athletes, including a US female polo player.
The tweets

Swimmer Duncan Scott's Twitter account was deluged with angry tweets calling him a "loser" after he protested against Sun Yang.
Many used his account name @dunks_scott to ensure he would see the abusive messages. However, more than a fifth of the accounts were automated, according to academics, and similar tweets were sent multiple times by separate accounts.
When former Olympian swimmer Sharron Davies tweeted her support for Scott she was bombarded with critical tweets in Chinese and English.
Some accounts – the majority with fewer than five followers – called her "stupid" or questioned her support for the swimmer. One account with a single follower said: "You're insulting a legend without any solid evidence."
Some tweets were so abusive Twitter issued a warning.
Former world champion swimmer Mark Foster was also targeted when he tweeted his "massive respect" for Duncan Scott.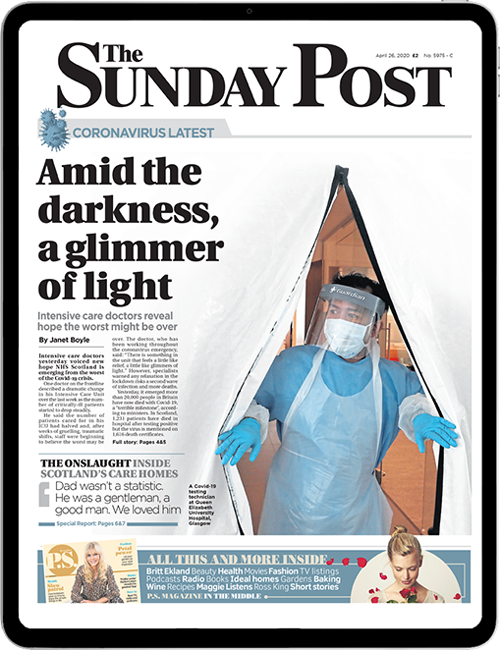 Enjoy the convenience of having The Sunday Post delivered as a digital ePaper straight to your smartphone, tablet or computer.
Subscribe for only £5.49 a month and enjoy all the benefits of the printed paper as a digital replica.
Subscribe