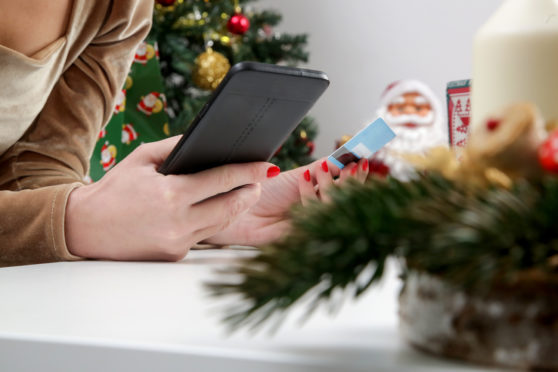 Increasing financial pressures, spiralling debt and worsening mental health mean that families across the country are facing the toughest Christmas for a generation, according to Barnardo's.
The children's charity has warned that issues compounded by the coronavirus pandemic are likely to take their toll this festive period.
In a YouGov survey of over 2,000 UK adults, one in three (34 per cent) parents of those aged 18 and under say they are in a worse financial position this Christmas compared to the festive period last year, with around a quarter (24 per cent) saying they will be relying on credit cards to help pay for the cost of Christmas.
In a separate survey of Barnardo's frontline workers, around a third (35 per cent) said the children they support are not likely to receive any presents, while a similar number (32 per cent) say they will not have a Christmas meal.
Four out of five (81 per cent) of Barnardo's frontline workers said the vulnerable children, young people or families they support are likely to experience an increase in mental health issues at Christmas.
When asked about their concerns for this Christmas, nearly one in five (19 per cent) of parents of those aged 18 and under said they were most concerned about spending too much money at Christmas.
Around three quarters (74 per cent) of Barnardo's frontline workers said that the vulnerable children, young people and families they support are likely to get into debt this Christmas.
The charity believes that the COVID-19 pandemic and lockdown measures throughout 2020 have hit family finances hard, with job losses, furlough and reduction in hours having an impact.
These results are being published during the charity's 'Kidsmas' campaign, which aims to raise money to help vulnerable children at Christmas.
The charity is asking people to get involved by creating an online 'Build a Kidsmas Snowman' fundraising page.
Through the platform, fundraisers can ask people to donate by throwing a 'snowball donation'. The more snowballs thrown, the bigger their snowman gets and the more money is raised to help change the lives of vulnerable children.
People can also support the campaign by hosting a virtual Kidsmas Party, conforming to local Covid restrictions, whether it's at home, an online office party or via video call with local community groups.
Barnardo's Chief Executive Javed Khan said: "These findings are a stark reminder that families are facing their toughest Christmas in a generation, and the vulnerable children Barnardo's supports need us now more than ever before.
"As winter begins, many more families across the UK are having to decide between feeding their families or heating their homes. Meanwhile, the pandemic is wreaking havoc on children's mental health and increasing their risk of harm at home, online, and in the community.
"That's why we're asking people to come together to raise funds and help Barnardo's make sure that vulnerable children are safe, supported and cared for – at Christmas and all year round."
---
You can set up your own online Kidsmas Snowman fundraiser at https://www.barnardos.org.uk/kidsmas-party.
1
Subscribe for only £5.49 a month and enjoy all the benefits of the printed paper as a digital replica.
Subscribe