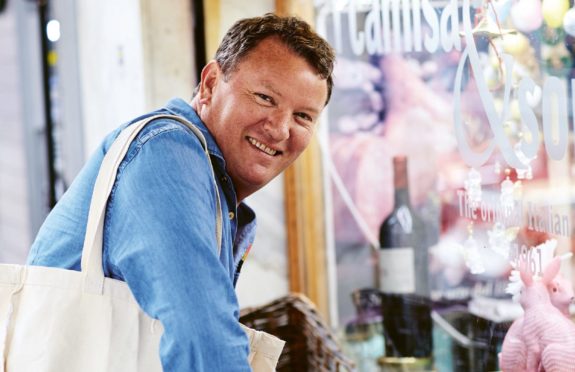 While filled with nostalgia and warmth, the dishes of our childhood are rarely the type of fare you would expect to inspire a career in fine dining, punctuated by Michelin Stars and rave reviews.
But the early food memories that sparked Theo Randall's passion for cooking were filled with such simple yet deliciously fresh ingredients, it's no wonder he believes he was "destined" to become a chef.
Each summer, his family would drive from their home in England to France and then Italy, where Theo says he had his first taste of the authentic style of cooking that led him to become one of the UK's most passionate advocates for Italian cuisine.
"Every year we would travel by car, and we would go camping so we'd have this enormous trailer attached to the back," explained Theo, 54, whose face will be familiar to fans of cooking shows including Saturday Kitchen, MasterChef, and My Kitchen Rules.
"On the way out, we were reasonably comfortable, but on the way back we had our knees to our chins because my dad had packed the car with ingredients and supplies. My mum was obsessed with olive oil, too, so she would buy 20 litres of the stuff. And then there was the wine – I mean, my God there was cases and cases of wine!"
He added with a laugh: "I don't know how we got through customs. We were always well over the limit, I can guaranteed that."
It was on these holidays, in between stocking up the larder back home, that Theo says he became enamoured with Italian culture, and he can still remember the sights, sounds and tastes of bustling outdoor markets.
His amore with all things Italiano led him to pursue a life in front of the pass, working as head chef at the River Café for 15 years before launching his first restaurant, Theo Randall at the Intercontinental, in 2006. In between services, the top chef has also written two cookbooks, Pasta and My Simple Italian, but it was his third, released last month, that saw him return to his youth, which was filled with "simple food made using exceptional produce".
The new release, The Italian Deli Cookbook, is filled with Theo's favourite ingredients, and features such Italian classics as asparagus and sugar snap pea risotto, melanzane parmigiana (his personal favourite, if he had to choose) and decadent tiramisù.
He explained: "I remember those moments very well and they've stuck with me. And it hasn't just been my childhood, either. I've been going to Italy every year since day dot.
"I always say I haven't got an Italian bone in my body, but I have an Italian soul. That was one of the reasons for writing the book – I'm just still so obsessed with fresh ingredients."
And while olives, juicy tomatoes, fresh oregano and woodfired pizza may have been Theo's first foray into food, his continued drive and passion was fuelled a lot closer to home.
He added with a smile: "I really think I was destined to be a chef. From the age of about eight or nine I was making a little menu and taking sandwiches to my parents in the garden.
"My mum is a really good cook. She would bake bread two days a week, and I would go to school with homemade bread and Gorgonzola sandwiches, when everyone else had plastic bread with mustard and ham. Although I would go to the corner shop and buy a packet of crisps on the way to school so I didn't look too weird. She was brilliant at preserves and things, too. We had this cellar that was just full of things like jams and pickled walnuts, and she'd even make elderflower cordial. It was all very frugal – but she is a Scot so that's the better side of me."
---
Roasted lamb rump with polenta and creamy olive and anchovy sauce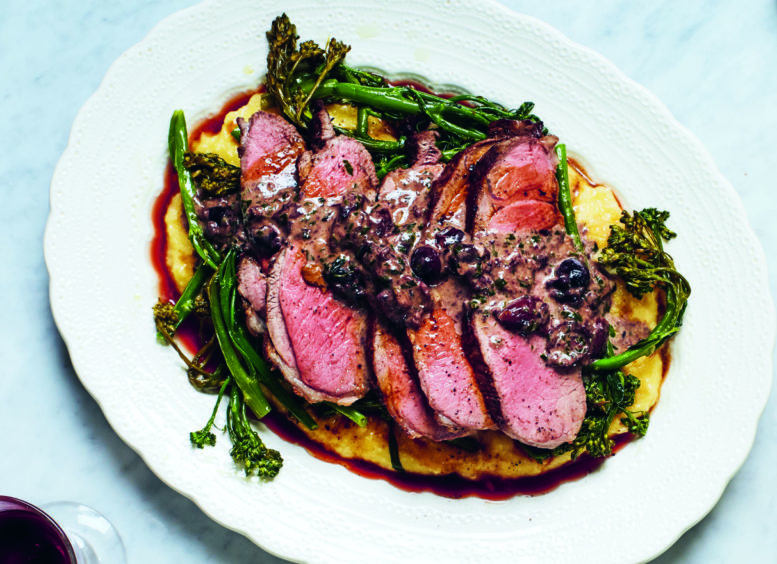 Serves: 6
You'll need
For the lamb
Pared zest and juice of 1 unwaxed lemon
4 x 180g (6¼oz) lamb rumps
1 rosemary sprig, leaves picked and roughly chopped
2 garlic cloves, quartered
3 tbsp olive oil
Sea salt and freshly ground black pepper
For the soft polenta
250g (9oz) coarse polenta (not quick cook)
3 tbsp good olive oil
1 tsp sea salt
For the olive and anchovy sauce
1 tbsp olive oil
1 garlic clove, finely sliced
4 salted anchovies in oil, drained and chopped
1 tbsp chopped flat-leaf parsley
100g (3½oz) Taggiasca or niçoise olives, pitted and chopped
100ml (3½fl oz) crème fraîche or double (heavy) cream
For the purple sprouting broccoli
600g (1lb 5oz) purple-sprouting broccoli, trimmed
3 tbsp olive oil
1 garlic clove, finely sliced
Method
Marinate the lamb rumps. Place the pared lemon zest and juice in a bowl. Add the lamb, rosemary and garlic, then cover and leave at room temperature for 1 hour, turning the rumps in the marinade a few times during the hour. Then, add the olive oil and season with salt and pepper.
Preheat the oven to 180°C/160°C fan/350°F/Gas Mark 4.
Make the polenta. Pour 1 litre (35fl oz) of water into a saucepan. Place over a high heat and, when the water comes to the boil, very gradually whisk in the polenta. Once you have added all the polenta, reduce the heat and cook for 30 minutes, until it no longer sticks to the side of the pan. Add the olive oil and salt and leave to one side to keep warm.
Meanwhile, make the sauce. Heat a saucepan over a medium heat and add the olive oil, garlic, anchovies and parsley. Cook gently for 2 minutes, then add the olives, cook for 1 minute, then add the cream. Bring to a simmer and turn off the heat. Leave to one side to keep warm.
For the broccoli, bring a pan of salted water to boil. Add broccoli with any leaves, and bring back to the boil. Boil for 2 minutes, remove from the heat and drain, keeping the hot pan. Add 2 tablespoons of olive oil and sliced garlic to the pan and cook over a medium heat for 1 minute. Add the broccoli, cook for 10 minutes, until broken up slightly. Check seasoning and add a tablespoon of water and the remaining tablespoon of olive oil. Stir to coat, leave to one side to keep warm.
Cook the lamb. Pat off the marinade residue from the lamb using kitchen paper. Season the meat with salt and pepper. Heat 1 tablespoon of olive oil in a large, ovenproof frying pan over a medium heat. Seal the lamb rumps, turning to brown on all sides (this should take 4 minutes).
Place the lamb rumps fat-sides downwards in the pan then roast in the oven for 8 minutes. With a meat thermometer, check that the middle of the lamb is 45°C / 110°F for a lovely pink piece of meat, then remove from the oven. Turn them over a couple of times and leave in the pan to rest.
To serve, spoon the polenta onto a serving dish then top with broccoli. Against the grain, slice each lamb rump in to 3 slices and place on top of the broccoli and polenta. Pour over the sauce and serve immediately.
---
The Italian Deli Cookbook by Theo Randall (Quadrille, £27) is out now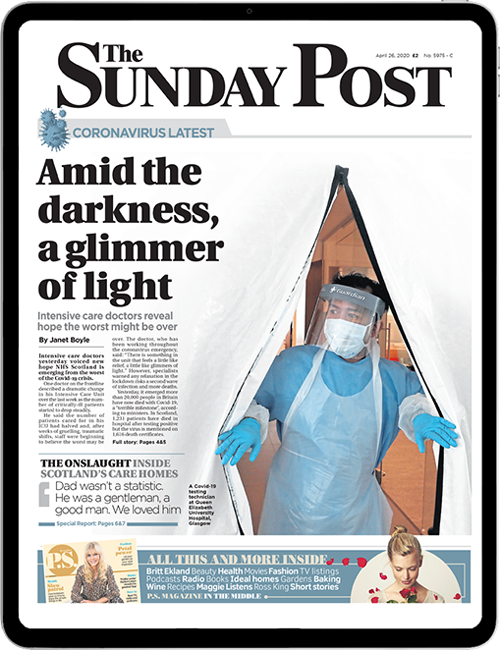 Enjoy the convenience of having The Sunday Post delivered as a digital ePaper straight to your smartphone, tablet or computer.
Subscribe for only £5.49 a month and enjoy all the benefits of the printed paper as a digital replica.
Subscribe