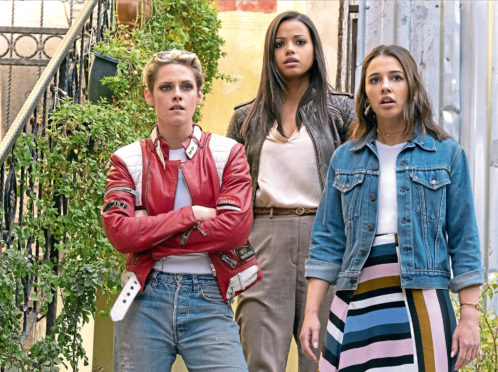 It's hard to believe it was 1976 when Charlie's Angels first appeared on our TV screens, and it's a tribute to that classic series that a version of it is still going strong on the big screen today.
It's quite an eye-opener to think back to those three wonderful original stars – Farrah Fawcett as Jill Munroe, Kate Jackson as Sabrina Duncan and Jaclyn Smith as Kelly Garrett.
Jaclyn appears again in this new movie in a cameo role as Kelly, just as she did in the 2003 flick Charlie's Angels: Full Throttle.
Farrah, tragically, died after a battle with cancer, aged just 62, 10 years back.
Kate hasn't done much acting in recent years but has been working on her autobiography, which has seemed set to be published and then gone quiet again, leaving fans on tenterhooks. She is 71, Jaclyn 74.
Two of the trio hailed from Texas, while Kate was from Birmingham, Alabama, but for the latest film two of the three girls are Londoners.
US superstar Kristen Stewart plays Sabina Wilson, while Naomi Scott is Elena Houghlin and Ella Balinska is Jane Kano.
Wilson is the wild and rebellious Angel, Houghlin the former boffin and Kano the ex-MI6 agent. At 29, Stewart is the old one! Naomi is 26, Ella just 23, similar to the ages of the never-forgotten originals.
This version is written and directed by Elizabeth Banks, whose directing career is looking very promising thus far, having broken the first-weekend takings record with her debut, Pitch Perfect 2.
This latest threesome are the new generation of Angels working for a private detective agency, and Patrick Stewart plays John Bosley, first assistant to Charlie himself.
The voice of Charlie, sadly, has had to be done by someone new, Robert Clothworthy, as John Forsythe passed away in 2010.
As Banks has pointed out, this one is not a supposed "reboot" of the original series, but a continuation of the previous movies.
Hamburg and Istanbul were among the filming locations, and it will certainly raise even further the profiles of the two young English stars, Scott and Balinska.
Balinska was born in London to Lorraine Pascale, a TV host and chef on a US network, and Kazimierz Balinski, who is a Polish Count.
A very handy sportswoman, she has competed in track and field at national level and also did well in county netball.
Scott has already starred in a Disney movie and in Power Rangers and began her singing career in a church youth band. Married to MK Dons footballer Jordan Spence, she is tipped for big things.
It is, however, Kristen Stewart who has been getting some rich praise, and she has very definite ideas about the film world.
"Acting is such a personal thing, which is weird because at the same time it's not," she says.
"It's for the consumption of other people. But in terms of creative outlets and expressing yourself, it's just the most extreme version of that I have ever found."
If they consume the latest Charlie's Angels movie as hoped, all three will be delighted.
---
Charlie's Angels is in cinemas from Friday November 29.