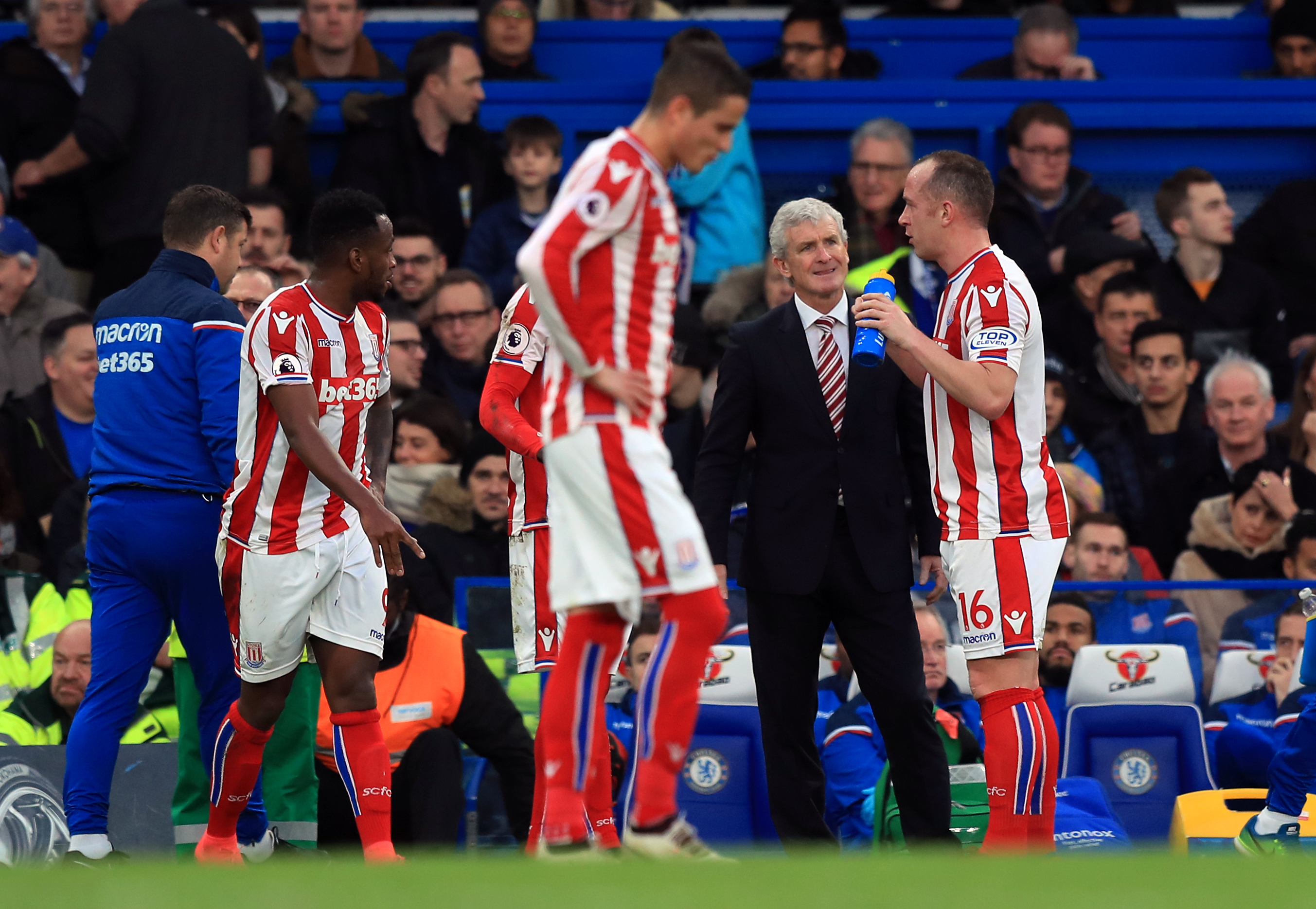 CHARLIE Adam reckons he could have saved Mark Hughes from the sack at Stoke City.
Now the Potters star is determined to fight for his own future at the club – then help save it from relegation.
Stoke's stumble into the Premier League danger zone has seen frustration boil over into anger amongst a group of fans better known for their staunch support.
Adam knows exactly how they feel.
After months spent kicking his heels on the bench – and with the pressure on Hughes building – the former Rangers, Blackpool and Liverpool star was finally pitched into battle against Chelsea, Newcastle United and Coventry City.
It was too little, too late.
Adam is man enough to admit to a sense of responsibility over Hughes' sacking, even though the Welshman effectively prevented him from doing more to help.
Now, with former Watford and Espanyol boss Quique Sanchez Flores set to take charge, Charlie's priority is to prove he is too hot to be left out in the cold, starting tomorrow night against Manchester United.
"I would have liked more opportunities," Adam said.
"I would have backed myself to have helped the team in previous games, when we were in a bit of a sticky patch, but that's gone now, there's really nothing I can do about it.
"It was frustrating, but we'll see what happens when the new manager comes in.
"There will be players who haven't been playing, who will play, and some of the lads, who have been playing, won't play.
"That's just what happens when a new manager comes in.
"I'll be looking to talk to him quickly to see where I stand.
"I want to see whether I'm part of it. Obviously, if I'm not, then the club will make a decision.
"But I'll be trying to impress the new boss over the next few weeks, and hopefully that's good enough."
Admittedly, results have been nowhere near good enough over the first half of the season.
But Adam is confident all is not lost for the club he has represented now for six seasons.
The Dundonian knows there is room for improvement, from himself as well as elsewhere.
And that gives him belief that securing Premier League safety is an achievable goal.
"The players have got to take responsibility," he said.
"Unfortunately, the manager is the one that carries the can because the results haven't been good enough.
"But the players are part of it and we have to look at ourselves because we're the only ones who can change the situation.
"I can only speak for myself, but, of course, I feel a sense of personal responsibility.
"When something like this happens, you have to ask yourself: 'Have I done enough? Could I have done more?'
"The really honest lads in the dressing-room will say they could have.
"But the big thing, for whoever comes in, is that he'll have a squad of players capable of keeping this club in the Premier League, and that has to be the aim."
At 32, Adam is as keen to be playing on a regular basis as he ever was – and not just at club level.
The midfielder has never hidden his desire to represent his country, nor his annoyance at being repeatedly snubbed by former Scotland boss Gordon Strachan.
Charlie is hopeful the new Scotland boss, whoever it turns out to be, will be more receptive to having his cultured left foot in the national team's arsenal.
But he recognises that starring for Stoke – whom he has no desire to walk away from – is the key.
"It has never crossed my mind to leave this club. No chance," he insisted.
"I've had five or six good years here and I'm contracted for another 18 months.
"Since day one, I've had a good relationship with the supporters and I'd like to say I'm a big part of the dressing-room, character wise.
"My priority is 100% to play my part in fixing the situation we've got ourselves into, starting tomorrow night.
"I want to be part of the new manager's plans to try and help the club stay in the Premier League, so I'm just focusing on trying to beat Manchester United and we'll see where that takes us."