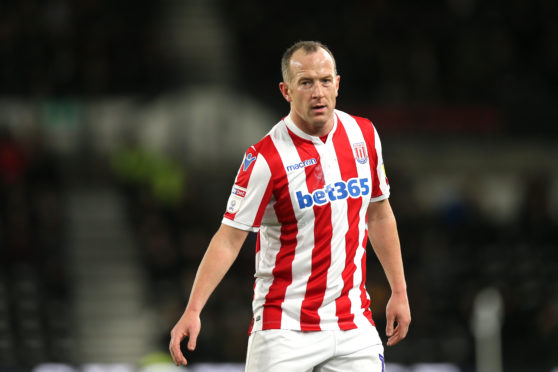 Scotland could be looking for a new leader in the dugout, as early as this week.
But Charlie Adam reckons they also need a few chiefs on the park.
The uninspired Scots eventually got their Euro 2020 qualifying campaign moving, after a few stalls along the way, with a 2-0 win in San Marino last Sunday.
Yet the dismal 3-0 defeat to Kazakhstan that preceded it meant gaffer Alex McLeish is now fighting to keep his job.
It was a shambolic Scotland showing against a team ranked 77 places below them in the FIFA World Rankings.
Whoever has their hand on the tiller of the Good Ship Scotland going forward, Stoke City favourite, Adam, has identified a major problem that must be addressed, otherwise a campaign that has already been holed below the waterline will sink without trace.
"There is a lack of authority figures in the squad," said the 26-times-capped star.
"There are some lads there who have proper European experience, like Callum McGregor, Stuart Armstrong, James Forrest and Andy Robertson.
"But a couple more experienced players in the group would help.
"I'm not saying they necessarily have to play 90 minutes of every game. I just think those types of players could help when you're in certain positions – like being 2-0 down away to Kazakhstan early doors.
"They can help you regroup and get a foothold back in the game, rather than going gung-ho.
"But if players aren't making themselves available, it's very difficult."
For Adam – who was handed his Rangers debut and awarded his first Scotland cap by Alex McLeish – that is the crux of the matter.
Forget about the players who did stand up to be counted in Kazakhstan and San Marino.
With an average age of around 25, they were Scotland's youngest sides for decades.
Instead, it's the older players whose experience might have made a difference, but who didn't answer the call, that need to be questioned.
"It doesn't look good," said Adam, having been asked about Steven Fletcher, who scored for Sheffield Wednesday hours after asking to be excused from the national squad.
"That's when the manager has to be strong.
"That's when he has to know there are people you can trust, and people you can't trust.
"For me, that's how it is.
"If people don't want to turn up there's nothing you can do about it – but there has to be a legitimate reason for not turning up.
"The question is whether lads who aren't sure whether or not they're going to play are saying to themselves, 'Why do I want to go away for 10 days?'
"If you look at England, everybody wants to go and play for them at the moment, whether they're sitting on the bench or not.
"England had the captain of Liverpool (Jordan Henderson) sitting on the bench the other night. He's part of a team that's trying to be successful.
"In Scotland's case, when you've got players who don't want to turn up because they think they aren't going to play, I think it's sad for both the manager and for the country."
Adam has never hidden his desire to pull on a Scotland shirt.
But the Dundee-born star, who won the last of his 26 caps against Qatar in 2015, seemed to be frozen out of the national set-up under Gordon Strachan, despite being a regular Premier League starter for Stoke City at the time.
Other players might have taken the hump and retired from international football.
Yet Charlie never ruled himself out, and having returned to the Stoke midfield under new boss Nathan Jones, he insists he never will.
"I'm available and ready to go," said Adam.
"At the end of the day, I respect the midfielders who are in there, playing well and playing regularly, people like Callum McGregor, Stuart Armstrong, John McGinn.
"I've not got a problem with them playing, because they're playing well.
"But all I want is to see Scotland do well, and if there's ever an opportunity in there for me to go again, I'm ready.
"I'm playing regularly and playing well. I'm definitely not retired."
It has now been seven years since Adam joined Stoke from Liverpool for £4 million.
For the first six years – under Tony Pulis, Mark Hughes and Paul Lambert – the 33-year-old was always among the first names on the team sheet.
Spectacular goals and plenty of plaudits were the result.
But after sticking with the Potters following last season's relegation to the Championship, Adam found himself on the sidelines under Lambert's successor, Gary Rowett.
It was a frustrating time.
However, after Rowett's removal in January, Charlie – with his Stoke deal running down – is back in the mix, just in time to show his worth.
"It has been brilliant," he said of his return to the fold.
"I wasn't involved at the start of the season under the old manager.
"That was his choice to make, but I've been getting an opportunity with the new manager and I'm enjoying it.
"I'm looking forward to the next seven games now, and seeing what happens, because I'm out of contract in the summer.
"I don't know what's going to happen yet. I still don't know the position of the club, but we are where we are.
"All I know is I've got seven games to go and we'll move on from there. It's a club decision at the moment.
"It looks like the new manager might want to rebuild and bring his own players in, but we'll sit down in the summer and see what happens."
Adam was heavily linked with a move to Rangers last summer.
Whether the Gers will take an interest in the next few months remains to be seen.
But if his old club do come calling, Adam reckons they will do so as a side going places with Steven Gerrard.
"For a first season, I think he has done well," said Adam of his former Liverpool team-mate.
"He'll be disappointed that, in certain games, the players maybe haven't done themselves justice.
"But to do that every week, you need experience of being in the position of challenging for a title – and Rangers haven't been in that position for a while.
"It's now about making sure this season doesn't fizzle out, and having a right go at it next season.
"They will find themselves in positions where they can learn from what happened this year, and that's going to be beneficial."
Today's Old Firm clash could be classed as an opportunity for Rangers to stockpile some of the high-stakes experience Adam refers to.
The result is unlikely to influence the destination of this season's title.
But with change afoot at Celtic Park this summer, it is, if nothing else, a chance for the Gers to pile some pressure on their bitter rivals.
"In the short term, this season, losing Brendan Rodgers probably won't affect Celtic," Adam said.
"But whenever the new manager is appointed – whether it's Neil Lennon or whoever – they will want to bring their own ideas in, and that will be different.
"It will be interesting to see how it goes, and there's always the chance that Brendan might come in for players like Callum McGregor and Kieran Tierney.
"So there's potentially a rebuild needed there.
"On both sides, for Rangers and for Celtic, it will be interesting to see how things play out in the summer."