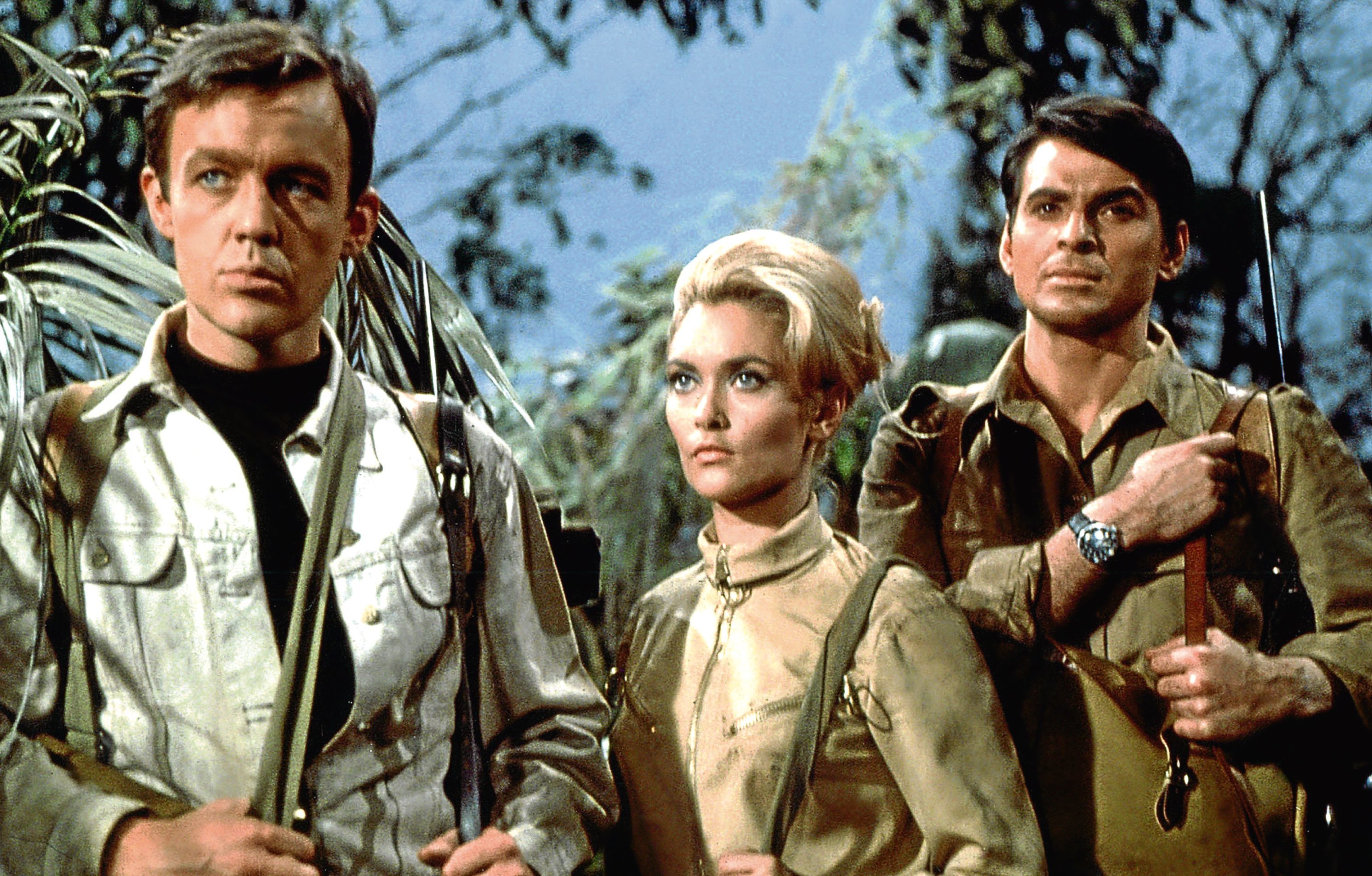 BRITISH TV in the 1960s seemed to produce endless classic series — but to many a fan, The Champions really lived up to their name!
I was already a fan of The Avengers, The Saint and Man In A Suitcase, all from Lord Lew Grade's incredible ITC group, when they came out with The Champions.
For me, it put them all in the shade, with William Gaunt the droll, cool guy, Stuart Damon the unsmiling tough guy and Alexandra Bastedo, well, my idea of the perfect woman.
And I was only seven at the time!
Alexandra was a stunner around London and even more so on the set of The Champions.
My young pals and I also wanted to be a bit like either Gaunt or Damon, who seemed to be a combination of James Bond, The Saint and various other heroes all mixed together.
The Champions was also far from just a British-based series.
Almost every episode began with the camera zooming in on a map, and our heroic threesome were always travelling off to distant corners of the Earth.
They had, after all, got their special, secret powers during a plane crash in the Himalayas, given to them by a mysterious people in Tibet.
After this, the trio could communicate with each other using ESP, and as the series went on, they found out more and more about what powers they had and how they could use them to bring world peace.
That's what they were about, always just stopping nasty Russians, sinister Chinese, fascist regimes, Nazis and the like.
They had their base in Geneva, Switzerland, nice and neutral, and even their boss, Tremayne, didn't know about their new-found powers.
Not only had they been given the power of telepathy, but they could foresee the future, and their senses were enhanced, as was their intellect and physical toughness.
Craig Stirling, Stuart Damon's character, had such formidable hearing, for instance, that he could hear his girlfriend's watch when she lost it in a large overgrown field.
Sharron Macready, the role played by La Bastedo, as Alexandra would become known, was able to pick up and move her badly-parked car with one hand.
Broadcast on ITV between 1968 and the following year, The Champions would also be shown during the summer in the United States, a lucrative feat that Lew Grade pulled off with several of his hit series.
Perhaps the fact that this trip worked for Nemesis, and played it all very neutrally but definitely against the Soviets in an era when the Cold War was genuinely petrifying everyone, helped their popularity Stateside.
One great episode featured a nasty USSR captain and his wife aboard a Western submarine in a Scottish loch, with spies around every corner, and we were left in no doubt which side The Champions were on.
Richard Barrett, William Gaunt's character, was a code breaker before joining up, while Stirling was a pilot and Macready a recently-widowed scientist and doctor.
It's thought that many episodes featured these types of enemies because the people who wrote it had been part of the War Generation, and were now living through the Cold War.
Although there was a steady stream of star names — and future stars — filling many cameo roles, the only other person who featured in every show was Tremayne, played by Anthony Nicholls.
A distinguished Shakespearean stage star, ranked up there with the Oliviers and Redgraves, he had also appeared in endless TV series.
In his late 60s, he must have thought his career was now in its twilight years, but it was The Champions that made him a household name.
Gaunt had been born in Pudsey, West Yorkshire, and made brief appearances in the likes of Z Cars and The Avengers. As recently as last year, he played a judge in EastEnders.
It says everything that he is still best-remembered for playing Richard Barrett.
In some ways, Damon's career has been even more marked by The Champions, on one side of the Atlantic, at least.
In the USA today, mention his name and they will tell you he's the guy who played Dr Alan Quartermaine for three decades in General Hospital, an extremely-popular soap opera on the other side of the Pond.
Only Americans of a certain age, with their memories intact, may recall he was also that guy Craig Stirling in The Champions, although every Briton of my age or older will know that.
His parents had fled the Bolshevik Revolution, so it must have been strange, playing a guy who so often was the scourge of the Soviet Union's dark baddies.
Alexandra, who died of cancer a couple of years back, spent most of her later life looking after her beloved animals at her sanctuary in England.
She'd been married to theatre guru Patrick Garland for more than 30 years, was a friend of Prince Charles, was proud to have made life better for countless waifs and strays, and they say her home featured all manner of animals.
Certainly, when my boyhood dreams came true and I got to interview her for this paper, she was as witty, intelligent, sexy and modest as I could have hoped for.
And, boy, did she dote on those animals!
She spoke Spanish, Italian, French and German, which led to her getting jobs on Miss World and even helping translations at 10 Downing Street.
A remarkable woman, who genuinely couldn't care less about her looks, but patiently put up with my gushing praise down the phone.
I think, deep down, she knew, as they all did, that in The Champions they had made a real bit of British television history.
We'll never see its likes again, or a trio of heroes so ultra-cool and unique.
---
Show creators set out with aim to make 'incredibility credible'
ONE of the most-unusual Champions episodes showed a whole other side to the series.
The Interrogation, first broadcast at the start of 1969, centred around Craig, who had been captured following a Hong Kong mission.
Held in a cell, he was cruelly interrogated, only to discover it was being done by Nemesis, his own people.
They were trying to find out how he completed his latest mission, and Craig blamed his two colleagues for not intervening, as well as their boss, Tremayne, who was behind it.
It was most odd, to find them all turning against each other, and for one show to focus on just one of the trio so much.
With the Cold War going on in real life, full of paranoia and double-dealing, it struck a chord with viewers and was much talked-about.
Craig's interrogator was played by a geat British actor we tragically lost at the peak of his fame — Colin Blakely.
Just 56 when he died, the Northern Irish star was already a great icon, having appeared in Saturday Night And Sunday Morning, The Private Life Of Sherlock Holmes, Young Winston, Murder On The Orient Express and Pink Panther movies.
It was following this remarkable Champions episode that he played Jesus in a Dennis Potter TV play, the controversial Son Of Man, and became a star.
It's a bit strange now, to recall how some critics reckoned The Champions was too far-fetched, at a time when space series and all manner of weird storylines were on telly and movies!
Monty Berman and Dennis Spooner, the men who came up with the whole thing, explained what they had been after.
"Our aim is to make incredibility credible," they said.
"It is a natural development of television adventure.
"Action dramas have the impossible in their exploits, fights, cunning and unbelievable physical stamina.
"They go beyond the realms of probability. One man can defeat a dozen several times in the course of a single story. No one can believe that any mortal could achieve what the present-day heroes manage to do and survive.
"But The Champions makes it all logical because the three characters have these out-of-the-ordinary powers."
To kids of all ages, no explanation was necessary. The Champions was just darned good telly excitement, and nobody's emulated it in the decades since.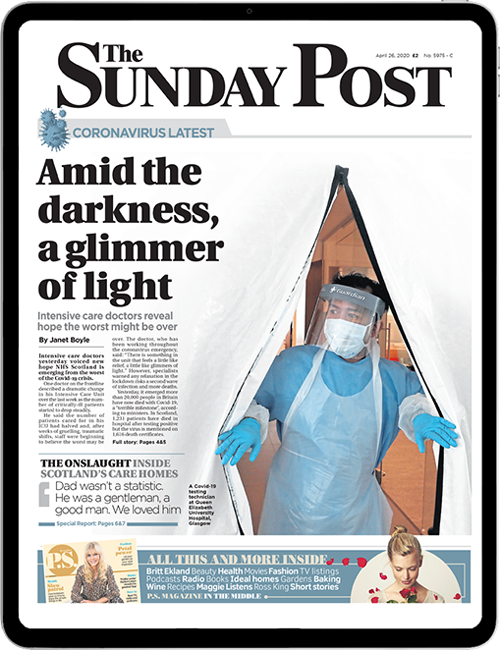 Enjoy the convenience of having The Sunday Post delivered as a digital ePaper straight to your smartphone, tablet or computer.
Subscribe for only £5.49 a month and enjoy all the benefits of the printed paper as a digital replica.
Subscribe