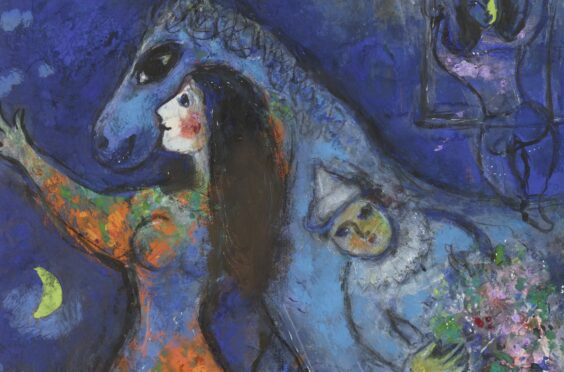 From a beautiful but baffling blue horse to a hazy beauty on a high trapeze, it is a long unseen masterpiece of magic, colour and mystery.
Now, Marc Chagall's L'Écuyère – The Horse Rider – will be seen in public for the first time since the 1950s as it takes centre stage at a landmark exhibition.
The painting will be on show as part of New Arrivals at the Scottish National Gallery of Modern Art in Edinburgh next month. "It's an exciting time," Patrick Elliott, chief curator of Modern and Contemporary Art at National Galleries of Scotland said.
"This is the first work by Chagall to enter Scotland's national collection. We acquired the painting last year but due to Covid, this is the first time we are able to show it. This is the third attempt at launching this exhibition. Until this painting arrived, we did not possess any work by Chagall – a major gap, considering his importance as one of the great colourists of the 20th Century.
"It appears this work has remained un-exhibited since it was acquired in the 1950s."
The painting, thought to be worth a six-figure sum, was gifted to the museum by Andrew Stirling and Simonetta Stirling-Zanda, who lived in Edinburgh, via the Acceptance In Lieu scheme, which enables taxpayers to transfer important works of art into public ownership while paying Inheritance Tax.
Elliott added: "The painting was bought by an Italian collector and passed to his daughter who married a Scotsman, who then gave it to us because they like the gallery so much. Without these schemes, paintings like this would be hanging on the wall of a billionaire's home, but the Acceptance In Lieu means they can be placed in a gallery for all to see."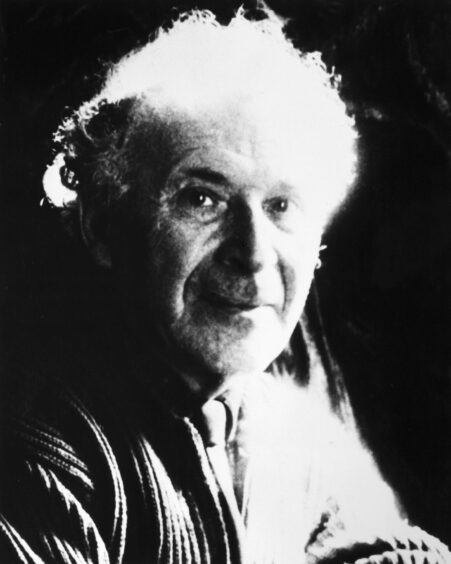 The painting is part of the Circus collection, which Chagall began painting when he first arrived in Paris, before the First World War. The Russian artist focused on the subject in 1927 when the dealer Ambroise Vollard asked him to paint a series of gouaches based on the circus, Le cirque Vollard. He returned to the circus theme regularly in later years.
He remarked: "For me, a circus is a magic show that appears and disappears like a world. A circus is disturbing. It is profound. These clowns, bareback riders and acrobats have themselves at home in my visions. Why? Why am I so touched by their make-up and their grimaces? With them I can move toward new horizons. Lured by their colours and make up, I can dream of painting new psychic distortions."
Elliott says its his striking use of colour that sets Chagall's works apart. "Chagall is one of the few Picasso admired as a colourist," he said. "He has a way of putting colours together, like the blue background with orange to make them sing intently. This painting looks like stained glass or like it has been lit up. No one can use colours like Chagall."
Chagall is one of the most celebrated of the pre-war avant-garde figures. He actually travelled to Scotland in 1959 when awarded an honorary degree by the University of Glasgow.
Elliott believes Chagall's use of colour plays to the strengths of the gallery's collection which includes not only acclaimed French artists like Matisse but the famous Scottish colourists Fergusson, Peploe, and Cadell.
L'Écuyère is one of more than 100 pieces which will go on show as part of New Arrivals. The exhibition – which features a Picasso, a piece by Salvador Dali, the first artwork by Glasgow School of Art-educated Jenny Saville to enter a UK public collection and Bows, a painting by Frances Macdonald MacNair, a member of the celebrated "Glasgow Four" – is the fruit of five years' worth of acquisitions work, all made possible by the generosity of National Galleries of Scotland (NGS) supporters through gifts, bequests and grants.
Simon Groom, director of Modern and Contemporary Art at the NGS, said: "Acquisitions breathe new life into our collections. They allow us to reflect the latest developments in Scotland and beyond, reinforcing the strength of our existing collections and research."
---
New Arrivals opens Nov 27 and runs until spring 2023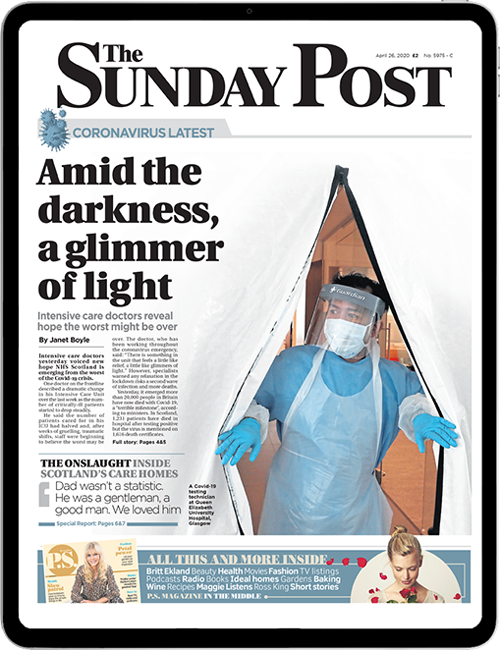 Enjoy the convenience of having The Sunday Post delivered as a digital ePaper straight to your smartphone, tablet or computer.
Subscribe for only £5.49 a month and enjoy all the benefits of the printed paper as a digital replica.
Subscribe