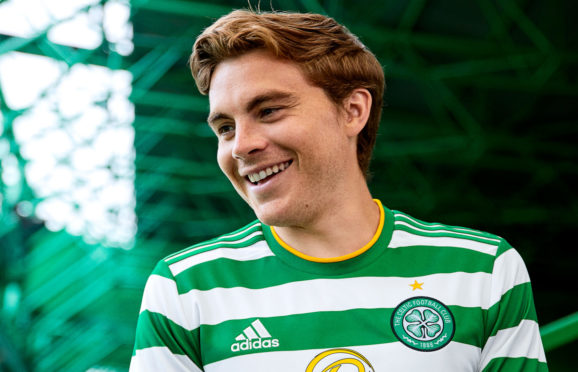 James Forrest insists Saturday's reunion with Moussa Dembele in Lyon won't burden him with any feelings of envy.
The Celtic and Scotland winger, just turned 29, is the dictionary definition of a one-club player.
Signed in 2004, he has made nearly 250 appearances for the club, won every domestic prize going and won multiple Player of the Year awards.
The only thing he hasn't done is have his talent franked by a big-money move, such as Dembele's £20-million switch from Celtic Park to Lyon two summers ago.
"I don't ever get jealous of guys like Moussa," said Forrest. "If you ask any of the boys, we're buzzing for any player who goes on to play well for another team.
"When a player goes down to England or, like Moussa, goes abroad, we're all hoping he does well because it looks good for Celtic and for us.
"It shows that we have a standard of player that can improve top teams.
"Most of the boys here played alongside him, and we're looking forward to seeing him. But it always feels a wee bit strange when you go from that to playing against someone.
"I remember hearing we were going to sign him, and being impressed.
"We benefited from the cross-border rule. If he had stayed in England, he would have cost a lot of money.
"We were excited. We had all seen him playing before, and a couple of lads in the Scotland squad had also played with, or against, him when he was at Fulham.
"We all knew he was highly-rated, and it lifts everyone when you find out a player of that quality is signing for you.
"As a winger, he was a great to play with. He'd always make good runs and give you something to hit.
"But, more than that, he would also win us games on his own.
"He stepped up in European games and led the line brilliantly, and he has continued to do well.
"Moussa has kept in touch. We have had a really tight, close squad for the last few years.
"He came over when we got the league trophy last year, and he was in the dressing-room with us after the match."
Celtic, of course, still have a French phenomenon in their side, and Saturday's friendly will allow fans to make a direct comparison between Dembele and Odsonne Edouard.
With the latter linked with a £25m move to Crystal Palace, some might suggest Hoops fans should enjoy him while they still can.
Forrest said: "Everyone at the club wants Odsonne to stay for another few years if possible. We're with him every day, and we see the stuff he does in training.
"Maybe in a few years he'll decide to move on, but he is a big talent and we want him to hang around."
Forrest is not fazed, either, about the prospect of going to play abroad while coronavirus is still as issue.
"I'm relaxed enough," he said. "I'm sure they will give us advice on how to cope, but it will be strange."