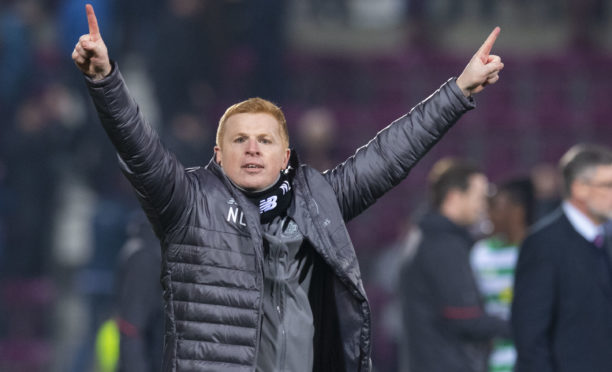 Celtic caretaker boss Neil Lennon insists he won't be fooled by any cunning attempt at misdirection by his Hearts opposite number, Craig Levein.
In a quirk of the post-split shake up, the Hoops host Levein's Hearts in the final Premiership fixture this afternoon, six days before the clubs meet in the Cup Final.
With both teams' positions at either end of the top half-dozen already determined, the temptation for coaches to try to avoid showing their Hampden hand ahead of time is obvious.
For Lennon, the question is not what Hearts will do today, or what they have been doing in recent weeks that matters. It is what they are capable of doing when the last of the trophies is on the line.
"I am not taking one bit of notice of their recent form," said the Irishman, when quizzed about his opponents' wretched run, which has seen them pick up a solitary point since the end of the regulation campaign.
"Craig has changed the team a lot over the last few weeks. He is rotating the squad a lot and he is a wily old character.
"He is shrewd, so we are not taking anything for granted, recent form or anything like that. It is all on the day.
"Can their best be a real threat to us? Absolutely.
"They have had a plethora of injuries to important players – Steven Naismith, John Souttar, Christophe Berra and Uche Ikpeazu – for significant periods of time.
"That's the core of the team that started the season so well, and I am not being disrespectful, but a club the size of Hearts can't afford to lose those players."
Today's game will be a more-relaxed affair for the Celtic manager than the reverse fixture back at the end of February at the very start of his second spell in charge at Celtic Park.
"Those back-to-back wins in Edinburgh were absolutely crucial," said Lennon.
"I did the press conference on the Wednesday afternoon and then went straight into the game at Tynecastle, without having done any work with the players.
"Then a few days later we are back up at Easter Road which, with the form Hibs had been in, was a big banana skin. But the players negotiated it really well.
"We are delighted with what we have done over the last couple of months. The loss to Rangers was our first defeat since December, so I don't see any reason to panic.
"We'd won the league the week before, although that seems to have been forgotten about very quickly.
"That's the big one. We've won the title and seen off all contestants.
"The players put the handbrake on a little bit before Ibrox. Psychologically, they were a bit down.
"I get that to a certain extent. We know we can play a lot better than we showed last weekend.
"When you come away from last week's game and analyse it in the cold light of day, it's understandable up to a point.
"I've gone there as a champion myself under Gordon Strachan and we got beat 2-0, and it was just flat.
"In my interim job, we beat Rangers, who were already champions, 3-1. Does it have any bearing on next season? Very rarely.
"So I'm not thinking about next season. But I understand a little bit about last week's performance, as they've been there and done it.
"We only analysed the first two minutes of the game because that's all we had to do really. That was the reason why we lost the game. Simple as that.
"We know we can play a lot better than we showed last weekend. And to be fair to this group, whenever the real big games come around, their mentality has been excellent.
"It has been difficult taking over from Brendan Rodgers and I'm pleased with the way it's gone. We've kept the momentum going and done what we set out to do.
"Now we just have to keep it going.
"Since we won the league, we've left a few out just to make sure they're going to be all right, because the cup final is the one outstanding game left in the season.
"It's the last one, there's fatigue there, so they need to come down off it a little bit, in terms of rest and recovery. We want them peaking again for Hampden."