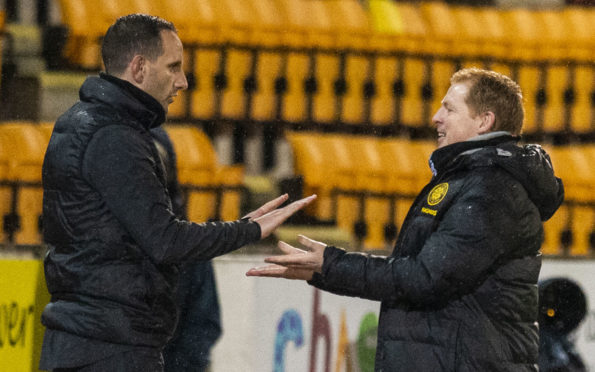 John Kennedy is better placed than anyone to testify just how much of a reformed character Neil Lennon is these days.
The Celtic manager's playing days – and early years of management – were punctuated by fierce shows of emotion and occasional skirmishes with the footballing authorities.
Yet, as he enters the second year of his second spell in charge of the Glasgow club, the figure he cuts now is of a coach with the clever knack of being able to keeping his composure and sense of perspective in even the most-testing of circumstances.
His No. 2 insists, though, that anyone who wonders if the Northern Irishman has lost any of his passion would be very much mistaken.
"Neil is calmer now, certainly more so than from when I remember him," said Kennedy.
"He blames myself and Damien Duff for that, mind you. He says: 'It's you two that make me that way!'
"But he still has the fire in his belly, that raw emotion which is part of his DNA and make-up. He is fiery when he needs to be, so it's a good balance.
"There is massive pressure. And I think it has built. I have been here the whole time and I have seen it build every year.
"In this moment there is huge pressure on the players – and the manager himself. But he does well to hide it and is a calming influence throughout the week.
"In the environment everyone is very well prepared. There are no real surprises along the way in terms of the way we work.
"It's all about preparation and then, when the hectic moments arise, you trust that everything is in place and the group are able to handle that.
"But, certainly, you see around match time that his juices get going and it's 'Showtime'."
Lennon's management style has been compared favourably to that of Martin O'Neill, the man who led Celtic to Seville in 2003 and one of the club's great all-time bosses.
Kennedy, who played under O'Neill's charge before the horror injury that ended his career in 2004, acknowledges the similarity, yet reports it as being only part of the story.
"Yeah, he has a bit of that. But he has his own style," said the former defender.
"When he is out on the pitch and wants to step in and do a bit of coaching, he has that as well. He ticks most of the boxes.
"That is a year we've now been together as a coaching team here and it has been great.
"There have been a lot of challenges, especially with the changing dynamic and how it all unfolded.
"But the response we have had from everybody in-house, and the response Neil has had from the players, it has been really good.
"We are a tight-knit group, anyway, and when we look at the season as a whole, and what we are doing at the moment, it's very, very, positive.
"We had a challenging time towards the end of last season. We managed to get over the line and secure the domestic Treble again and we have had a great first half to this season.
"We have started the year well, and we want to keep that going for as long as possible. We are in a good place. Even coming away with a 1-1 in that first leg in Copenhagen puts us in a good position for the second leg.
"There is still so much to come."
From Celtic, as they pursue nine-in-a-row and from Kennedy, too. Twelve months on since his internal coaching promotion, he could not be happier with his progression in the game.
"I love it. I've enjoyed every role I've had and there are different responsibilities," said the 36-year-old.
"Since Neil has come in, he has allowed us to do a lot on the training pitch. I am talking about getting to deliver a lot of sessions and take a lot of meetings with the players.
"He will oversee everything, step in and out, and then on match days he really comes to life.
"He is there all week. He never misses anything and spends a lot of time with the players on the training pitch.
"But he tends to take it up a few gears on a match day and that's when he is really in his element.
"He is great with the players, honest and up front with them, and he has a great relationship with them. He has been good for me to work with, too.
"Psychology-wise, in terms of pushing the players and placing demands on them, and making them aware of the expectations of being a Celtic player, he highlights that all the time."
The respect is mutual. When Hibs made low-key inquiries with a view to making Kennedy their manager last November, Lennon told them his assistant was going nowhere.
Kennedy, he said, was too important to Celtic's plans to be allowed to leave.
The fact his No. 2 is credited with having an input into the formation revamp that has allowed the Hoops reinvent themselves off the back of the alarming loss at home to Rangers after Christmas, vindicates the decision.
"We have worked on a few things and now we have the option of changing it going into any game, or even within a game, we can switch it too," said Kennedy.
Flexibility is certainly needed.
If, as expected, the Hoops can see off Copenhagen at home on Thursday night, they will still have to deal with the demands of a European campaign heading into the spring.
"The players have shown themselves up well in Europe," said Kennedy.
"They appreciate that there is another team out there, an opposition that wants to push us. They know they have to respect that.
"In Denmark, overall the performance wasn't that great. Our ball retention in the second half wasn't as good as it should have been.
"We should have kept it better. They put us under pressure and had us on the back foot.
"We have just got to accept the result – we probably didn't play well enough.'
"But coming to Celtic Park is a different animal. With our fans behind us, we will fancy ourselves to get a better result."
With the crowd roaring them on and with Lennon, tigerish hero of the Seville run, watching calmly on from the sidelines.