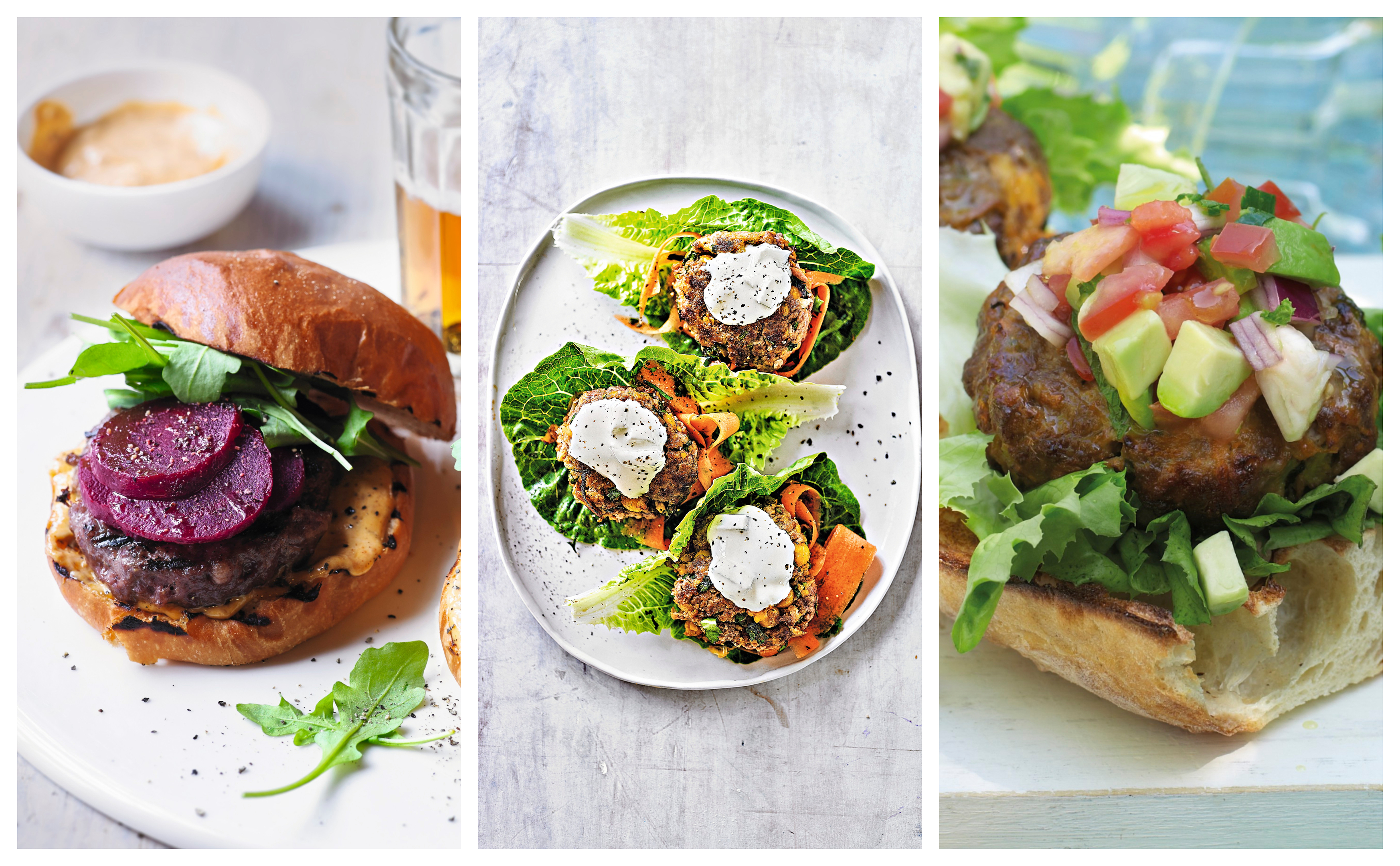 NEXT week marks National BBQ week.
What better way to celebrate than with these delicious recipes,courtesy of Waitrose!
Lamb burgers with beetroot relish
Preparation time:15-20 minutes, plus chilling time
Cooking time:10 minutes
Total time:25 minutes to 30 minutes 
Serves: 4
Ingredients
2 tbsp olive oil
2 shallots, finely diced
2 tsp caraway seeds
2 large raw beetroot, about 125-150g each
1 tbsp roughly chopped dill, plus extra to garnish
500g lamb mince
½ tsp sea salt
170g 0% fat Greek yogurt
1 tsp tahini
4 burger buns or rolls, halved and toasted
Salad leaves, to serve
Method
Warm half the oil in a frying pan over a high heat. Add three-quarters of the shallots and cook for 3-4 minutes or until soft and golden. Add the caraway seeds and cook for a further 30 seconds. Remove from the heat and cool.
Place the remaining shallots in a large bowl. Peel and coarsely grate the beetroot into the bowl. Add the remaining oil and the dill. Season and mix well. Cover and set aside at room temperature for 20 minutes.
Place the lamb in a large bowl and add the cooked shallot mixture and the salt. Using your hands, knead the mixture well to combine. Then, with dampened hands, shape the mixture into 4 burgers just a little larger than the buns. Place on a plate, cover and chill for 30 minutes. Blend the yogurt and tahini together, season and set aside.
Light or preheat the barbecue, griddle or grill to high. Cook the burgers for about 5 minutes on each side until well done. Serve in a toasted roll on a bed of salad leaves, topped with the relish, a spoonful of tahini cream and extra dill to garnish.
Carrot, coriander and chickpea burgers
Make these veggie burgers several hours in advance, or even the day before, and chill them so they have a chance to firm up a little before cooking.
Preparation time:20 minutes
Cooking time:10-15 minutes
Makes: 6
Ingredients
400g can chick peas
1 tbsp vegetable oil
2 onions, chopped
75g white or brown breadcrumbs
300g carrots, grated
½ x 28g pack fresh coriander, chopped
2 tsp harissa paste
1 egg
240g garlic flatbread to serve
Fragata Spanish hot peppers and soured cream, to serve
Method
Drain the chick peas and crush in a food processor until almost paste-like. Tip into a bowl.
Heat the oil in a frying pan and gently fry the onions, stirring frequently, until soft and lightly browned. Add to the bowl with the breadcrumbs, carrots, coriander and a little seasoning.
Mix the harissa paste with the egg and stir well into the carrot mixture. Using your hands, shape the mixture into 6 even-sized pieces. Press each firmly into a ball and flatten into burger shapes. Chill until ready to cook.
Light the barbecue about 30 minutes before cooking to allow the flames to die down. Cook the flatbread according to pack instructions or by heating it on the barbecue. Cook the burgers for about 5 minutes, gently turning once, until golden. Cut the flatbread into wedges and serve with the burgers, peppers and a dollop of soured cream.
Tikka burgers with carrot salad & tzatziki
Gluten Free
Preparation time:10 minutes
Total time:20 minutes to 30 minutes 
Serves: 4
Ingredients
400g can chickpeas, drained but liquid retained
400g Lean British beef minceTypically 10% Fat
50g Tikka curry paste
Small pack of coriander, stems finely chopped, leaves roughly chopped
1 large carrot, about 225g, shaved into ribbons with a peeler
Juice of 1 lime
2 cos lettuces, 12 outer leaves separated
60g fresh tzatziki
Method
1 Put the chickpeas into a large bowl and roughly crush with a fork. Add 3 tbsp of the chickpea water, the mince, tikka paste, coriander stems and half the leaves. Season well, then mix with your hands until well incorporated. Shape into 12 small burgers.
2 Fry the burgers over a medium heat in batches for 5 minutes on each side until golden and cooked through. Meanwhile, toss the carrot with the lime juice and seasoning, and leave to marinate.
3 Add the coriander leaves to the carrot, then spoon into the separated lettuce leaves. Top each with a burger and a little tzatziki, allowing 3 burgers per portion.
Dill pickle beef burgers with avocado salsa
1 of your 5 a day
Low in saturated fat
Preparation time: 20 minutes, plus chilling
Cooking time: 15 minutes
Total time:35 minutes, plus chilling
Serves: 6
Ingredients
400g beef lean mince (10% fat)
100g soft white breadcrumbs
1 large carrot, grated
6 pickled cornichons, chopped
1 free range egg, beaten
4 tomatoes, finely chopped
1 avocado, skinned, stoned and finely chopped
1 small red onion, finely chopped
Zest and juice of 1 lime
2 tbsp roughly chopped mint
1 plain ciabatta loaf
1 curly lettuce, leaves separated
Method
Place the beef, breadcrumbs, carrot and cornichons in a large bowl, and mix together well. Stir in the egg, then firmly shape into 6 even-sized burgers. Chill until ready to cook.
Meanwhile, mix together the tomatoes, avocado, red onion, lime zest and juice, and the mint. Chill until ready to serve.
Cook the burgers on a barbecue or under a preheated grill for 5-6 minutes on each side until nicely browned and cooked through.
Cut the loaf in half lengthways, then cut each half into 3 even pieces. Toast the cut sides of the bread under the grill until golden.
Lay 2-3 lettuce leaves on each piece of ciabatta, then top with a burger. Spoon over the avocado salsa and serve straight away.
Cook's tip 
For fashionable 'sliders', shape the beef mixture into 12 mini burgers and serve in assorted mini rolls. Or for delicious spicy pork burgers, swap the beef for lean minced free range pork and add 1 tsp of a jerk spice blend.
Venison burger with chipotle mayo
Preparation time:5 minutes
Cooking time:10 minutes
Total time: 15 minutes 
Serves: 2
Ingredients
½ tbsp vegetable oil
2 lightly seasoned venison burgers
2 brioche burger buns
4 tbsp mayonnaise
1½ tbsp chipotle paste
Juice of 1 lime
1 freshly cooked beetroot, thinly sliced
2 handfuls of rocket
Method
Heat a griddle pan over a high heat, lightly oil the burgers with some of the vegetable oil, and when the griddle is hot gently lay the burgers on to cook. Griddle for 2 minutes on each side, then flip again and cook for a further 2 minutes on each side, or until cooked through and no pink meat remains. Remove to a plate to rest.2. Slice the brioche buns in half and toast cut-side down on the griddle for about 20 seconds.

3. Mix together the mayonnaise, chipotle paste and lime juice to make a smooth sauce.

4. Generously spread the spiced mayo on the toasted brioche buns. Top with a burger and then pile on slices of beetroot and the rocket. Squeeze on the lid and serve with the remaining mayonnaise on the side.
Veggie burger stacks with parsley pesto
Preparation time:20 minutes
Cooking time:30 minutes
Serves: 4
Ingredients
4 x veggie burgers (such as Amy's Kitchen frozen Manhattan Veggie Burgers)
4-6 tbsp olive oil
1 large sweet potato, cut into 1cm slices (discard the ends)
275g pack portabella mushrooms
4 slices from a large slicing tomato
1 handful baby spinach leaves
FOR THE PARSLEY PESTO
4 tbsp chopped flat leaf parsley
2 tbsp toasted pine nuts
1 tsp chopped garlic
6 tbsp finely grated Gran Moravia vegetarian hard cheese
8 tbsp olive oil
Method
Light your barbecue. Whizz the pesto ingredients together in a blender with a pinch of salt for a few minutes until combined.
Brush the 4 burgers on both sides with oil. Brush the sweet potato slices and mushrooms with oil and season. When all the coals have turned white, barbecue the sweet potato slices around the edge of the grill for 20-25 minutes, turning frequently, until tender and nicely charred. Barbecue the mushrooms for 8-10 minutes and the burgers for 4-5 minutes or until hot and cooked through. Brush with extra oil as needed. Warm the slices of tomato on the barbecue for a few minutes.
Place a burger on each plate. Add a tomato slice, a few spinach leaves and a round or two of sweet potato to each one. Top with a mushroom, a drizzle of pesto and a few more spinach leaves. Serve the remaining pesto separately so that everyone can help themselves.