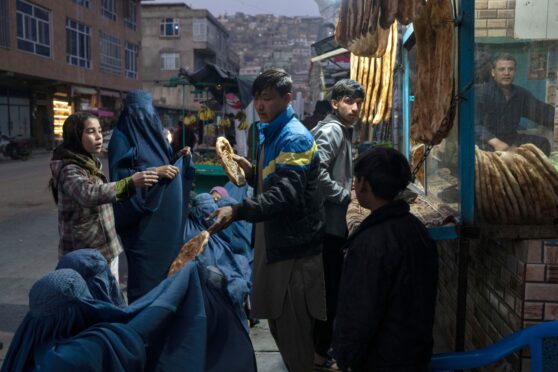 Afghanistan is facing a looming famine that will be the "worst humanitarian crisis on earth," aid agencies warned yesterday.
Up to eight million people are at risk of starvation due to a combination of climate change, conflict, economic collapse, and Covid.
Hundreds of thousands of Afghans have fled the country since the Taliban swept back into power in August following the sudden evacuation of US and British troops after 20 years. Foreign aid to the country has stalled since the Taliban took charge while sanctions have frozen overseas assets.
The dinghy was too crowded. When the waves hit, I feared for my life: Afghan refugees on building new lives in Scotland
Rory Stewart, former international development secretary and an expert in the region, said support was urgently needed.
The former Conservative leadership challenger said: "We need to act fast and generously to save lives. Instead, governments are hiding behind rules to cover the fact that they are feeling bitter and humiliated over their defeat in Afghanistan.
"There are many good organisations on the ground who can deliver aid effectively. We should be funding them and supporting not only humanitarian work but good development projects too to stop the economic freefall."
The Disasters Emergency Committee (DEC), made up of 15 aid agencies, launched an appeal last month to provide lifesaving aid.
Please don't forget the people of Afghanistan – @WFP_Afghanistan doing all we can and more to help those facing hunger.▶️ pic.twitter.com/BszgeACbfl

— WFP Afghanistan (@WFP_Afghanistan) December 17, 2021
Nadeem Baqir, of Islamic Relief Scotland and spokesman for the DEC in Scotland, said: "Already 95% of people don't have enough to eat, there are very high rates of malnutrition and in the next three months more than eight million will be one step away from famine.
"Children are already dying of hunger, more than three million children under five are expected to suffer from acute malnutrition before March, with at least a million of these at risk of dying. It is now the worst humanitarian crisis on earth.
"Thirteen of the DEC's 15 member charities are active in the country and with £26 million raised across the UK in just the past two weeks, around £2.5 million here in Scotland, they are in the best position to help.
"They have negotiated access to those most in need and with this crucial new funding will be able to scale up their response.
"If people keep on donating to the appeal then our members will be able to deliver emergency food supplies, vital treatment for malnourished children and provide simple items like blankets and clothing to help families stay warm in freezing temperatures as winter starts to bite."
About 70% of Afghans work in agriculture, and drought has had a devastating impact on the country, causing crops to fail, plummeting livestock prices and drinking water shortages.
Gordon Brown: Failing to halt Afghanistan humanitarian crisis will haunt West
The drought is being blamed on climate change, with average temperatures in Afghanistan rising 1.8°C between 1950 and 2010, twice the global average.
Shelley Thakral, spokesperson for the United Nations' World Food Programme, said: "I met people in camps in Mazar-i-Sharif who have been displaced because of the conflict. You ask if they will go home now and they say, 'No, the drought has had such a big impact on our livelihoods. The land is useless to us.'
"People don't have jobs, money for food, and have very little hope.
"Most people you speak to want to leave the country. They say, 'Our country is destroyed, what is there for us to stay for?'"
She added: "It is absolutely essential to get food to people as fast as we can. Let's not forget those innocent people who do not deserve to go hungry.
"We urge the international community to spare a thought for the people of Afghanistan. We can't afford to let children starve."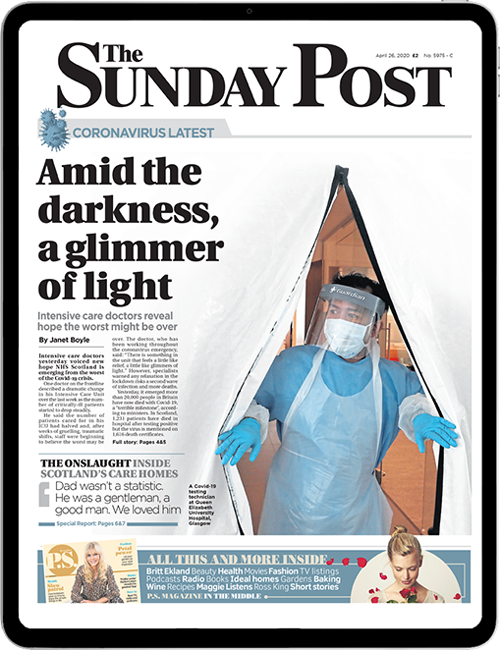 Enjoy the convenience of having The Sunday Post delivered as a digital ePaper straight to your smartphone, tablet or computer.
Subscribe for only £5.49 a month and enjoy all the benefits of the printed paper as a digital replica.
Subscribe