Growing up, Caroline Weir used to dream of being a professional footballer, and thought that, one day, she would play for Real Madrid.
She had Zinedine Zidane's name on the back of her jersey and, even as a six-year-old, was wowed by the technique he showed when scoring Real's winner in the 2002 Champions League Final at Hampden.
Two decades on, her success in being voted by the members of the Scottish Football Writers' Association as the inaugural winner of the Glen's Vodka SFWA Women's International Player of the Year award testifies to her success in making a living from the game.
Now it appears the second half of her bold prediction could soon come true.
She is out of contract with Manchester City at the end of the season, and has been linked with a move to the Spanish giants.
"I have given it a little bit of thought because obviously when you are running out of contract, a few things cross your mind," said the 26-year-old.
"There are always lots of rumours. But my head is on City, and we will see what happens in the summer. Who knows?
"Real Madrid are a massive club, and that is the way the game is now. There is all this attention.
"But nothing has been decided. I am happy at City, and my focus is on the big games we have coming up."
INTERVIEW: Scotland football star Caroline Weir on realising an impossible dream and inspiring a new generation
For all she stresses her focus on the here and now, Weir makes no bones about her ambitions.
"Every season I have goals set out. I want to win a league title, I want to be competing for a Champions League," she said.
"Those are team goals. I also have individual goals that I set myself every season to try to achieve.
"I feel I am in a good moment, physically. I am not a young player any more!
"I have a bit of experience behind me, and it is about pushing my level and constantly trying to improve.
"City has been a great platform for me to do that over the last few years, and I want to keep pushing on."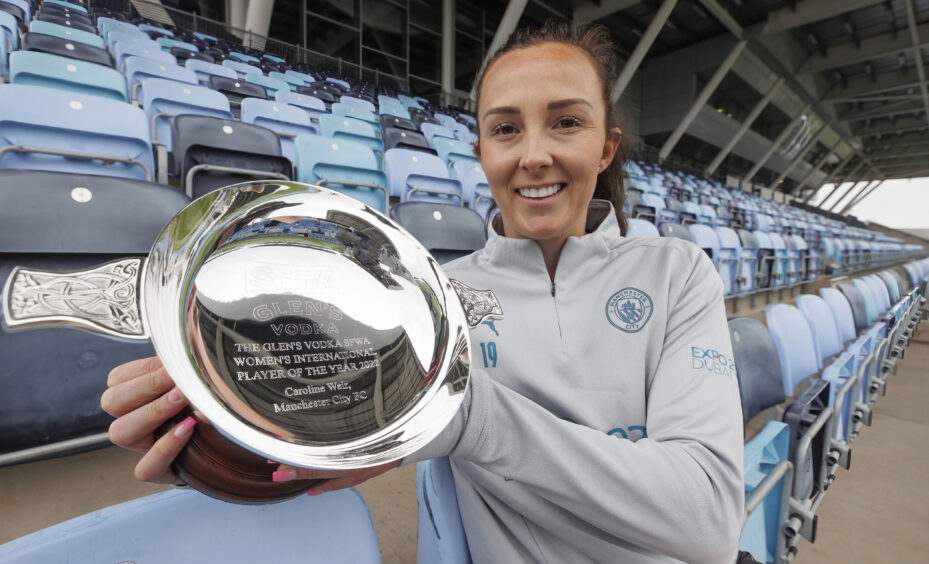 Weir points out that awards like the one from the Scottish football writers are helpful, both to herself as an individual and to the women's' game in general.
"As someone playing outside Scotland, it is nice to get a bit of recognition from people back home. So I am honoured and very pleased to receive it," she said.
"In England, I am used to us having the PFA awards, which are massive. So I think to have something similar in Scotland is the right thing.
"It is nice for players who have good seasons to get recognition as well."
Weir is, meanwhile, clear on where she would love the women's game to get to.
"A full Hampden is the ultimate goal, isn't it?" she said with a smile. "That is what we aspire to as a Scotland team.
"I would love to see a full Hampden during my time playing, and I don't see why that should not happen, given the way the game is going and the buzz around it.
"You need to be successful on the pitch, and the more successful you are, the more people want to come and watch.
"So we want to take care of that."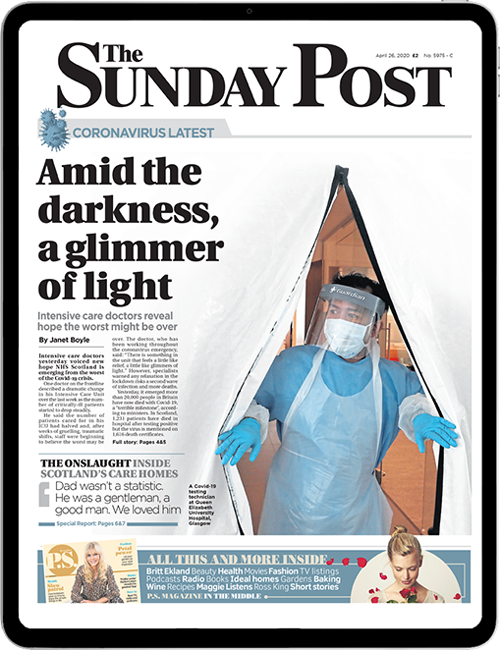 Enjoy the convenience of having The Sunday Post delivered as a digital ePaper straight to your smartphone, tablet or computer.
Subscribe for only £5.49 a month and enjoy all the benefits of the printed paper as a digital replica.
Subscribe