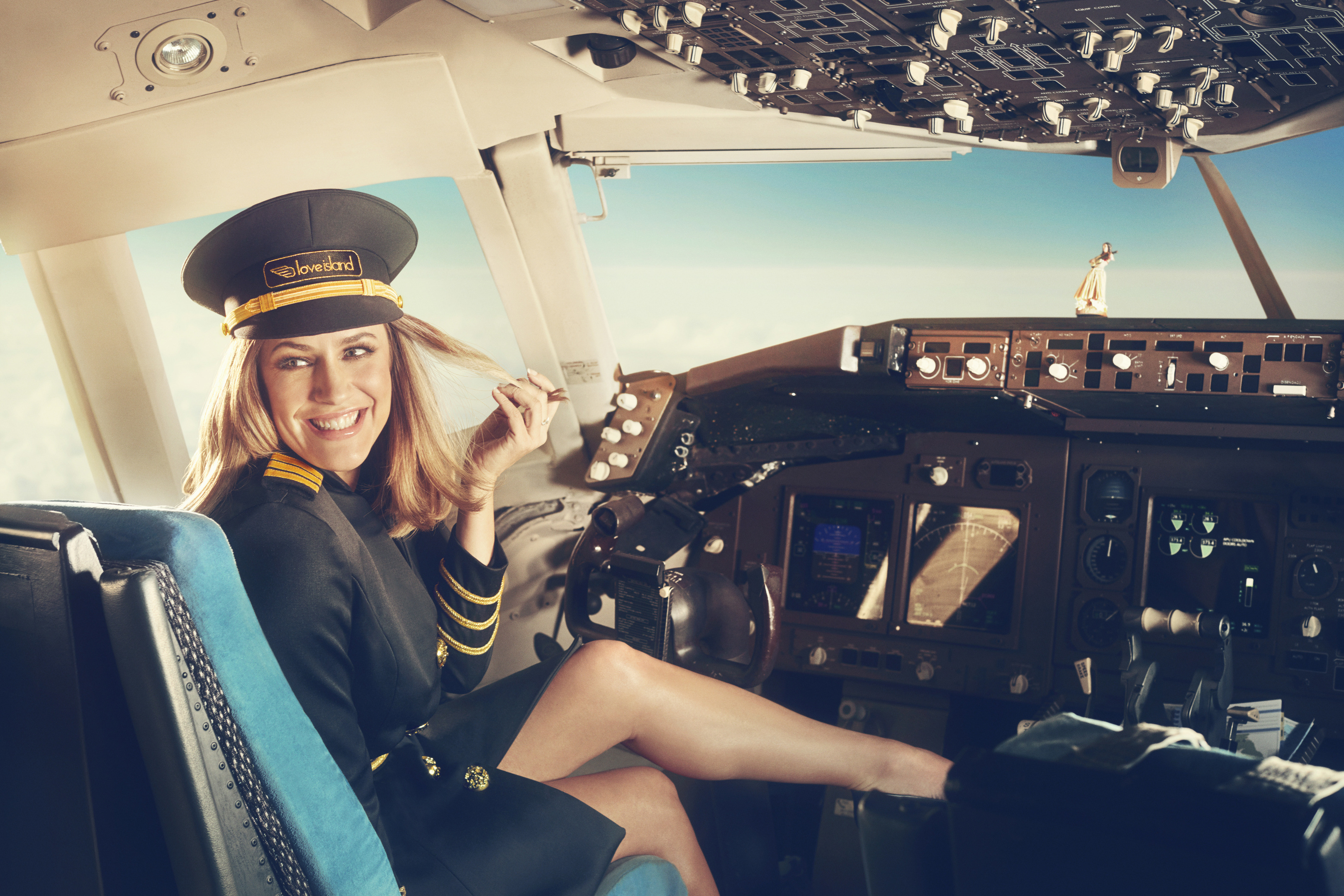 HOT and steamy, it was THE big talking point last summer.
Not the weather, unfortunately, but the racy goings-on and flirty antics on Love Island.
The ITV2 show went from low-key, late-night guilty pleasure to mainstream, guilt-free must-see. With almost 2.5 million tuning in to see Kem and Amber crowned as the winning couple last July, it became the channel's biggest-ever hit.
And at this month's Bafta Television Awards it scooped best reality show.
Now, on the eve of its return, presenter Caroline Flack settled down to give iN10 the inside scoop.
And, fittingly, as the host of a show all about love, she tells us about her own romance and surprise engagement to former Apprentice hopeful Andrew Brady.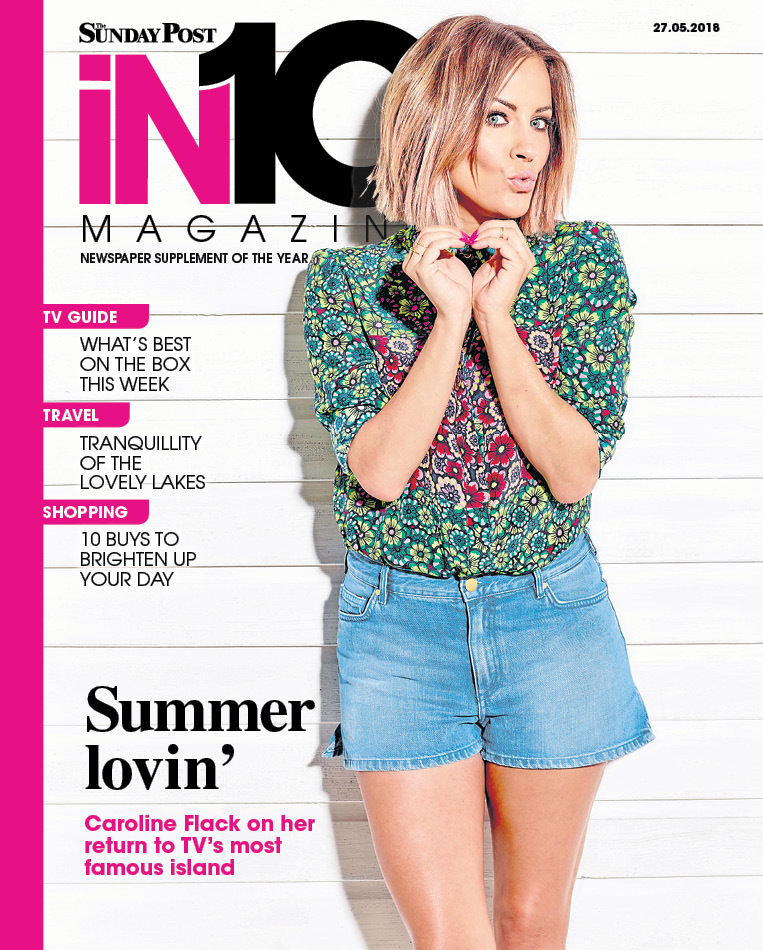 Just like the Majorcan climate of the Love Island set, a few minutes in Caroline's company is like a warm wave of Mediterranean positivity.
Whipped up by 100mph gusts of breathless chat.
"Doing this is a bit like going back to my TV family every year," says Caroline, 38. "It's the same team, but there's a certain buzz about it this year because of everything that's happened.
"There's definitely an expectation and that brings pressure, but that just gives you a kick up the bum to work harder.
"A little bit of pressure is a good thing."
While Love Island was a decent enough success from its launch in 2015, last year was when it took off quite spectacularly.
As a "viewer first and presenter second", London-based Caroline was more than aware of the buzz that was building on social media and out on the streets.
Was there one moment she really realised the impact?
"Yes – it was when my sister got in touch to say she loved it. I was like, 'But you've never watched anything I've worked on, ever!'" giggles Caroline.
"When I went out to Majorca I was telling the crew that it was huge and everyone was watching."
The will-they-won't-they intrigue about who the islanders would hook up with, who would be ditched and which loved-up duo would survive to pick up the £50,000 prize, proved to be irresistibly addictive.
"Look, we've all been there," insists Caroline. "We've either been in love, want to be in love or have made mistakes in love. And either you are that age or have been that age at some point, so it's relatable to everyone.
"Plus we're nosy about other people's relationships. It's what we gossip about."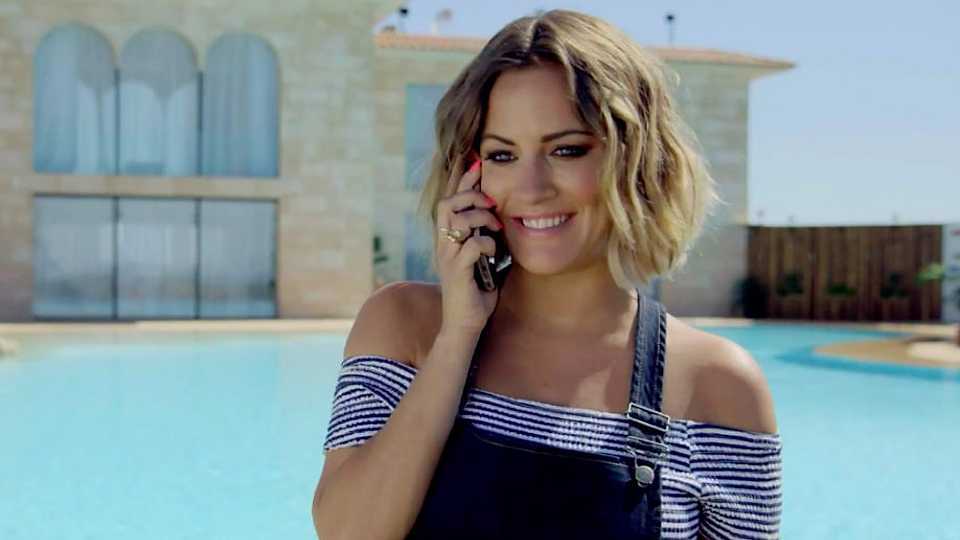 Oh, does the bubbly former X Factor presenter know that only too well.
There has been endless speculation and comment over the years about her love life, including dating One Direction heart-throb Harry Styles when he was still in his teens and she was already in her thirties.
So, when she started going out with 27-year-old Andrew, known for Celebrity Big Brother as well as trying to win Lord Sugar's business investment, back in February, the tongues were wagging again. He was unreliable, just interested in her for the fame, it was said.
But the initial comments were nothing compared to the frenzy that followed the revelation that he'd proposed and she was proudly showing off his engagement ring.
"It was completely out of the blue and a bit of a shock," admits Caroline.
"But it felt right and it was lovely to think I felt exactly the way he did and that we were on the same page."
And while the world and its social media-mad dog was happy to have its say, savvy veteran of such things Caroline kept a cool head.
"Look their opinion is not my reality," she says. "People love a moan – I love a moan! I don't listen to it. It's not what's really happening on the inside.
"The attention really doesn't bother me."
Looking back a year to her romantic status before meeting Andrew, is Caroline happier fronting this series?
"I was happy before when I was on my own because I'm very independent," she insists. "Now I'm happy with someone else.
"I don't know if Andrew will come across to Majorca but I'm not there for long anyway. I film mostly in London and we live together, so he's certainly going to be around!"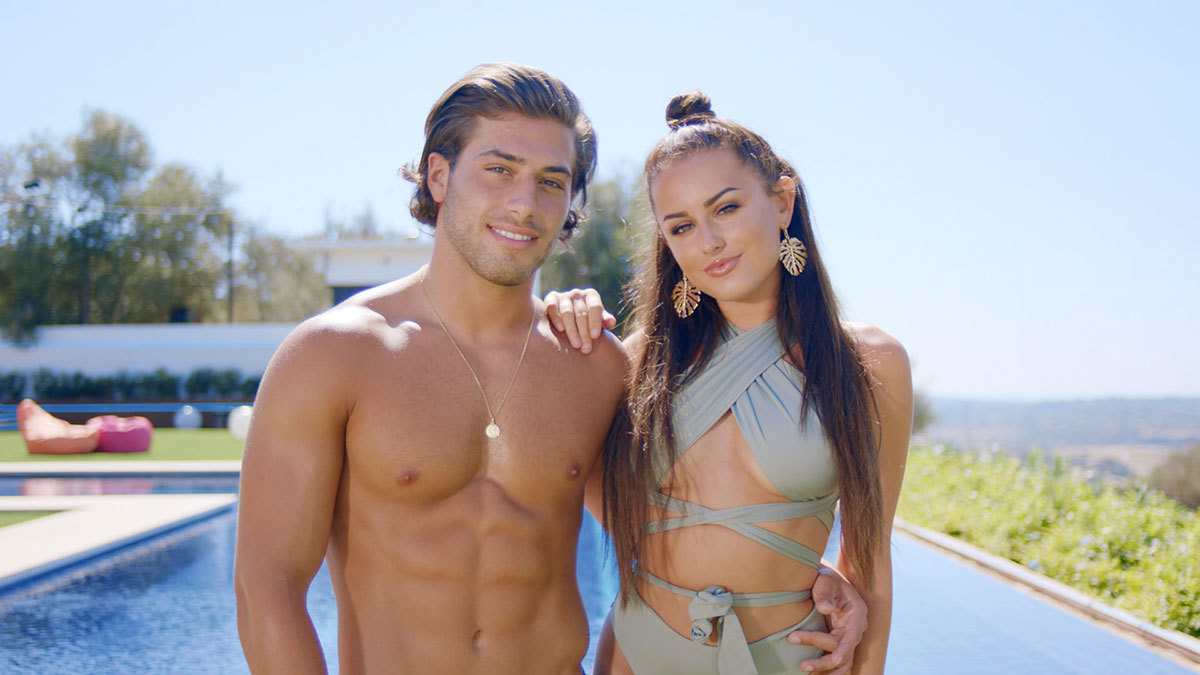 Caroline has thrived during her decade and a half in the cutthroat business of TV, since getting her break on sketch show Bo' Selecta! in 2002.
The spin-off shows for X Factor and I'm A Celebrity, and the main series of X Factor are just a few of the credits on her impressive CV.
And she, of course, won Strictly in 2014 alongside professional dancer Pasha Kovalev.
"It's one of those experiences you always have with you. And once you've done it, you want to do it again.
"I fell in love with dancing and everything that came with it. I did a stage show last year that had dancing and having started in musical theatre it brought it back out of me."
With all her telly experience, Caroline's early impression of Love Island's prospects proved to be accurate.
"I watched the first edited episode in my dressing room and I knew there was something special about it.
"It took a little bit of time to pick up, but that's just momentum and word of mouth.
"This is that bit more special for me, I guess, as it's the first show I've done from scratch. All the other ones I kind of stepped in after other people.
"So, there's a certain ownership from being part of it from the beginning. I don't know how long I'm going to do it, but there will always be a nice feeling to have started it."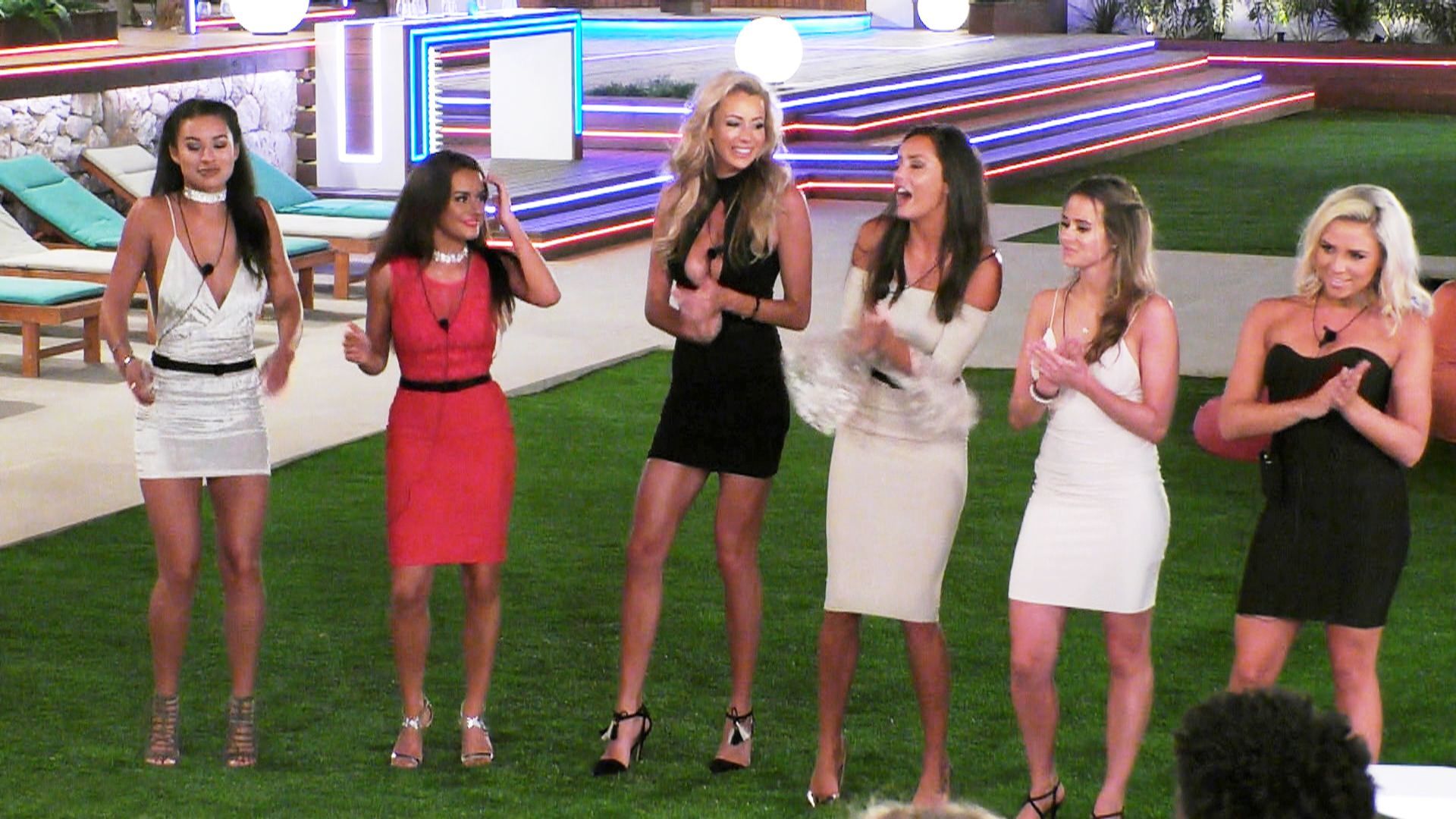 The profile of the show is such that last year's winner Kem Cetinay went on to do ITV favourite Dancing On Ice.
And an astonishing 80,000 applications flooded in from those looking to follow in his footsteps – for whatever reason.
"We'd be stupid if we said they weren't going into it for fame, because that comes with it on TV now whether you like it or not.
"So they may want to be famous, but hopefully with that comes love. You don't put people together in a villa for eight weeks and hope that nothing's going to happen.
"It works. If I was 18, 19 or in my 20s, I'd do it. It's more organic than going online because we're taking people back to the art of conversation.
"Back to the old-fashioned way of dating which I really like."
Caroline is very much the loyal big sister for contestants, standing up for those she feels are taking unfair criticism.
"I'm not a very judgmental person. I've probably done most of the things that go on in that villa, so I'd be a bit hypocritical if I started having strong opinions about people!"
When Bake Off became a big hit on BBC2, it was quickly switched to BBC1. But Caroline feels that Love Island is in the perfect place.
"It's just right where it is," she adds. "It's an ITV2 show and it's not going to move to ITV. I think it's flying a really good flag for ITV2 and I don't think it needs to go anywhere."
Love Island starts on ITV2 at 9pm on Monday, June 4.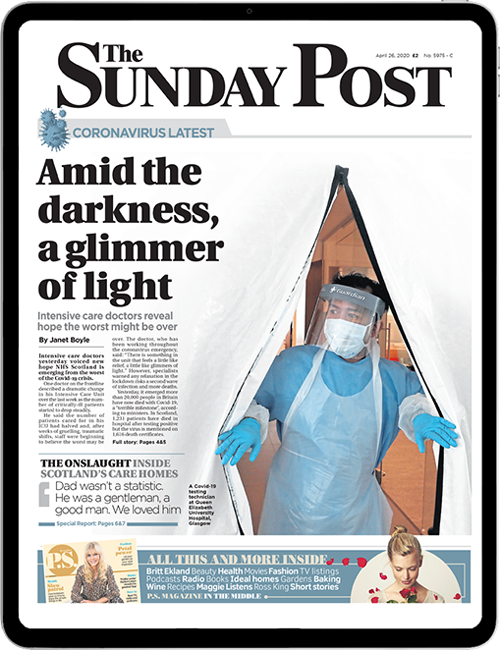 Enjoy the convenience of having The Sunday Post delivered as a digital ePaper straight to your smartphone, tablet or computer.
Subscribe for only £5.49 a month and enjoy all the benefits of the printed paper as a digital replica.
Subscribe