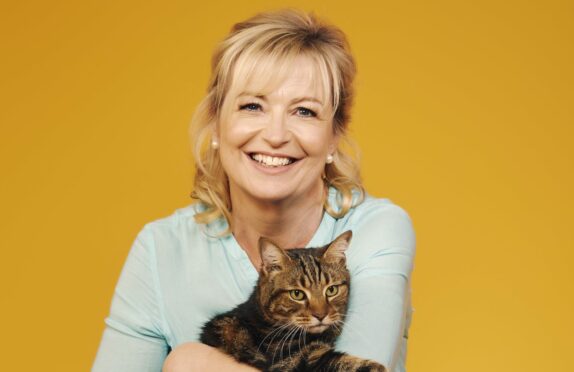 Carol Kirkwood floats into our interview like a fresh summer breeze.
No one would guess that BBC Breakfast's seasoned weather presenter has already been on the go for nearly 12 hours. She started the day with a cup of tea in bed at 2.45am courtesy of her new fiance.
"Bless you!" bubbles Kirkwood, 60, when P.S. shares how much we've been looking forward to this chat since she confirmed her engagement live on the show to colleagues Sally Nugent and John Kay in May.
She has every reason to be happy. The forecast for Kirkwood – both personal and professional – is bright. Having last week finished broadcasting live from Wimbledon, Highland-born Kirkwood is now looking forward to the launch on Thursday of her second novel, The Hotel On The Riviera. It follows last year's successful debut, Under A Greek Moon, and a third is already under way.
Kirkwood beams at the mention of the man in her life. She tells P.S: "His name is Steve but he wants to remain in the background. He is seriously private."
The presenter, who joined the BBC in 1998 and who was for 23 years married to businessman Jimmy Kirkwood, reveals: "I was absolutely not looking for love again. We met at a private event I didn't want to be at and he didn't want to go to. We had known each other for quite a long time and were friends before we started dating. Romance just blossomed from there."
He proposed on a riverside walk and picnic near Kirkwood's Berkshire home and had picked the ring as a surprise. She says: "Steve chose the ring and I love it. We had gone for a walk, it was a nice sunny day, and we had a picnic. It was nothing fancy-pants at all. It was very simple – that's our relationship.
"He gets up at 2.45am every morning to bring me a cup of tea in bed and also puts out my cereal," she reveals. "I always tell him not to and to stay and sleep but he still does it. That's luvvv, isn't it?" she intones with a broad smile. "We have not planned a wedding date yet. I haven't been engaged for 40 years, so I am enjoying this. There is no rush to get married. I am just living the dream at the moment."
Despite her sunny outlook – the little girl who grew up in the idyllic west coast village of Morar and who dreamed of a life on TV – reveals she's had her lows.
There have been cruel tweets. "I get them occasionally, things like I am too Scottish, or I am too old, too fat, too ugly, I've got the weather wrong and ruined their weekend," she says. But maturity and experience have made her better able to handle them. "They are entitled to their opinion, as am I, that's why I mute them," she smiles.
"When I was younger, I used to be concerned that I wasn't good enough to be on the television for example, that there were so many people that were better than me. But I began to accept that I am what I am. Not everyone will like me and that doesn't matter, that's OK. I might not like everybody I meet either. People whose opinions who are important to me are those that I love and my employers, so that is really the crux of it."
Her divorce was a turning point. Kirkwood – who has worked across a string of shows including BBC News, World News and News at Six – says: "When I was married it was about compromise between the two of us. We were together for 23 years. He was a businessman and had his career and I had mine. We became ships that passed in the night. We just grew apart and got divorced but I still wish him well. We spent a lot of happy years together and I'm not forgetting that."
A self-confessed positive thinker, she accepts that if she hadn't gone through the pain of divorce she may not have known the joy she has today.
"That's because when I got divorced I became truly independent," she says. "I have always had a career but I had to work, I have not won the lottery, sadly. And I wanted to experience different things. I was in my mid 40s when I got divorced. That is not old, you still have a lot of life ahead of you to enjoy and that is your choice. I believe in a positive mental attitude, and a can-do attitude. It was a case of 'Pull your socks up now, this is your life, what are you going to do with it?' I decided, 'I am going to enjoy it.
"So when I was asked if I would jump out of a plane in a tandem skydive with one of the Red Devils, I heard myself saying 'Yes!' and thinking 'What are you doing?' I did it and I loved it."
It was the same when she took to the skies for some aerobatics with the RAF's The Red Arrows. "How many people can say they have flown with the Red Arrows?" she beams.
"I would never have dared imagine all this when I was a wee girl. It's a funny thing when you look back on life. It's like sliding doors, how you take one path instead of another, and if you had taken that other path, where would you have gone?"
When the opportunity to write professionally came along, she grabbed it. Kirkwood recalls: "A couple of years ago I was approached by a publishing agent. It was not the first time but it was the right time. He asked me if I would be interested in writing about myself, fiction or the weather. I thought I'd like to try my hand at fiction. Better to have tried and failed than not to have tried at all. And that's how I got into it. I loved it. I'd forgotten the passion I had for it."
Cue The Hotel On The Riviera, rated by fellow author, Strictly Come Dancing's Anton Du Beke as "a stunning holiday read with passion and heart."
In it Kirkwood – a Strictly contestant in 2015 – gives us wealthy Ariana Theodosis who, returning to her childhood home from Hollywood, inherits a luxury hotel on the French Riviera through a mysterious legacy. But Gabriel du Lac, whose family have owned the hotel for decades, will do everything in his power to keep it.
The author – who lost her beloved mother Nancy in March – said: "If I had started writing when I was younger it would be a different kind of book because I wouldn't have the life experience that I now have. And it's not just my life experience but that of everybody I know. We all go through stuff, we all talk about things good and bad, our joys and sorrows. As we get older we come across death more, and broken hearts and happy relationships.
She reveals her passion for writing was born during an idyllic childhood: "Can you imagine after school at four o'clock, going to our homes, changing into our swimming costumes, putting on a T-shirt and shorts and jumping on our bikes and going to the beach? Then we would come home for our supper, homework, bath and bed. That would be our day.
"When I was at school I used to love writing essays for my English teacher. He was brilliant because he encouraged me to do so. We would be set one essay every week and I would write 10 or 12. I have 15 nieces and nephews so when they were little I would make up fairy stories with them and their friends. I always watched Blue Peter and wanted to be a presenter. I wrote to Biddy Baxter who was the editor and she said get yourself a degree and get back in touch. But my confidence wasn't riding quite as high by the time I was in my early 20s. So I joined the BBC as a production secretary and it was from there that my career eventually took me into television. I loved the glamour of television. I loved movies and anything to do with Hollywood.
"With the books I can draw on that knowledge, add my own imagination to it and put it down on paper and relive it through my characters."
Kirkwood, the third youngest in her family, says her late mum would have been tremendously proud. She certainly seems to have inherited her "can-do" attitude from her mother. "I was immensely proud of my mum's achievement," she says. "She started out as a primary teacher and then when she married my dad she had eight children. They ran Morar Hotel together for many years until they sold it. She was ahead of her time in having a family and a career."
Sadly, motherhood did not happen for Kirkwood. She previously told reporters: "It just never happened and no one could tell us why."
She was in Saltcoats last month for the Platinum Jubilee celebrations having met the Queen a number of times through her work. And there is a third novel in the making, this one set on Italy's gorgeous Amalfi coast.
What more is forecast? "That is hard to answer," she smiles. "I am happy with my lot. For me things happen when I don't plan them or expect them, like meeting Steve and writing a book."
With sunshine replacing the rain, P.S predicts more blue skies ahead.
From the book
Ariana adored the French Riviera. She'd been coming here all her life with her parents, and never failed to be captivated by the golden light, the softly swaying palm trees, and the charming belle époque buildings along this magical stretch of coastline. Cannes during the festival was like nowhere else on earth.

Back when she was a teenager, Ariana had begged her father to take her and been blown away by the energy and atmosphere. Everywhere you turned there was another celebrity: Jude Law strolling along the Croisette; Uma Thurman sunbathing on a yacht; Le Bistro Gourmand.

The Hotel du Soleil was apparently located in the old town, the cobbled streets and fishermen's cottages a world away from the glitz and glamour down by the marina. Ariana checked her satnav, but she was definitely heading in the right direction.

She felt unexpectedly nervous, but excited too. She still had no idea why her grandmother had left the property to her – though Ariana had plenty of experience staying in luxury hotels, she knew nothing about running one – but the challenge was thrilling. Demetrios had told her she didn't have to be involved; they could put a management company in place, collect the profits and never have to worry about it again. In fact, Demetrios had advised her against visiting the hotel at all, but rather to leave everything to their lawyers, as Elana had clearly done. But Ariana was intrigued. She had no immediate plans to return to LA, and there was nothing going on in Ithos, so why not take a trip to the Côte d'Azur? She could check out the festival too, catch up with friends, and schmooze all the producers and directors in case she decided to revive her fledgling acting career. The monotone voice of the satnav told her she was almost there.

A discreet sign indicated the entrance and Ariana swung the steering wheel, looking round eagerly as she turned in.
---
The Hotel On The Riviera by Carol Kirkwood is published by HarperCollins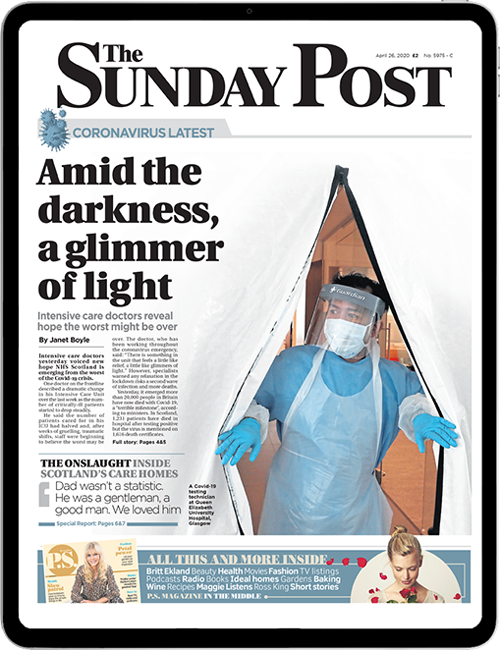 Enjoy the convenience of having The Sunday Post delivered as a digital ePaper straight to your smartphone, tablet or computer.
Subscribe for only £5.49 a month and enjoy all the benefits of the printed paper as a digital replica.
Subscribe