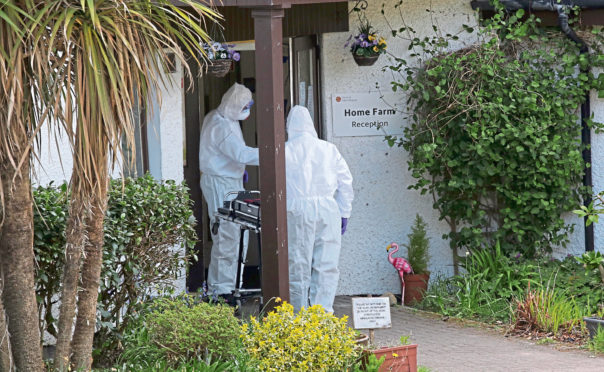 Care home workers are living in fear of an escalating police probe into coronavirus deaths, industry leaders say, while ministers refuse to greenlight a public inquiry into the official response to the pandemic.
The latest official figures show almost 2,500 care home deaths are under investigation by police as part of a Crown Office probe codenamed Operation Koper, launched by the Lord Advocate last May.
The Covid-19 Deaths Investigation Team (CDIT) is probing cases at 474 care homes. Officers are already questioning care home staff but the Scottish Government has yet to order a public inquiry to hold ministers accountable for political decisions that may have helped seed Covid-19 in care homes leading to unnecessary deaths.
First Minister Nicola Sturgeon told parliament last week her government made mistakes but has refused to say when a promised judge-led inquiry will begin.
Home Farm care home in Portree, on the Isle of Skye, where 11 residents died from Covid, is one of the homes to be investigated for possible criminal neglect.
Last week, it was reported that detectives sent a report to prosecutors who asked for, and have now received, additional information from police.
Scottish Care, which represents private sector care homes, said Operation Koper was taking a toll on the mental health of workers already struggling to cope with the fallout from the pandemic.
Workforce lead Caroline Deane said care home staff are furious that the government ordered the mass movement of thousands of untested and at least 100 Covid-positive hospital patients to care homes.
Deane said: "There is a lot of hurt, there is a lot of frustration and yes, anger. I think they are just shellshocked, many of them.
Care home Covid scandal: Mounting anger as minister finally admits NHS ward-clearing policy was a mistake
"And I think there is a huge fear because of Operation Koper. They have been worried there will be criminal proceedings. I hope it doesn't happen. It shouldn't, unless there was a huge level of negligence, but even then you have to unpick the context of that.
"It's a very difficult situation. I think some of them will feel responsible (for the deaths) but they are absolutely not. But yes, I'm sure many of them will be asking themselves if they made the right decisions.
"I think there is a need for a public inquiry. I think mistakes have been made. It's not to blame, it's to fix. Unless we start having really honest conversations, how is this going to be addressed? How are we going to gain the recognition of what actually went wrong?"
Deane said there is an increase in sickness absences among staff who have struggled to cope with the traumatic deaths of residents. Official figures show 3,317 Covid deaths happened in care homes, a third of the total in Scotland.
She said: "Staff were sitting with people, holding their hands when they died. There was a lot of trauma involved in that because there wasn't necessarily the access to oxygen at the beginning.
"That whole situation has been hugely traumatising for staff, for managers, who felt helpless. There would have been situations where people have not died a good death and that will obviously impact on staff. And when they asked for help, doctors were reluctant or refused to come in."
Deane said care home workers also felt completely abandoned by politicians in the first wave.
She said: "Early on (in the pandemic) the narrative was very much protect the NHS, to the point where there was diversions of PPE (to hospitals from care homes). Social care, as always, was an afterthought. Care homes felt abandoned."
Last week Scottish Labour leader Anas Sarwar called on Nicola Sturgeon to begin immediate work to set up a judge-led inquiry looking at the handling of the pandemic in Scotland. Yesterday he told The Sunday Post: "What happened in Scotland's care homes was both a tragedy and a scandal.
"The Scottish Government's actions led to deaths and to staff being put in danger.
"The transfer of Covid-positive and untested patients into care homes was unforgivable and led to thousands of deaths.
"Our heroic care staff are victims of this crisis. They went above and beyond time and time again, despite often inadequate PPE. That the very same staff are now being quizzed by the police is deeply worrying.
"It is the ministers who signed off unlawful procedures who should be held to account.
"Every effort must be made to ensure that staff receive the mental health support that they are entitled to.
"That is why we need a Scotland-specific inquiry into this scandal and we need it now."
Care home workers' trade unions have said ministers should be held to account for political decisions which may have increased the death toll in care homes.
Deborah Clarke, Unison Scotland regional organiser, yesterday also backed calls for an inquiry, adding: "Our carers have been working under very difficult and challenging conditions which has understandably taken its toll on their emotional wellbeing."
The Crown Office would not comment on whether government ministers will be questioned by police as part of Operation Koper, adding: "The Covid Deaths Investigation Team receives and deals with those reports and will work with the relevant agencies to ensure that all necessary and appropriate enquiries are made as quickly as possible."
The Scottish Government said: "We do not comment on ongoing police investigations."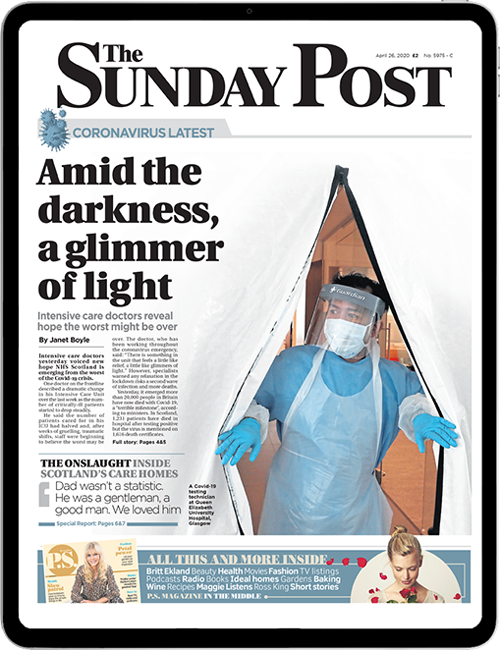 Enjoy the convenience of having The Sunday Post delivered as a digital ePaper straight to your smartphone, tablet or computer.
Subscribe for only £5.49 a month and enjoy all the benefits of the printed paper as a digital replica.
Subscribe