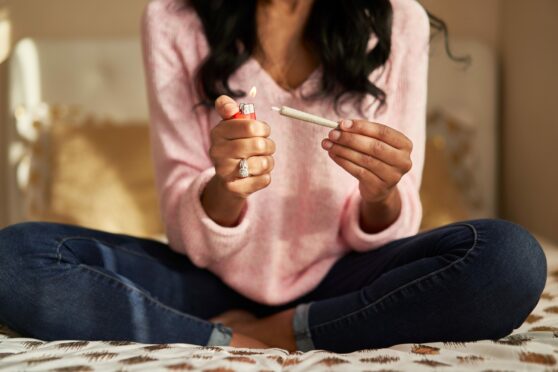 Cannabis is now the drug most likely to trigger mental illness in Scots, statistics show.
NHS Scotland has dealt with 3,700 new patients in the last three years suffering from a range of psychotic delusions and hallucinations linked to the drug.
For the first time, cannabinoids, the active compounds in the drug, are responsible for more fresh cases of psychiatric hospital admissions than any other drug. Experts say young people seem particularly at risk and warn against moves to relax the law around cannabis.
Psychiatric problems linked to cannabis have climbed since it was effectively decriminalised in Scotland in 2016. Admissions have increased by 68% in the wake of police deciding to hand out warnings to those caught with the drug for their own use.
Opioids – a class of narcotics that includes heroin – have previously been the drugs most likely to cause mental health problems. However, Public Health Scotland figures show cannabinoids are now responsible for 29% of new psychiatric admissions, compared with 26% for opioids. In the Western Isles, it is one in every two. And the figure has risen to 40% or more in Mid & East Lothian (49%), Fife (42%) and East Renfrewshire (40%).
For the third year in a row, more than 1,000 new inpatients were admitted with psychiatric problems caused by cannabinoids – a total of 3,693 since 2019/20. When the data was first compiled in 2006/07, the yearly figure was only 363.
Numbers are running at record levels in Tayside, Clackmannanshire, Inverclyde, South Lanarkshire and Perth and Kinross too.
Professor Jonathan Chick, medical director of the world-leading Castle Craig rehab clinic in the Borders, said: "The evidence is compelling and all points in the same direction.
"Where cannabis has been legalised, there is not yet enough data to be able to know for sure what the long-term effects are. But, in the short term, we are increasingly seeing people in their 20s with anxiety and depression, suffering damage to their family and work lives.
"Nobody in Scotland is referred to a hospital for cannabis dependence alone. So each of these new 3,000-plus patients is in a hospital bed almost certainly because they are suffering from psychotic delusions or hallucinations, typical of schizophrenia.
"Cannabinoids overtaking opioids is very significant. There appears to be greater use of cannabis in society, fuelled by a belief among the population that it is not harmful."
Dr Peter McCann, an addiction psychiatrist at NHS Lothian, added: "Three-quarters of the patients I see are using cannabis regularly, and a quarter heavily. The major trend I have observed is a tendency to view cannabis as not just safe but actually a legitimate substance to use to manage health problems such as chronic pain. Most patients have little to no awareness of potential risks including an association with psychotic disorders."
Since 2016, people found in possession of cannabis can be issued with a police warning rather than face automatic prosecution.
But while prosecutions have more than halved, psychiatric admissions linked to the drug have rocketed. In 2021, Lord Advocate Dorothy Bain extended the warnings strategy to cover all drugs.
Police Scotland Superintendent Hilary Sloan said: "The decision to widen access to Recorded Police Warnings gives officers another tool to support those at risk of becoming vulnerable in our communities.
"It remains inappropriate for persistent or serious offenders to be issued with an RPW; they will still be reported to the procurator fiscal."
Annemarie Ward, chief executive of the charity Faces & Voices Of Recovery, said: "We are seeing more and more cannabis users with trouble mentally, emotionally and physically. But there is also a lobby to make cannabis socially acceptable, or even legal, that seems determined to ignore the hard evidence around this drug.
"I don't understand what the aim is? Why are we teaching them life is so intolerable we cannot experience it without obliviating?"
Favor and the Scottish Conservatives are backing a new Right to Recovery Bill at Holyrood to give those with drugs problems a right to treatment. Scotland has the worst drugs' death rate in Europe, with 1,330 fatalities in 2021.
The Scottish Government said: "We are investing an additional £250 million over the lifetime of the parliament in our National Drugs Mission to save and improve lives.
"At its heart, the Mission is expanding capacity and improving access to treatment and support so that people can get the help that is right for them.
"Last November, we published a rapid review into mental health and substance-use services. We are now considering the recommendations of that review."
It's called a soft drug but my addiction cost me everything
Doctors at Castle Craig rehab clinic in the Borders say they have fewer patients from the UK than from the Netherlands, where treatment is more generously funded. Former patient Linda Severien, 34, from Haarlem, tells her story
Cannabis is freely available in the Netherlands. I started at the age of 14 when my grandfather died and I could not deal with the grief.

When I was 18, I ended up in a bad relationship and started using cannabis more to ease the pain and cope with the violence I was a victim of.

When I was 23, I married this man; three months later I had a baby and six months later we separated.

The drug had me in its grip. The moment I tried to quit, I ended up in hospital with withdrawal symptoms. My idea of an addict was someone who had no home and begged for money. Now I know better.

By the time my daughter was 18 months old, I was suffering from severe psychosis and admitted to a psychiatric ward for a year and a half.

I have experienced and done so many terrible things. I lost everything: my daughter, my family, my friends, my work but I kept on using cannabis because I hadn't yet reached rock bottom.

My turning point was a Narcotics Anonymous meeting where I heard someone share her life story. She had been to Castle Craig and I would leave for Scotland in June 2017 and be at that clinic for four months.

Since then, everything has changed. I've had to work hard on myself in the last six years, and I still do.

But I have my family and friends back, I have my daughter back, but most of all, I love myself, something I've never done.

I now have a nice, sweet man by my side and gave birth to a son six months ago. Every drug is a silent killer that sneaks in but especially cannabis as it is labelled a "soft" drug.

Only now do I see what a mess I made of my life and how much damage I did.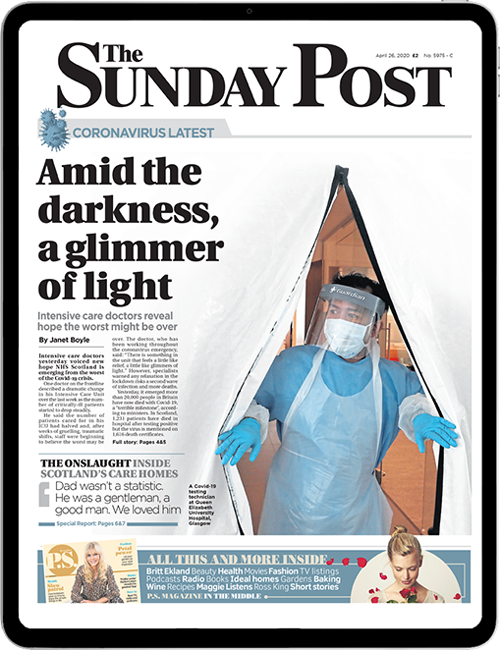 Enjoy the convenience of having The Sunday Post delivered as a digital ePaper straight to your smartphone, tablet or computer.
Subscribe for only £5.49 a month and enjoy all the benefits of the printed paper as a digital replica.
Subscribe