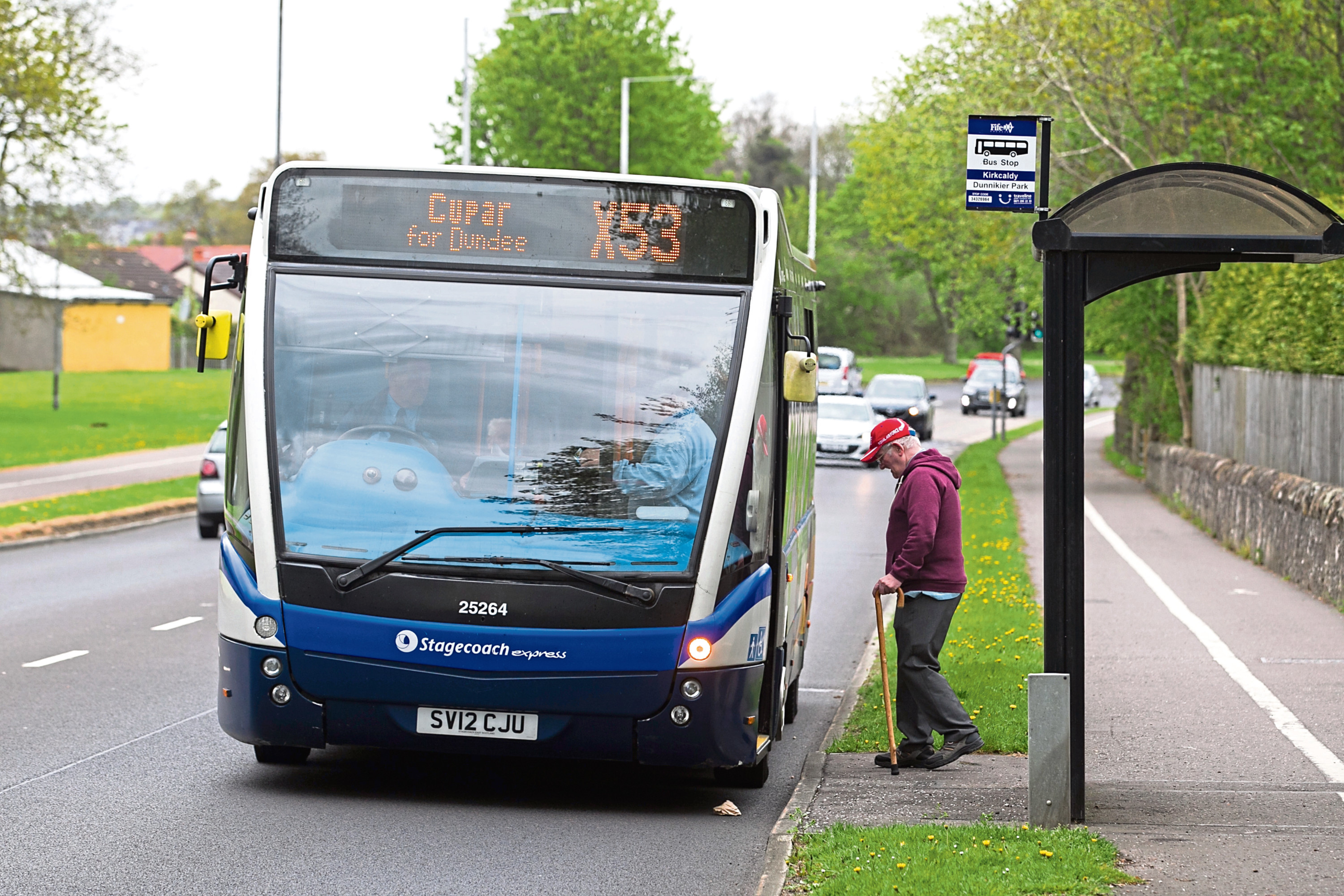 BUS companies are cutting routes to boost profits and leaving would-be passengers stranded, campaigners claim.
The number of people travelling on local buses in Scotland has dropped dramatically.
Official figures show that the number of journeys made on buses has fallen by 10% in the last five years.
The Unite union's Haud the Bus campaign says companies have reacted to falling passenger numbers by axing non-profitable routes and raising fares.
The campaign is calling for regulations allowing passengers to help shape services through local authorities.
Jamie Caldwell, co-ordinator of the campaign, said: "Councils should have the right to make a profit so they can put that money back into public services, and why not through an affordable bus service.
"It's heartbreaking that the most vulnerable people, like the elderly and those with disabilities, are left isolated and are not able to use a service to get around.
"There is no social responsibility."
In the '80s, Scotland's bus services were deregulated and routes were opened up to competition, with the aim of driving down fares.
However, government subsidies have been cut in recent years and campaigners say passengers in rural areas, relying on the least profitable routes, are suffering the most.
Of those living in rural areas, 38% say they had no Sunday service that connected them with a local hospital and faced an average 40-minute round-trip journey to get to the nearest bank, said Citizens Advice Scotland.
A spokesperson for the Confederation of Passenger Transport, which represents bus operators, said: "The Scottish bus industry is delivering for its customers.
"Recent research shows nine out of 10 customers are satisfied with their bus services.
"Operators have also invested heavily in smart and integrated ticketing; new, greener, accessible vehicles; and have kept fares lower than the UK average despite operator costs rising and government support declining."
Stranded #1
Alex Tissin, a wheelchair user, has no option but to travel two miles to the nearest bus route after his service was axed.
The 29-year-old from Culbokie, on the Black Isle, who suffers from multiple sclerosis, now has to travel on a rural road in his wheelchair to a busy junction off the A9 to flag down a passing bus to Inverness.
Stagecoach lost its franchise in April 2017 and the new operator chose not to run a service through the village.
He said he cannot use a twice-a-day shuttle bus to the main bus route as he struggles to get onto the vehicle.
"The only way to get to that stop is along that road which has no footpath and then you've got to sit on the A9.
"I nearly got killed two or three times as it's a very rural road so it's got blind corners and dips. No one expects a guy in a wheelchair to be wheeling along the road."
Alex finds simple tasks such as going to the doctors impossible.
He said: "I try not to go to the doctors often as I'm absolutely petrified of that road."
A spokesman for operator D&E Coaches said all of its buses used on the route complied with the Disablity Discrimination Act.
Stranded #2
Moira and Arthur Sivewright, of Kirkcaldy, have been left isolated after Stagecoach decided to stop the service that runs from their street to Ninewells Hospital in Dundee.
The great grandparents have mobility problems and have no family who live nearby to help.
Husband Arthur, 86, a retired joiner, said: "It's left us totally isolated. We relied on that bus."
Moira, 83, a retired cook, said: "Now if I wanted to go to Ninewells, I'd have to get a taxi to Asda, a bus to Glenrothes and then another bus."
The couple launched a petition to have the X53 service brought back and sent it to Stagecoach but did not receive a reply.
Fife Council's Derek Beveridge said: "When we were made aware that Stagecoach were stopping this service, we worked with them to see if any of their other services could be diverted.
"Unfortunately, the bus company were unable to do this. Fife Council has no control over commercial services, with the final decision ultimately being the bus company's to make."
A Stagecoach East Scotland spokeswoman said: "The X53 was an infrequent service and has been replaced by other express routes, which were preferred by most of our customers."