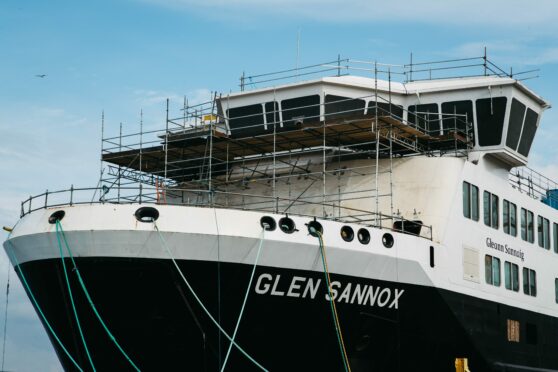 The £4 million engines bought for two much-delayed and over-budget ferries have not been tested since being delivered more than five years ago as experts warn they may now fail.
State-owned Ferguson Marine took delivery of four dual-fuel engines and two back-up engines from Finnish firm Wartsila but yesterday confirmed the engines – which can use diesel or liquefied natural gas (LNG) – have never been run and will not be tested until late summer at the earliest.
One expert today warns the lag in running the engines threatens their performance while another, a former Scottish Government adviser, said the years of idleness risks them seizing up if the ferries, which, it is feared, may cost at least £400m, are ever launched.
Dr Spyros Hirdaris, a professor of maritime safety, based at a Finnish university near Helsinki, where engine manufacturer Wartsila is based, said: "There is a high possibility that the ferry engines won't work and it seems very high risk to expect everything will go according to plan. If you have a car for a long time and never switch on the engine it's probably not going to work. It's extremely important the engines are tested on board so it's not a good thing that they haven't been tested for all this time.
"They should have tested the functionality of the engines. There could be problems because the engines have been there for a long time. The engines could halt, there could be malfunctions in some of the sub-systems, there could be problems with lubrication and corrosion of engine components.
"There are a number of things that may not work, for example the dual-fuel system may not operate properly because it's such a long time since it has been tested."
Finance Minister Kate Forbes told MSPs last week £3.5m has been set aside for new warranties as the chaotic project lurches on but that figure could rise because, we can reveal, negotiations with engine manufacturer Wartsila are ongoing. The ferries have been repeatedly delayed and are not due to start operating until next year.
The Scottish Government nationalised Ferguson's in August 2019 after industrialist Jim McColl, the former owner, could not persuade ministers to pay more than the £97m contract price for the ferries.
The current estimate for the ships has more than doubled but ex-commodore Luke van Beek, a former independent adviser to the Scottish Government on shipbuilding from June 2018 until September 2019, told The Post last month the costs are likely rise to £400m.
He said yesterday: "The engines should have been run up a few years ago. They weren't in a position to run them at the time I was involved with the yard. Given they've never been run since, I'd be really concerned about them. The main problem is they might seize up.
"The other issue is when you might run them on LNG. Your first run would inevitably be on straight diesel. They need to be commissioned on LNG if it's to be true dual-fuel. There is an awful lot uncertainty here. It's all looking very dubious."
The first run of the four main engines and two auxiliaries was due to be carried out in late 2018, according to documents laid before parliament by Ferguson's in early 2019, but the firm yesterday confirmed no tests have been carried out since then.
The engines and other equipment were purchased from Finnish firm Wartsila in a deal worth around £20m, according to a source close to the process. They said: "The original package was £9.7m per ship for main engines, auxiliary engines, gearboxes, shafts, rudders, props, thrusters and LNG fuel systems. There was no itemisation but each of the four engines would cost around £1m."
Wartsila was given access to the engines between August and November last year and made a number of maintenance recommendations to Ferguson's which then completed.
The Scottish Government is currently negotiating a multi-million pound deal to insure the ageing engines and other warranty-expired equipment. The finance minister told MSPs last week the cost of renewing warranties has been estimated at £3.5m, based on 5% of £70m equipment costs. Wartsila and Ferguson's confirmed last night the final costs have yet to be confirmed.
Forbes admitted last week: "When the vessels begin commissioning, which is targeted for May, that will be the ultimate test of equipment on board that might not have been used because the vessels are being constructed."
Nicola Sturgeon: Scottish Government would not repeat ferry contract mistakes
Meanwhile, islanders waiting for the new ferries tell The Sunday Post today how they feel "stranded, marooned, and abandoned" with some considering leaving the islands because the ferry service is has become so poor and unreliable they are missing hospital appointments, funerals, and weddings because they cannot reach the mainland.
First Minister Nicola Sturgeon has been increasingly dragged into the scandal as pressure grows and critics accuse the SNP of rushing major decisions, including the sale of the yard to engineering tycoon Jim McColl, at the time an important SNP supporter, and the signing of the contract for party political purposes.
The contract, for example, was signed against the advice of CMAL, who own CalMac's ferries and infrastructure and without the usual guarantees, reportedly because the SNP wanted to announce it at a party conference.
Sturgeon has taken ultimate responsibility for the failure to deliver the ferries on time and at cost while suggesting former finance minister Derek Mackay signed off the contracts without standard financial guarantees and against expert advice. He later stood down after sending inappropriate texts to a teenager. The first minister told parliament on Thursday: "I deeply regret the experience of this."
She was also questioned over the £3,000-per-day salary package for "turnaround" director Tim Hair who was recruited when the shipyard was nationalised and who has since left with the contracts remaining in crisis. The figure was obtained by Scottish Labour leader Anas Sarwar who likened it to the wages of footballer Lionel Messi.
Alf Baird, a former professor of maritime business at Napier University who sat on Transport Scotland's Expert Ferry Group until it was axed last month, said: "Nobody really knows if these ferries will work. I have grave doubts these vessels will ever serve the islands. This kind of disaster can bring down governments.
"We could have replaced the entire CalMac fleet and had spare change for the cost of these ferries.
"I would compare it to Edinburgh's trams or the Scottish Parliament overspend. It's of that magnitude. It could end up being half a billion. And there is no public inquiry yet."
Liam Kerr MSP, the shadow cabinet secretary for net zero, energy and transport, said: "This is another eye-opening instalment in the SNP's ferries saga. It now seems that, even when these vessels are eventually ready to set sail, whether or not the engines work could be something of a lottery.
"It's an extraordinary way for anyone to do business, let alone a Scottish Government entrusted with taxpayers' money. The SNP's amateurish approach is creating problems at every turn and the people of Scotland are sitting up and taking notice. And for the islanders who depend on these ferries, any further delays to getting their ferries will be beyond unacceptable."
Ferguson Marine said: "We have not reached commissioning in the build programme so engines have not been run yet. As described in the recent update to the Scottish Parliament, the main engines on MV Glen Sannox are scheduled to go live late July/August this year. On Hull 802, engines have been installed but not pipework, cabling and other installed systems. Engines were bought several years ago, near the start of the contract, and are now beyond the original warranty timeline. A provision of £3.5m has been allocated to cover the cost of warranty packages.
"We are aware of potential uncertainty around engines and other equipment that were bought and installed several years ago. Engines and generator sets on both vessels were surveyed by the manufacturers between August and November last year. The surveys provided some maintenance recommendations, which have all been implemented. Cabling and pipework is not in place yet on Hull 802, so we don't anticipate issues with that aspect. Only when commissioning begins will there be full confidence that there are no further legacy issues."
Wartsila said: "We delivered the engines to the shipyard in accordance to the contract and we are working closely and in good cooperation with our customer Ferguson Marine. Unfortunately we are not in the position to comment further."
The Scottish Government said: "We have been clear with the board at Ferguson Marine Port Glasgow where improvements have to be made, including on issues raised by CMAL like engine performance. The board has been driving that improvement process within the business."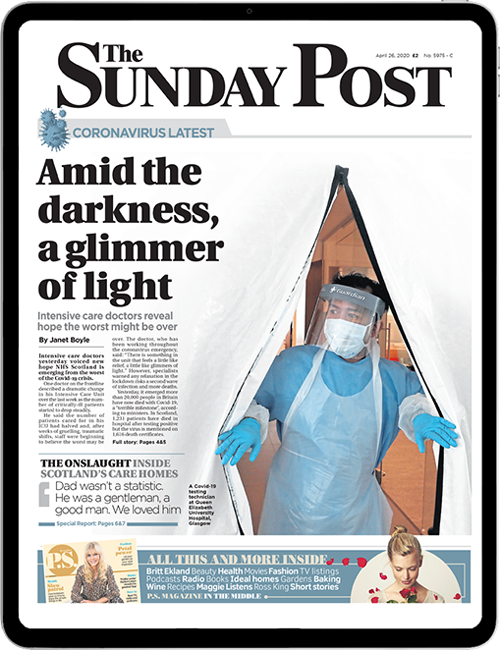 Enjoy the convenience of having The Sunday Post delivered as a digital ePaper straight to your smartphone, tablet or computer.
Subscribe for only £5.49 a month and enjoy all the benefits of the printed paper as a digital replica.
Subscribe