Dougie MacLean is buzzing and it's not just because a landmark gig is on the horizon.
The folk hero, one of Scotland's most celebrated musicians, is looking forward to a one-off show with pipers next month.
But the songwriter, responsible for Caledonia, which has become a national anthem for many Scots, is preparing for the show by making honey at his home in Perthshire and admits he is a passionate beekeeper.
He said: "We've got lots of them. We make our own honey here. Some years are better for honey than others. It depends how much I'm away during the summer.
"I have an interest in all sorts. Anything that's fascinating I'll get absorbed in for a while. I collect old Singer sewing machines. I collect old Honda 50 step-throughs, and old Ferguson tractors.
"And I like to go out the back and do a bit of archery. I make my own arrows.
"It's good as a musician not to be defined as a musician, I feel. You have to do lots of other things with your time so that way, when you write songs, you're not just writing about being a musician.
"I'm just back from a three-week tour round Europe, but we turned it into a holiday. That was perfect.
"And then I got back to my bees, my bikes and my shed to my sewing machines."
Dougie, 64, will be joined by pipers TRYST for the show on August 18, part of the Piping Live! festival, and bagpipes are an instrument with which he has always held an affinity.
"It's a great privilege to be asked to do something like this, and the organisers know my long history with the bagpipes, and my early days and with The Tannahill Weavers," he said.
"We started doing that back in the 1970s, using bagpipes in folk bands. Over the years on most of my records I either have some whistles or some bagpipes. I've always had a connection with bagpipes.
"There's something about the sound.
"It's a Dougie MacLean solo concert with a flavour of pipes all the way through it. We've got a few surprises that we're going to try to put together for the actual concert."
Caledonia rocketed into the public consciousness in 1991, when it featured in an advert for Tennent's lager. "There have been all sorts of versions, and it's a great compliment as a songwriter to have it played at weddings and funerals – and even national rugby matches," he said.
"This was a song I wrote in my 20s.
"At that age you write songs that are a bit more honest.
"I think it's got a genuine quality to it. I don't get free cans of Tennent's for life, or anything – although they probably would if I asked."
These days, grandfather Dougie lives in Dunkeld with his partner and manager, Jenny.
"It's brilliant being a grandfather, I have two wee grandsons," he said. "They're both very keen on their grandad's music, which is lucky. I don't know if they'll have any talent for it but they're around it a lot. And they live quite close to us, so we see a lot of them.
"We have great fun. I have some songs I wrote for my children so I've dusted them down for the wee ones.
"They're a bit young to learn to play now, but we just have fun.
"Don't get too serious about it when they're too young. There's time enough for proper lessons when they get a bit older.
"That's the way I grew up with it. It was a fun thing in the house. And my mother played the melodeon and taught me a few things, but it wasn't a big deal, no big pressure. We always had a lot of fun with it."
As well as lyrics that reflect his rural upbringing, many of Dougie's songs concern the clash of tradition and the modern world.
"I'd be lying if I said I wasn't concerned about what was happening in the world at the moment," he explained. "But one of the things I like to do in my concerts is to make people positive.
"I try to make people reflect and be a bit thoughtful without being too downbeat. You have to be hopeful. I've got two young grandchildren – I have to have that approach."
The Gael – Dougie MacLean and Piping Friends, Royal Concert Hall, Glasgow, Sunday, August 18
---
More than 5,000 pipers are set to perform to 40,000 music fans at Piping Live!, which comes to Glasgow between August 10-18.
As well as Dougie MacLean, this year's programme features performances by the very best international acts from countries including New Zealand, Malaysia and Canada, as well as Scotland, and sees the return of the fiercely-contested Masters Solo, International Quartet and Pipe Idol competitions. There will be daily performances, family fun and the hugely popular Street Café will return to The National Piping Centre for the festival.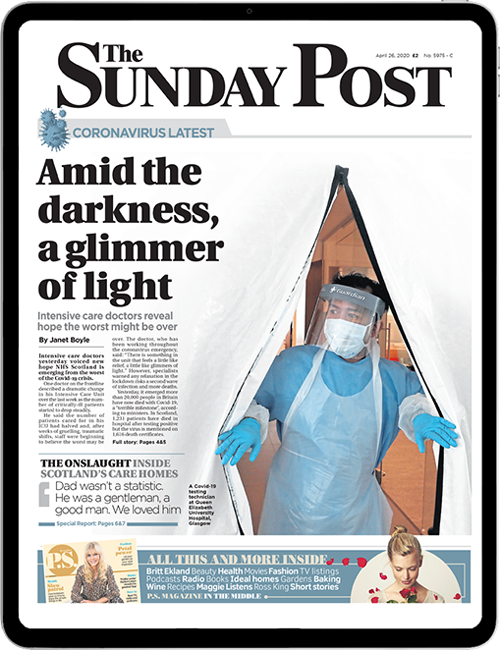 Enjoy the convenience of having The Sunday Post delivered as a digital ePaper straight to your smartphone, tablet or computer.
Subscribe for only £5.49 a month and enjoy all the benefits of the printed paper as a digital replica.
Subscribe