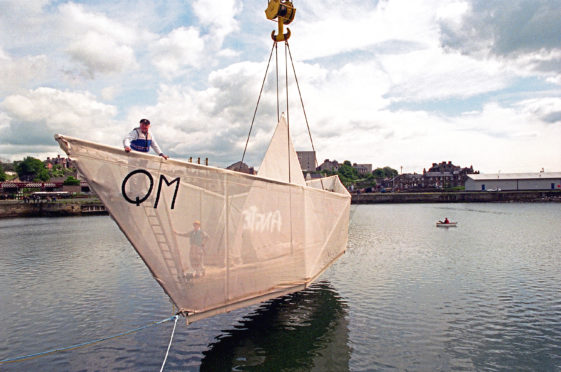 He sailed his paper boat into New York harbour and hung a giant straw locomotive from the Finnieston Crane.
Now the family of acclaimed sculptor George Wyllie want fans to help trackdown his far-flung creations to celebrate the centenary of his birth.
The only trouble is, they don't know where much of the prolific artist's work is to be found. Now the George Wyllie Foundation has launched an online crowdfunder to help establish a virtual trail of his public pieces, issuing a global call for those who know the whereabouts of a Wyllie to come forward.
Daughter Louise said: "He didn't keep a log of everything he did, which is the problem. Sometimes he would recycle stuff, because he was making a statement rather than making it to sell for financial reasons.
"Once the exhibition was over he would take these parts and recycle some of it. The paper boat ended up as a giant tern on Islay, for example.
"People go out and about and they find a sculpture up in Caithness or out in Orkney and they tell us. I once met a postman completely by chance on the Isle of Lewis, who told me he drove my father all over the place when he was up there working. He made a postbox palm tree. So it's about getting to know that these things are out there."
Louise said it was hard to keep track of the regular sightings of his work around the world.
"Sometimes he did installations that involved so many different parts. Some of them have ended up with people, maybe hidden away in a garden.
"When we did the exhibition at the Mitchell in Glasgow a few years ago someone came forward saying they'd found a dragon in the grass at Kelburn Park in Ayrshire. We never even knew about it. It had come out of a discotheque in Prestwick.
"There's a dolphin which came out of a cafe in Dunoon and I remember a horse in a betting shop in Greenock. It disappeared and I don't know what happened to it. It would be interesting to know. He didn't keep records because he spent most of his time making stuff.
"A lot of things were made for the public, in some cases with them. I think it's important to find out where these things are and the stories behind them for the public, too, because he was such a great people person."
A former customs officer, George, who stayed in Gourock, Inverclyde, began working as an artist in the '70s.
He described himself as a "scul?tor", with the question mark becoming his motif, representing the artist's belief that the question was too important to be at the end.
In 2011, to mark his 90th birthday, his family embarked on a mission to secure his legacy, aiming to ensure his work was available for future generations.
The George Wyllie Foundation was established two years later. An event, the Whysman Festival, was held to celebrate his work in 2012, the year of his death. A book, Arrivals and Sailings: The Making of George Wyllie, was published in 2016, while a major exhibition of his work is due to be staged at Summerhall in Edinburgh next year.
A Wyllie gallery is to be included as part of a multi-million Ocean Terminal development for cruise liners in Greenock, although progress has been delayed due to lockdown.
Regarded with curiosity by the establishment, Wyllie only turned to art in his 50s. He went on to become one of Scotland's most celebrated sculptors, credited as a major influence on the career of Glasgow-based Turner Prize winners Martin Boyce and Douglas Gordon.
His work was also celebrated further afield with the return of "lost" works by notable names in the US. Louise said: "The American artist George Rickey, who was brought up in Helensburgh, brought his outdoor Kinetic exhibition to the Clyde in 1982.
"They got to know each other and George went to America to spend time in the Rickey studio in East Chatham in Upper New York State. Philip Rickey, George Rickey's sculptor son, is donating work George did in residency at Rickey's Hand Hollow Foundation."
The foundation hopes to raise £3,500 by September 14, as part of the Crowdfund Creative Scotland initiative, to help track down and return items, as well as establishing a free online art-map.
Among Wyllie's most notable social sculptures are the famous running clock outside Buchanan Street bus station in Glasgow and the giant nappy pin, Monument To Maternity, on the site of the former Rottenrow Maternity Hospital, also in his home city.
His straw locomotive, which was constructed and then ceremonially burned at Springburn's former locomotive works after display, and the paper boat, were both statements about industrial heritage and decline on and around the Clyde.
---
If you know the whereabouts of any George Wyllie work, contact the George Wyllie Foundation via its Facebook page, or contact @fortheburds on Twitter.
Visit crowdfunder.co.uk/george-wyllie to donate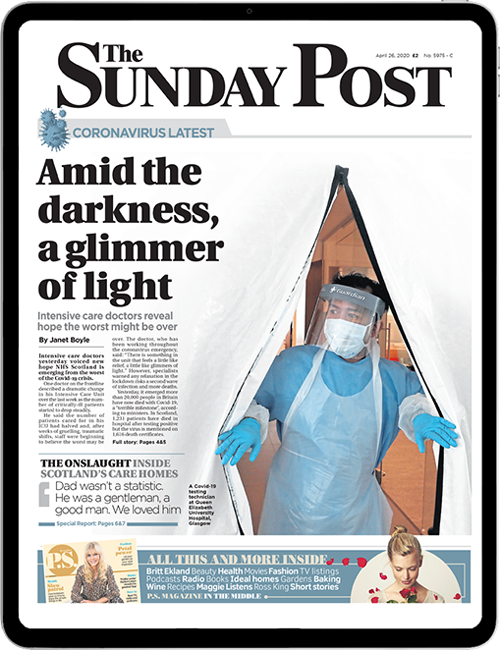 Enjoy the convenience of having The Sunday Post delivered as a digital ePaper straight to your smartphone, tablet or computer.
Subscribe for only £5.49 a month and enjoy all the benefits of the printed paper as a digital replica.
Subscribe