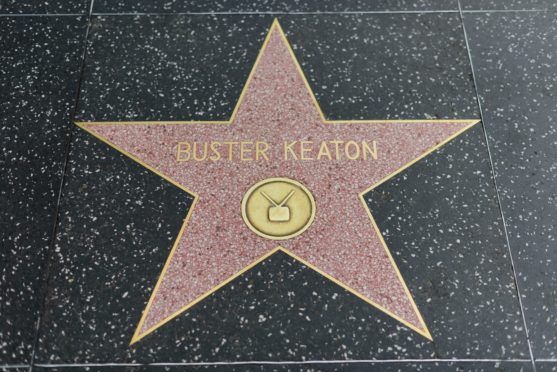 He was the comic genius to rival Charlie Chaplin, Laurel & Hardy and the Marx Brothers.
And Buster Keaton, the stone-faced legend who drove his own car at the age of 12 and happily did stunts for 30 years while unaware his neck was broken, is still stunning today's kids with his incredible movies, more than 50 years after his death.
David MacLeod, author of The Sound Of Buster Keaton, a Keaton historian and co-founder of the Buster Keaton Appreciation Society, is clearly a fan.
And he reckons many of today's comedians and movies, and certainly cartoons of every era from Mickey Mouse to The Simpsons, were hugely influenced by Buster's work.
"Buster, certainly in the 1920s, was something of an acquired taste and he wasn't anywhere near as successful as Chaplin," David admits. "But what makes Buster interesting is that he came back.
"He survived well into the 1960s and his films were rediscovered. Each new generation has discovered them for themselves, and everybody who likes him thinks he's every bit as good as Chaplin and in some cases better than him.
"In a world where we are quite sophisticated and we understand visual effects, CGI, I think that when young people are introduced to Keaton they know that this isn't CGI, that house is really falling on him!
"I think they feel really impressed that, my God, he really put himself in danger to make us laugh. Then they get hooked and have got to see more of this guy.
"A lot of the Disney guys and people at Warners freely profess to watching the silent movies and Keaton in particular for the visual gags and then putting them into their cartoons.
"Buster talked about that. He said that when he went from making short films to making full-length films, he tried to get away from cartoonish gags.
"I think he wanted more realism, whereas in the short films they could be crazy gags, the things a lot of animators grew up watching.
"Buster's influence is everywhere. We keep seeing gags in Family Guy or The Simpsons that are clearly Keaton-influenced.
"There was a Canadian pizza delivery advert a couple of years ago where the whole premise was a house falling on somebody as they're walking away from it.
"It's a straightforward steal from Steamboat Bill Jr! A homage."
There's no mystery about how Keaton toughened himself up to do the incredible stunts he did in films, jumping off moving trains, having buildings fall on him and so on.
His parents literally threw him around the stage, and sometimes into the audience, when he was a child star, with a handle on his back to make throwing him easier.
Try getting that past Health and Safety these days.
"He learned how to fall, which muscles to relax and which to tense," says David. "It had to look as if he was getting hurt, and that's where the straight face came from.
"Buster learned that if he looked like he was enjoying himself, the audience would not get the joke.
"If he kept the straight face, it added to the fact that he was being thrown around like a prop."
Even the name Buster came from those early days – back in his childhood years, Buster was a word to describe a fall. As David reveals, the damage of some Buster falls took a long time to reveal themselves.
"He always said that by the end of his life he'd broken virtually every bone in his body," David reveals. "The most serious came from Sherlock Jr, where he hangs off the end of a train.
"He grabbed the water spout, it slowly came down and the force of the water knocked him down on to the railway line. In the film he got up and ran away, but he said for about two or three weeks afterwards he was getting these terrible headaches.
"Cut to 30 years later, his doctor is doing a general check-up on him and doing a few x-rays. 'Oh, Buster,' he says to him, 'when did you break your neck?'
"Buster told him, 'I've never broken my neck.' The doctor told him, 'Well, I've just taken an x-ray and I can quite clearly see there's a bone that hasn't quite fused properly.'
"He once snapped an ankle while making a film too. He did get hurt.
"It's like dancers, who always get hurt despite all the precautions they take."
Having taken the tumble down stairs that got him his nickname at just 18 months, Keaton was making his first public appearances at the age of three.
Such a sensation was he that perhaps we shouldn't be surprised to learn Buster was driving his own car by the grand old age of 12.
"The pay was an absolute three-way split between him and his parents," David explains.
"He was treated as an adult from a very early age."
Buster took careful notes on where they played, how long for, how much they got paid. That was part of his contribution to the act.
"Buster did drive a car at the age of 12. In vaudeville, he would love to stand at the side of the stage and watch the magicians. He would watch and ask about everything, and they would teach him.
"So driving a car at the age of 12? Piece of cake!"
The Great Buster: A Celebration is a new documentary film which will be out in British cinemas later this year. Featuring interviews with everyone from Quentin Tarantino to Dick Van Dyke and Mel Brooks, it was directed by Oscar nominee Peter Bogdanovich.
David, of course, hopes it will help inspire and enthral yet another new generation of film fans to fall for the timeless magic of Buster Keaton.
"It's full of celebrities, and Buster does seem to be one of those people who is much admired within the industry.
"If it can get the next generation interested and asking, 'Who is this Keaton guy? I must check him out on YouTube!' that would be fantastic.
"Those are the people that, in 10 or 20 years' time, you want to be making their own documentaries and running Keaton societies."
If you or I plan on buying some Buster Keaton classics, what does David reckon we should seek out first?
"Try and get a hold of Sherlock Jr if you can, a terrific little movie, and absolutely get The General.
"And then there's Cops, 20 minutes long, if you want a really good short movie."