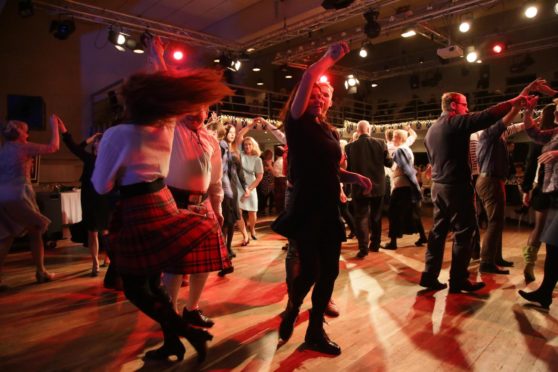 Honest, sonsie faces will be confined to Zoom calls instead of banqueting halls this Burns Night, with haggises set to be addressed online in honour of our national bard.
The pandemic has curtailed the usual ceremonies here in Scotland and around the world, with one place set to particularly miss the annual get together being the Baltic state of Estonia.
The country has long-standing ties with Scotland, with Burns Suppers, ceilidhs and even a full Scottish festival popular events on the calendar pre-pandemic.
The country's first Burns Supper was held in 1994 to celebrate a whisky deal that had been brokered, and annual suppers now take place in Tallinn's numerous Scottish pubs, as well as the exclusive members-only Scottish Club, famous for their busts of Burns and Sir Sean Connery in their lavish gardens.
Events are also held by the Scottish Culture Society, who have had to indefinitely postpone their celebrations this year.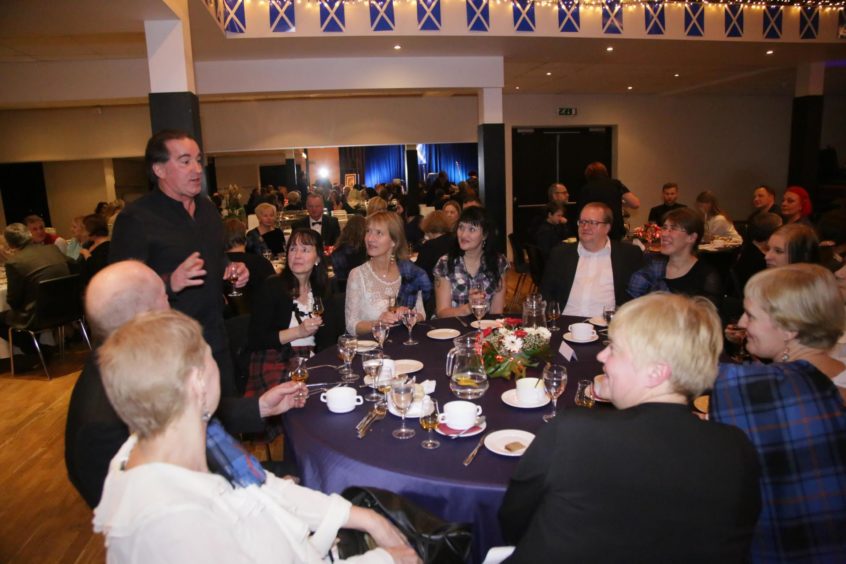 Eike Urke, a founding member, said: "It's disappointing that we cannot celebrate Burns' birthday this January, but we live in hope that we will get together and celebrate his legacy and merit when the world has gotten rid of Covid-19, be it in spring or in summer this year.
"Over the years we have chosen old castles or manor houses all over Estonia for our Burns Supper venues. Our humble hope was that, one day, this tradition would catch on here and evolve to something across nations, blending Scottish and Estonian culture. And this was exactly what happened.
"The man who started the Scottish Club a long time ago and his family and friends organised a similar event inspired by our Burns Suppers, but dedicated to bread that has kept Estonians alive through miseries and troubled times. There are poems dedicated to bread and all other rituals.
"There are some great living Estonian poets like Jürgen Rooste and Contra who have been with us performing at Burns Suppers and there is hope that one day we will celebrate one of Estonia's famous poets likewise, raising a toast to humanity."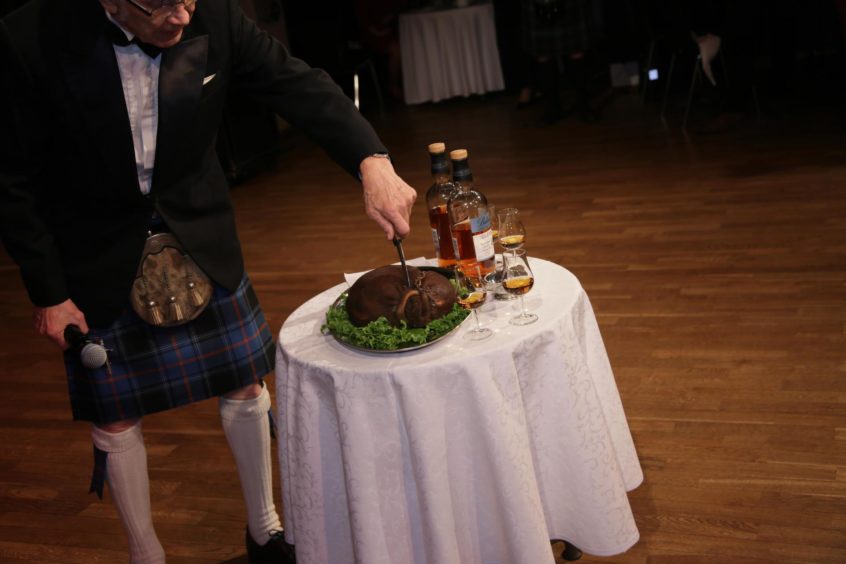 Eike fell in love with Scotland on a weekend trip to Glasgow, particularly an evening at the Riverside Ceilidh Club.
"I got a ceilidh bug!" she said. "I lived in Sweden at the time and it was very cheap to fly over to Glasgow for weekends after that. Then I moved to Estonia and started ceilidhs in Tallinn as it was very expensive to travel to Scotland from here in 2005.
"We founded the Culture Society in 2009 with our Scottish country dance club as we became interested in so much more than just dance in Scotland.
"The purpose of the Society is to stimulate and sustain an interest in Scotland; to provide education regarding its history, traditions and culture.
"I think we have quite a similar mindset as nations, it's easy to understand each other. Estonians like culture and they like to dance and that is exactly what Burns Suppers are about. Oh, and some like whisky as well!"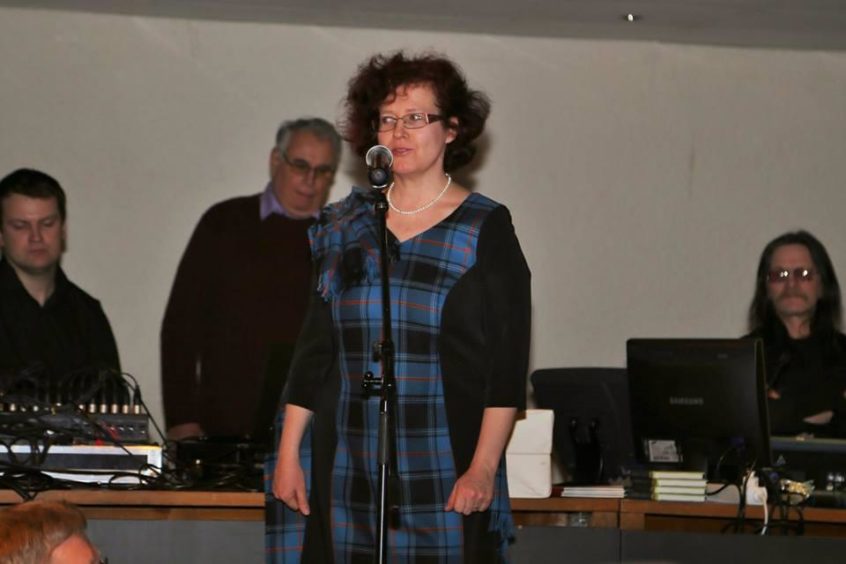 The Tartan armies
Historical connections between the countries date back centuries. According to records found in the archives, food from Estonia kept Scots alive following the Battle of Bannockburn, where crops had been burned in the face of the advancing English army.
And in the 16th century, Scots troops fought in the area as mercenaries under the control of Sweden against the advancing Tsardom of Russia.
However, the past few decades of Scottish culture's rise to prominence in Estonia can be partly traced back to visits from an invading force of a different kind – the Tartan Army.
Of course, the infamous trip in October 1996 immediately springs to mind. This saw the Scotland team kick off a qualifier in the Kadrioru Stadium in Tallinn with the Estonian team absent due to a dispute over floodlights.
The match was abandoned immediately, and FIFA ordered it to be played again on neutral territory at a later date.
It spawned the Tartan Army chant "there's only one team in Tallinn" and some fans played their own game on the pitch.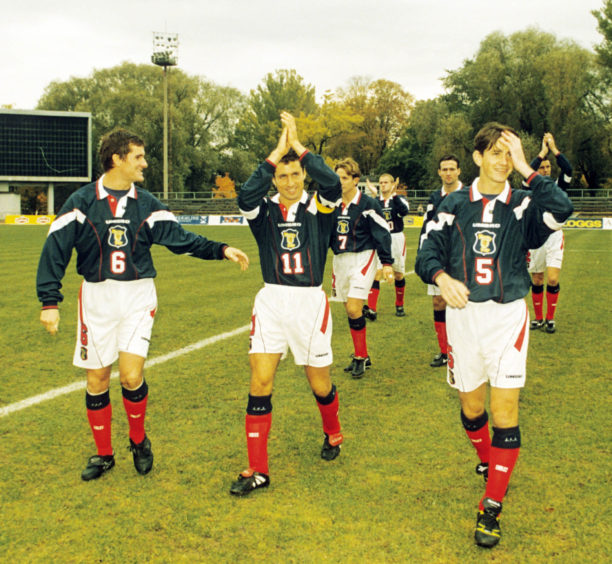 But it was a few years earlier, in Scotland's first meeting with Estonia in 1993, that six Tartan Army foot soldiers fell in love with a country emerging from Soviet rule and set the wheels in motion for fruitful business partnerships.
One of them, Iain Lawson, would later serve as the country's honorary consul in Scotland from 2003 to 2018.
"It was the first World Cup Estonia were involved in qualifying for," he recalled. "It was a hell of a shock for them when the Tartan Army descended on them because it had been very much a closed society. They'd never seen anything like it!
"We found it was astonishingly cheap. It was 20p for a vodka and orange, about a pound for a bottle of vodka. That was my introduction. Out of the six of us, five started businesses there. It was like the commercial wing of the Tartan Army!"
Iain, who worked in pest control among other businesses, forged connections with the state through his work and was approached to be the consul.
In his role he'd help foster trade links and facilitate meetings between top level officials and ministers on visits between the two nations.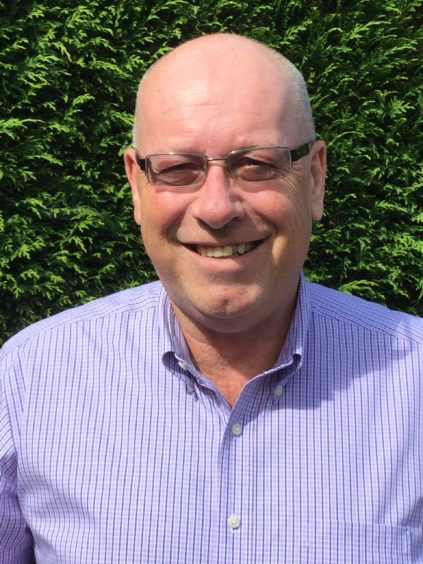 "There's quite a good interchange between the two governments. For a long time they were the two newest parliaments in Europe," he said.
"Estonia excels in digital government, so the Scottish Government have always been quite interested in what they're doing. Countries like Finland and Denmark have copied the system.
"It was surprising how many Estonians are in Scotland. The duties at the consul are to build trade links but also to hand out documents like renewed passports. I met so many people over the years, coming to my house in Paisley."
A close cultural connection
In one of his first Scottish Week events in Estonia, Iain brought over a pipe band and they went down a storm.
"Kids that were pipers in southern Estonia saw it on TV and travelled up just to meet these Scottish pipers. It was amazing," he said.
"In these early days we came across these links every week. There was a connection through knitting as well, lots of designs in Estonia that were originally Hebridean. We discovered that they had been exchanged by fishermen."
Iain was also involved in creating a national tartan for Estonia, an honour not bestowed on many nations.
"We wanted to do something meaningful that would be sustainable and ongoing," he explained. "House of Edgar in Perth came up with some designs and staff at the Ministry of Foreign Affairs in Estonia had a ballot of the tartans.
"The winner was the one that incorporated the three colours of the Estonian flag and the red and gold of the Lion Rampant. It's to emphasise the strong links plied over the ages."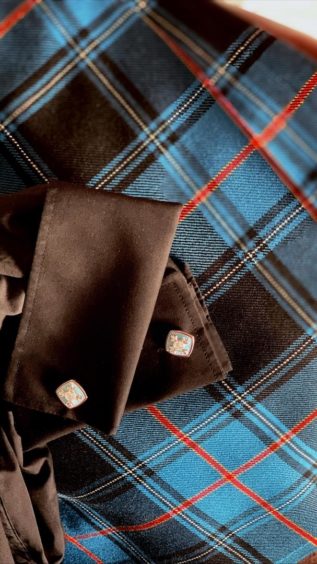 At an elite level, the connection between the nations is seen at the Scottish Club in Tallinn, set up as a private club for top businessmen and politicians, centred around whisky.
Iain explained: "It is a true Scottish Club. The staff wear kilts and it's got full tartan carpets, the great seal of Robert the Bruce on the wall and in the beautiful gardens they've got statues to Robert Burns and Sean Connery.
"To this day it's the most exclusive club in Estonia. You can't apply to join, you've got to be invited. In the first Estonian cabinet, there were 16 members, nine were in the Scottish Club."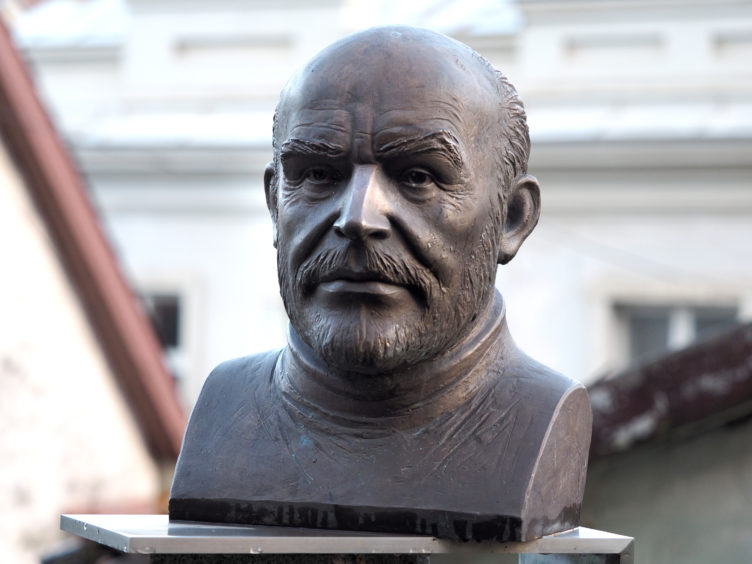 A Scottish festival
For those without such high status, the place to be in Estonia for celebrating Scottish culture is Haapsalu, a seaside resort town on the west coast.
Here, they have a unique annual festival celebrating all things Scottish, including a game of curling on the frozen seas with pipe bands and British forces in Estonia turning up in their tartan trousers.
A regular participant is Philip Barlow, who was due to be in Estonia this month to be made a new honorary consul.
While Covid has postponed his visit, it won't be long before he's back again. A piper, he played there as a teenager and couldn't resist visiting time and time again, and becoming involved in many of the Scottish-themed events.
He has plenty of fond memories of the locals' fascination with tartan – and an unfortunate incident involving kilts and ice.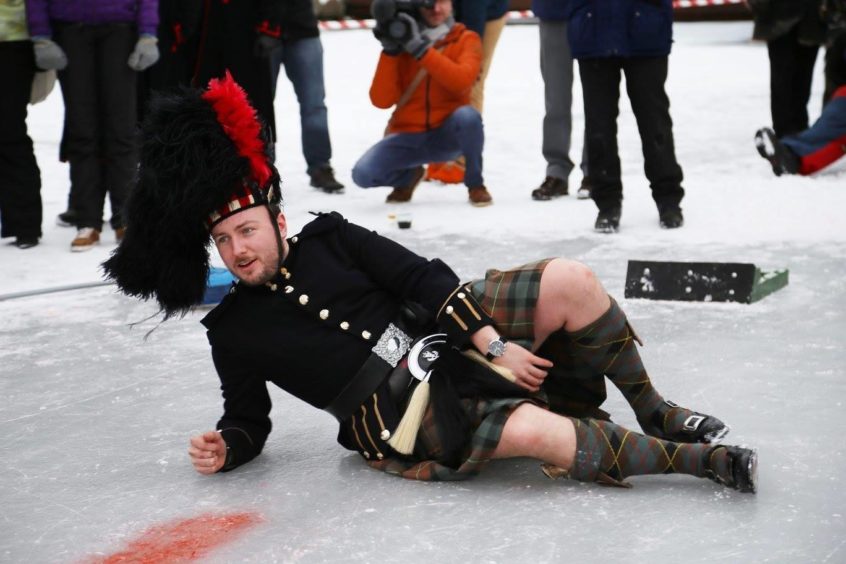 "They came up with the idea of the charity curling match," he said. "It made all the news channels over there.
"There's a really funny picture of me falling on the ice in my kilt! The Estonians think it's hilarious. I hadn't been to bed for 48 hours.
"I had been out piping at an event that didn't finish till eight in the morning then was curling at lunchtime before the mayor took me to another Estonian bar.
"Another time there was a massive ceilidh and they decided to have a dog show half way through. They stopped the dancing, served the haggis then had a dog show. They asked me to pipe all the winning dogs along the high street. Piping the poodle!"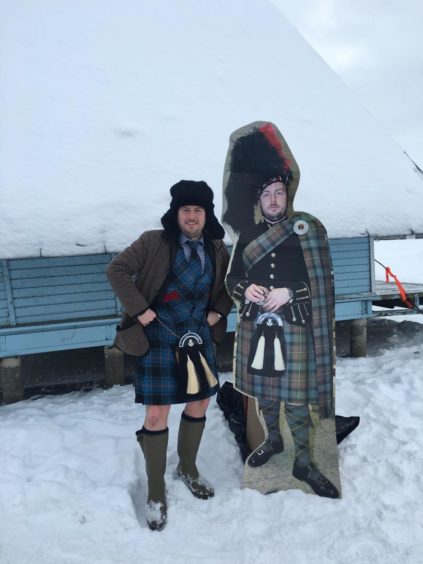 The highest regard
The tartan-filled events and celebrations serve to highlight the strong links between Scotland and Estonia, which will look to get back up and running post-pandemic.
Iain believes Scots are held in the "highest regard" in the country, with relations dating back to the Baltic traders.
And that's meant that Scotland has become a prime destination for tourists from Estonia.
He said: "The city of Narva used to have 300 Scottish families living in it. They were the families of the Baltic traders, who took them there at the start of the spring until the start of the winter. They must've behaved impeccably!
"The rich Estonians, a lot of them sail down the west coast of Scotland during the summer months. It's seen as the premier place to take your yacht. Estonia is flat as a pancake, the highest mountain is 300m, so they are fascinated by the landscape. I always take visitors round the Highlands and they're in awe at the scenery.
"There are so many links between the countries, and the Estonians are very proud of them as well."
Philip added: "It's a very outward looking country, all the young people are very dynamic, and entrepreneurial. They all speak four or five languages.
"There's a huge affinity between the countries, they're very similar in a lot of ways. The people are very nice, so warm."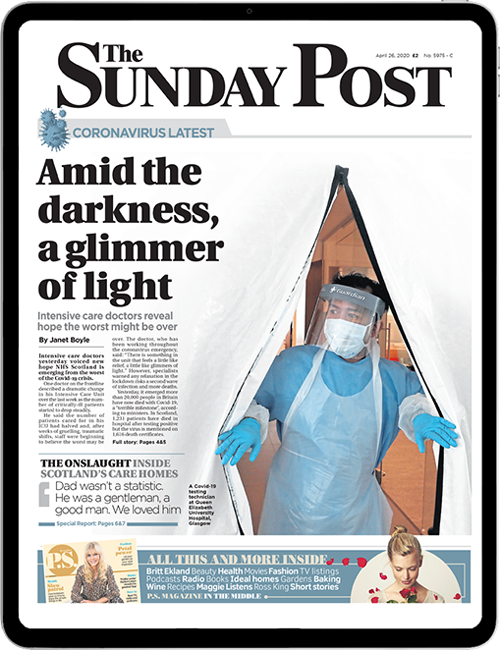 Enjoy the convenience of having The Sunday Post delivered as a digital ePaper straight to your smartphone, tablet or computer.
Subscribe for only £5.49 a month and enjoy all the benefits of the printed paper as a digital replica.
Subscribe