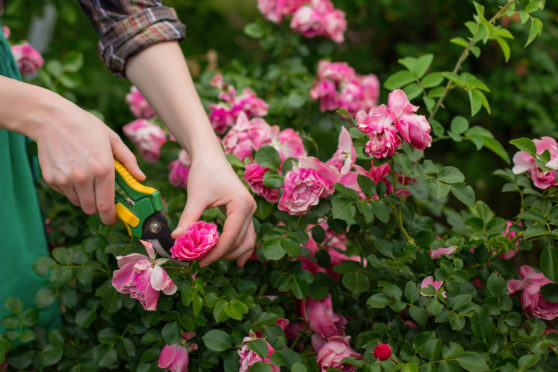 The white rhododendron that grows by the steps has been glorious for several weeks but now its pink-tinged flowers have turned brown, so I've been snapping them off in handfuls every time I pass.
I do this with all the rhododendrons, not just because their dead flowers are unsightly, but because preventing them from setting seed directs energy back into the plant.
Where it has leapt the fence Rhododendron ponticum has invaded woodlands and covered hillsides, smothering native plants and causing loss of habitat for wildlife, so I keep mine in check by clipping them into giant orbs and removing any flowers that appear before they have a chance to seed themselves around.
Another reason for removing the flowers is that these are toxic to bees.
Fortunately in early summer there are many other more appealing flowers for bees to forage from, including roses and peonies. In my garden the buds of the climbing rose A Shropshire Lad are just about to open.
I bought this rose to cover a wall but then changed my mind and have planted it in one of the borders, where I've bent its stems over and pegged them down to encourage as many flowers as possible.
It may ultimately prove too vigorous for this treatment, but part of the fun of gardening lies in experimentation and working out what you can get away with.
Not all these experiments will have the desired results. Two acanthuses, grown in very large pots, have struggled to come back after winter. These large plants, which have dramatic leaves and tall stems of white and purple flowers, don't like being confined so I'm going to have to give up my attempt to grow them on the patio and find a spot where they can sink their roots into deep soil.
By contrast, the Mexican fleabane (Erigeron karvinskianus) is flowering its head off in the container where I housed it temporarily and where, at times, it has been both saturated and starved of water, yet it has steadfastly refused to establish itself in the drystone wall which offers it perfect growing conditions.
I now know how cat owners feel when their beloved pet turns up its nose at an expensive new bed and continues to sleep in a discarded shoe box.
It's the same with the peonies which, after having been moved three times in two years, are having a bit of a sulk, despite enjoying a sunny position.
By now the garden should have been filled with their delicious scent, but instead they are making me wait another year to enjoy their ruffled petals. I keep telling myself it will be worth it.
Experimenting is fun but it also brings frustrations. Just ask gardening guru Agnes Stevenson, who this week finds her patience is being tested to the limit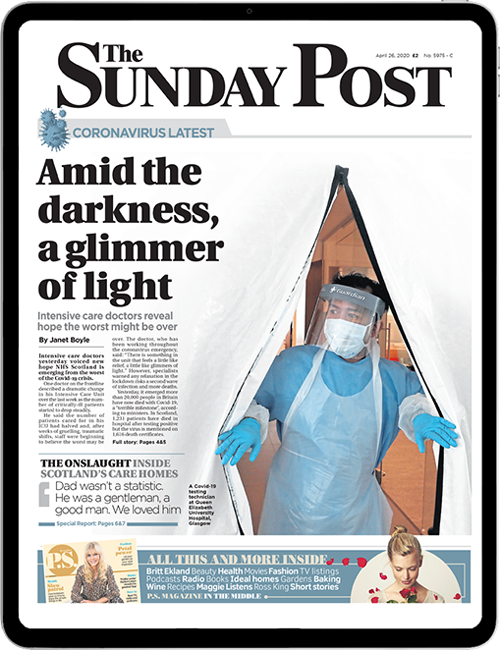 Enjoy the convenience of having The Sunday Post delivered as a digital ePaper straight to your smartphone, tablet or computer.
Subscribe for only £5.49 a month and enjoy all the benefits of the printed paper as a digital replica.
Subscribe