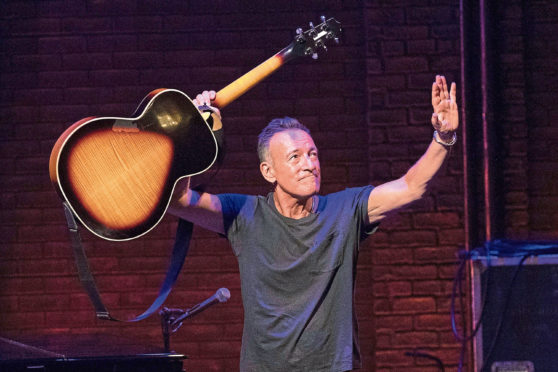 The legendary Bruce Springsteen turns 70 on Monday and it might turn out to be a double celebration in the household of America's favourite rocker.
On Sunday the man the music world knows as "The Boss" could become a member of the entertainment industry's most exclusive club.
Springsteen has been nominated for an Emmy in the category Outstanding Variety Special for the TV broadcast of his recent long-running sell-out show, Springsteen On Broadway.
If he's successful, he would join the small group of entertainers who have captured an Emmy, a Grammy, an Oscar and a Tony for performances across all the major genres – television, music, film and stage.
They're know as EGOT winners and there are currently just 15 of them, including Tim Rice and Andrew Lloyd Webber, Whoopi Goldberg, Mel Brooks, Audrey Hepburn and Richard Rodgers.
As a legend in the music business for nearly 50 years, Springsteen has 20 Grammys at his ranch in Colt's Neck, New Jersey, just down the road from his hometown of Freehold.
He captured his first one for Best Vocal Performance for the 1984 hit Dancing In The Dark.
He won his Academy Award when he collected the Best Original Song Oscar in 1994 for Streets Of Philadelphia, from the movie Philadelphia, which starred Tom Hanks.
Last year he was given a Tony Award for Springsteen On Broadway, a one-man show that ran five nights a week for 14 months and grossed $113 million.
Mind you, 236 performances, mostly comprising of him sitting on a stool with a guitar and telling the stories behind the songs, is a relatively relaxing working stint for the man whose arena gigs with his E Street Band regularly push through the three-and-a-half-hour barrier, and often only finish because the local authorities literally pull the plug so everyone can go home.
In fact, he holds the world record for the longest concert ever by a single artist – four hours and six minutes in Helsinki in 2012.
Springsteen and the band he put together when he was in his early 20s have been among the elite of stadium rock ever since he shot to fame with his anthem Born To Run in 1975.
Since then he's sold 135m records worldwide, including 65m in his own domestic market.
He cracked global fame in the mid-1980s with his Born In The USA album and tour, which established him as America's working class hero, singing songs about "real life".
Mind you, not everyone quite understood the message in the lyrics.
President Ronald Reagan hijacked Born In The USA as his electoral signature tune – until it was pointed out that it was a song about the futility of the Vietnam War and the treatment of returning veterans by the US Government!
His songs have always been about his own life and those of friends and neighbours.
For instance, his 1980 hit The River, a tale of a young couple whose lives are changed by an accidental pregnancy, was based on his sister and her boyfriend.
His 1986 album, Tunnel Of Love, was about the crumbling of his first marriage to actress Julianne Phillips, and his 2002 album The Rising consisted of songs related to the events of 9/11 in New York.
Springsteen's success has been based on the feeling that for all his money in the bank, he has retained his "one of us" persona.
On stage he's always dressed like the manual labourer who lives next door – jeans, boots, workshirt.
There's no glitter or glamorous sets at a Springsteen concert. His stated aim has always been to make sure no one in his audience is ever short-changed.
What initially distinguished Springsteen's E Street Band from the many other rock groups was the presence of saxophonist Clarence Clemons, organist Danny Federici and pianist Roy Bittan, who provided a melodic contrast to the traditional guitar and drums.
Drummer Max Weinberg and guitarists Garry Tallent and Steve Van Zandt have been with the band since its inception. Nils Lofgren is a relative newcomer, having joined in 1984.
The original E Streeters were together for 35 years until Federici's death in 2008 and Clemons' passing in 2011. These days Clarence's nephew Jake provides the mellow sax tones as Springsteen maintains the band's family feel.
And there's no better example of that than the fact that Mrs Springsteen has been a fully fledged band member for the last 35 years, playing acoustic guitar and providing back-up vocals.
Patti Scialfa, like her husband, was born in Long Branch, New Jersey and became the only full-time female E-Streeter in 1984.
She's a fiery redhead of Irish-Sicilian descent, four years younger than Bruce and they wed in 1991 after his short-lived marriage to Hollywood star Phillips.
The two met in the early 1980s at a bar called the Stone Pony in the New Jersey seaside resort of Asbury Park, where Bruce had cut his musical teeth a decade earlier.
Patti had been performing with her own band and Springsteen was so impressed with her voice that he asked her to join him on his upcoming world tour.
At the time, Bruce was beginning his relationship with Phillips, whom he married in 1985.
However, the 11-year age difference, contrasting backgrounds and his long periods of touring quickly took their toll.
Scialfa was a much more natural match and by the time he toured his next album in 1988, she was front and centre in both the band and his life.
She gave birth to their first son, Evan, in 1990 and they married the following year.
The couple have two other children – Jessica (27) and Sam (25).
Evan has followed dad's footsteps and is a singer-songwriter, Jessica is an international showjumper, while Sam is a New Jersey firefighter.
Springsteen grew up in a working class Catholic household, his father a largely unemployed bus driver and his mother the main breadwinner as a secretary.
Inspired by The Beatles' 1964 appearance on the Ed Sullivan Show, he persuaded his mum to buy him a $19 second-hand guitar for Christmas.
Music was his escape from the constant rows with his dad and as soon as he was old enough he was playing the bars of Asbury Park looking for a break.
He found himself a manager – Mike Appel – who brought him to the attention of Colombia Records talent scout John Hammond.
In October 1972, he formed the E Street Band for the recording of his debut album Greetings From Asbury Park, NJ.
Springsteen acquired the nickname "The Boss" during this period, when his bands played club gigs and he took on the task of collecting the nightly pay and distributing it among his bandmates.
Although the album sold slowly, one of his songs – Blinded By The Light – was picked up by Manfred Mann's Earth Band, who took it to No 6 in the UK charts.
The song became the title of the recent hit movie, which explored the influence of Springsteen's music on a British Pakistani teenager growing up in 1980s Luton.
Made by the producers of Bend It Like Beckham, Springsteen gave free use of his music for the film and even gave an impromptu performance when it was premiered at Asbury Park in July.
Springsteen could never be described as an overnight success, particularly outside the USA.
He came to Britain for the first time in 1975 to promote his third album Born To Run to great hype with the slogan: "Is London ready for Bruce Springsteen?"
Despite critical acclaim he didn't sell any records and Born To Run never even made the UK Top 40.
For the next three years Springsteen was kept out of the recording studio because of a contract dispute as he changed management from Appel to Jon Landau, a former music critic who had been amongst the first to champion Bruce when he wrote: "I saw the future of rock and roll flash before my eyes and its name is Bruce Springsteen."
Landau is still his manager 40 years later.
Once the legal difficulties were cleared, Springsteen returned to Britain and established a small hardcore of followers but he didn't make the British Top 10 until 1984, when Dancing In The Dark reached No 4.
And, remarkably, he still has never had a UK No 1.
However, it's a very different story when it comes to albums. Every one of his last 11 studio albums has topped the UK charts, including his latest, Western Stars, which is his first ever country and western record.
He's strayed into non-rock territory before on several occasions, including an album of traditional American folk songs, but despite the approach of his landmark birthday he has no plans to give up on those marathon arena shows.
He and the band are due back in the studio before Christmas to record another album and plans are already being drawn up for another world tour next year.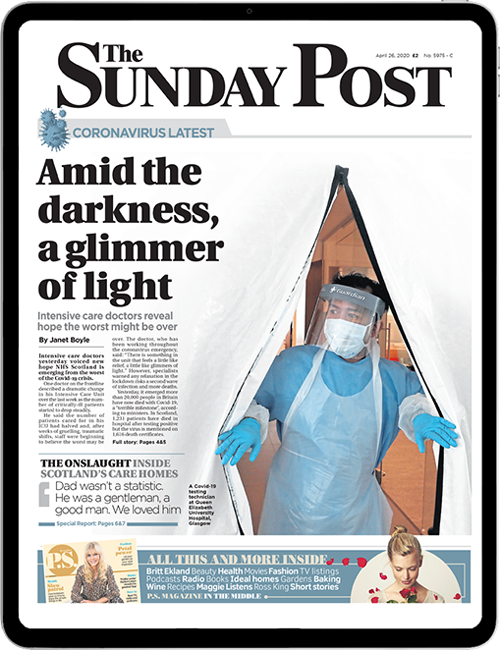 Enjoy the convenience of having The Sunday Post delivered as a digital ePaper straight to your smartphone, tablet or computer.
Subscribe for only £5.49 a month and enjoy all the benefits of the printed paper as a digital replica.
Subscribe