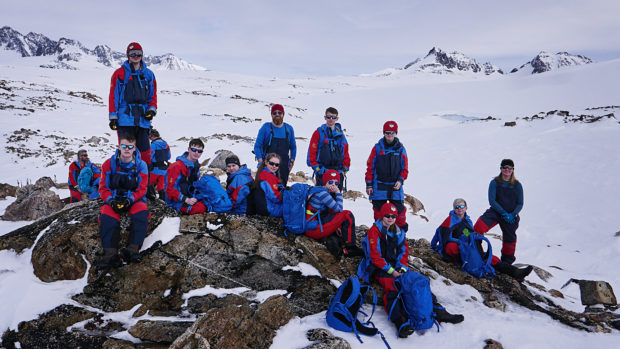 They lacked self-confidence and were broken by bullying.
But today Matthew Wood and Emma Severs, both 15, are standing tall thanks to a school trip with a difference.
The pupils of Bathgate Academy, in West Lothian, were among 10 teenagers chosen to take part in the Polar Academy – a 10-day expedition in Greenland.
Viewers will see them brave frostbite, Arctic storms, temperatures of -30C and polar bears in a four-part BBC Scotland documentary starting next week.
Matt and Emma said the experience has helped them stand up to bullies and instilled them with confidence for the first time in their young lives.
Matt revealed: "People bullied me about my appearance because I was born with my ears slightly sticking out. I felt that if I didn't answer questions in class and stayed quiet it would stop, but it never did.
"Now that I have been to Greenland it has really boosted my confidence. It doesn't matter how you look or who you are, you can do anything you want to do.
"I might even become a professional adventurer. The bullies now realise I can do things and it has mostly stopped."
Emma added: "I was bullied because I was quiet and didn't speak up for myself. I always thought these kind of opportunities were not possible for me.
"I feel amazing. I still cannot believe it really happened. Before I left, I was really petrified. I was worried about polar bears and frostbite – it was -30C at night.
"We saw massive ice caves and the northern lights – we were just 15 and people of 50 don't get to see that.
"I know now that if you believe in what you are doing, anything is possible.
"I want to be a musician when I leave school, but I also want to be an advocate for mental health and climate change. I would never have had the confidence to do that before."
The Polar Academy project was set up by explorer and expedition leader, Craig Mathieson, in 2013.
It identifies school children aged 14 to 17 who need a confidence boost and takes them on a voyage of self-discovery.
Participants are put through a rigorous 10-month training programme before being immersed in the wilds of Greenland, navigating through some of the world's remotest terrain for 10 days. Their confidence soars with every step.
Craig, from Bo'ness, said: "This was no bubble-wrapped school trip, it pushes them to their very limits.
"I wasn't looking for youngsters who excelled in school or the ones who were disruptive. I was looking for the kids who do not stand out in the crowd, the 'invisibles' who lack the confidence to follow their dreams.
"When I first met them, they could not even make eye contact with me.
"They had zero confidence, zero belief they could do anything. In the end they were pulling 45kg sledges containing all their food, tents, fuel and spare clothes.
"They did all the navigation, set up their own camp, cooked their own food, put the polar bear fence up and dug their own latrines.
"You could see the change in them almost by the hour."
On their return to Scotland, Emma and Matt shared their experiences with their peers, speaking to more than 20,000 schoolchildren at a time.
And tomorrow they are set to address the Scottish Government in Edinburgh on climate change.
Something that would have been unthinkable before the trip.
Emma's mum Helen Severs, 41, said: "I really felt it could be a turning point for Emma.
She had been bullied for a long time. I see a totally different girl now.
"What Craig has done for our kids is amazing. Now he is encouraging them
to inspire others like them."