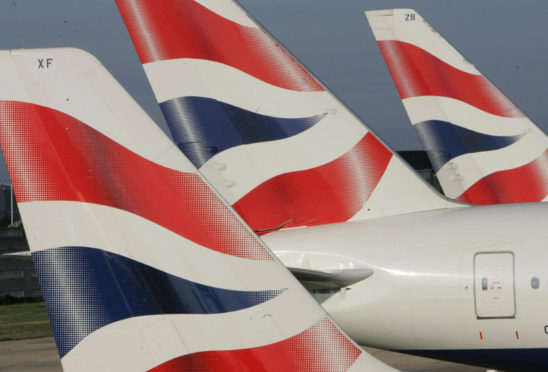 A major IT problem is affecting travellers hoping to fly with British Airways (BA) across the country.
Flights in and out of London's Heathrow and Gatwick airports have been subject to long delays as a result, with 81 Heathrow flights and 10 from Gatwick cancelled.
More than 200 flights have been impacted, with some passengers having an extra five hours added on to their journey.
Major computer failure with British Airways at Gatwick this morning. This is the queue for the queue at check in. Currently stuck on ground cos pilot can't get data. Set off early if you have a flight pic.twitter.com/hL37TGRJ70

— David Hewson (@david_hewson) August 7, 2019
Passengers in Glasgow reported being stuck on the tarmac or facing long waits inside the terminal building, and it was a similar story for passengers
BA has advised flyers to allow extra time for their journeys.
The glitch has affected check-in and flight departures, with staff having to revert to manual systems.
@British_Airways been stuck on the ground in Glasgow for an hour now. People finally just walking off the plane. pic.twitter.com/mdUQ8t57le

— Stephen Gibbons (@kixsian) August 7, 2019
Oh dear @britishairways global IT outage? Boarded at 6.30am. Waved good by to partner and dogs early ready to talk Whisky in London. No news from BA HQ. All flights grounded? Staff on board at Glasgow flight to London are brilliant. @BBCr4today for company.

— Kieran Healey-Ryder (@HelloScotTweets) August 7, 2019
BA is offering short-haul passengers departing from Heathrow, Gatwick and London City the chance to re-book to another day between Thursday and next Tuesday.
A spokesman said: "We are working as quickly as possible to resolve a systems issue which has resulted in some short-haul cancellations and delays from London airports.
"A number of flights continue to operate but we are advising customers to check ba.com for the latest flight information before coming to the airport."
A major computer failure hit the airline over spring bank holiday weekend in May 2017, standing tens of thousands of passengers and costing owner AIG around £80 million.
The airline cancelled 726 flights due to a power failure, sparking a raft of compensation claims for flight costs, train and hotel expenses, replacement clothes and toiletries.
The GMB union blamed the meltdown on cost-cutting and the outsourcing of hundreds of IT jobs, which was denied by BA.
More recently, it has faced troubles including threatened strikes by its pilots.
The airline is also set to be fined £183 million over a cyber attack on its security systems last year in which the personal data of up to 500,000 customers was stolen.