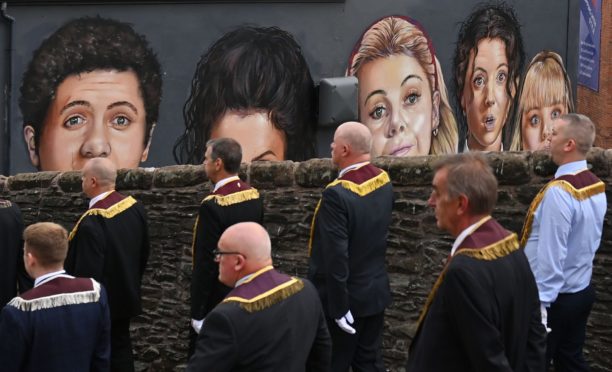 A century later, another Prime Minister would holiday in Wester Ross only to flee as soon as the pictures appeared in the press.
In the summer of 1921, however, in a far more deferential age, David Lloyd George, 58, spent weeks on end in Gairloch after taking Flowerdale – the stately, 1738 seat of MacKenzie chieftains – and made no secret of his presence, even attending sermon at Gairloch Free Church (worship, entirely in Gaelic, lasted two hours).
The world seemed at the premier's feet. He had won the Great War. Weeks after the armistice, his coalition had won a general election by a landslide. At the Paris Conference in 1919, he had redrawn the map of Europe and, with the acquisition of ex-German colonies, Britain had never commanded so vast an empire.
And yet, near at hand, Britain was daily humiliated. Her police force in Ireland had been smashed, her spies shot, her informants lynched. IRA "flying columns" made fools of her troops; British atrocities – wholesale, and well documented – appalled the world.
Nor could their opponents be damned as terrorists. Sinn Féin had won an overwhelming majority of Irish seats in that same general election, an unambiguous mandate for independence – one met by Britain with martial law, murder, repression and pillage.
Though Sinn Féin could not win outright military victory, by spring of 1921 Whitehall knew it had lost.
"We are willing to acknowledge that we are defeated," Lloyd George's man in Dublin Castle let it be known that May, through the American consul and in a subtle hint to a certain lofty maths teacher turned folk hero.
"There is nothing else for us to do but draft 400,000 men and exterminate the whole population of the country, and we are not willing to do that. We are willing to withdraw our whole establishment, from the lowest policeman to the highest judge."
There were, of course, conditions; but would Éamon de Valera bite? Thirty-eight, clever, swotty, very tall, the only surviving commandant of the Easter Rising – the rest the British had coldly shot – he was now the proclaimed President of the Republic, just back from a triumphal tour of America.
Late in June, opening a new parliament in Northern Ireland, King George V called for peace. "I appeal to all Irishmen to pause, to stretch out the hand of forbearance and conciliation, to forgive and forget. The future lies in the hands of my Irish people themselves."
And days later, de Valera received a letter from Lloyd George. The Irishman emerged from hiding and, with General Smuts of South Africa as intermediary, both sides agreed a truce. On July 14, de Valera met Lloyd George in Downing Street. The president said very little; the prime minister a great deal. Later, Lloyd George would complain that negotiating with de Valera was "like trying to pick up mercury with a fork."
What he offered the Irish – sans the six counties carved up by Sir James Craig as "Ulster" – was dominion status, but on terms the Welshman surely knew were sticky for de Valera, Michael Collins, Arthur Griffith and the rest.
Ireland would not be allowed a navy, Britain would retain the use of key ports, the Ulster statelet would never be forced into the new dominion against its will – and George V would still be King of Ireland, all statesmen and officials swearing allegiance to him.
De Valera rejected the offer but not so vehemently as to jeopardise the truce. He knew – indeed, Lloyd George knew – that both their jackets hung on shoogly nails. The truce had blown the cover of most IRA Volunteers. They were desperately short of guns and ammunition. And many units were not even in the absolute control of Michael Collins, let alone the prim de Valera.
But Lloyd George was only prime minister at the pleasure of the Tories, most of whom had vociferously deplored even 1912's timid, milquetoast plans for Irish home rule. The bulk of his Liberal Party answered still to the squiffy Herbert Asquith. And, as the Curragh Mutiny of 1914 had shown, significant elements in the British armed forces would never, even at government orders, force Ulstermen to do anything.
So David Lloyd George retreated to Gairloch, as de Valera played for time. Correspondence continued. Then, early in September, de Valera announced "irrevocable rejection" of Britain's proposals.
Little was really ever irrevocable for "Dev", and Lloyd George met tactics with theatricals. He announced, in turn, a meeting of Cabinet – an emergency meeting, and, of all places, at Inverness. Cabinet had never before met outwith Downing Street or Chequers.
This was not as daft as it might now appear. In early autumn, a hundred years ago, practically everyone who mattered in Britain's national life was in the Highlands of Scotland, and not exactly conserving wildlife.
Even quite ordinary people would take houses in the likes of Kingussie, Strathpeffer or Lochcarron. The King himself was near at hand – a guest of The MacIntosh of MacIntosh at Moy Hall, for the wonderful grouse-shooting. And other members of Cabinet bounced around the heather too.
Inverness Town House, a Flemish-Baronial structure, was secured as a venue; September 7 agreed as the day, and 11 am the time. But it began, for Lloyd George, with early rising and a vital breakfast.
It was a fine day. People packed in around the Town House. "It was too great an occasion for noisiness or rough play," panted the Inverness Courier. "People who were about before the breakfast hour had the opportunity of seeing Mr Lloyd George on his motor-run from Brahan Castle to Moy Hall. His Majesty and the prime minister were together afterwards for two hours or longer, discussing great affairs of state and no doubt, the future of Ireland."
What was at stake that day was simple: could Britain renew war on the 26 Counties; or should she negotiate? And, if the latter, what reply to Éamon de Valera? Lloyd George and his advisers had already prepared a draft, which – after the last crunch of toast, and the final swig of tea, he now laid before George V, as The MacIntosh and his lady made themselves scarce.
The language in parts alarmed the shrewd old monarch, much more politically engaged than his anything-for-a-quiet-life granddaughter. He prevailed on his prime minister to remove "all threats and contentious phrases" from the letter.
Back in Inverness, folk peered from every window; perched as they could on assorted rooftops. The United Kingdom as they knew it was at stake. Yet farce seemed never far away.
On return from Moy, the prime minister was delayed for precious minutes: an ailing steamroller blocked the road. In Inverness Town House, mortified officials had to chase out a black cat which had somehow wandered into the very council-chamber. Too late, someone noticed that the Union flag atop the building was flying upside down.
A tardy Lloyd George had to pause for the cameras, do grip-and-grin with local dignitaries, before he could at last dip inside and convene his Cabinet.
The gathering included two future prime ministers, Stanley Baldwin and Winston Churchill; some quaint-sounding titles – lord privy seal; colonial secretary – and names that might have sprung from the pages of PG Wodehouse: Edward Shortt, Alfred Mond, Sir Laming Worthington-Evans; Sir Arthur Griffiths-Boscawen.
Someone had the wit to take a photograph, and the council officer passed around a sheet for all the ministers to sign; a facsimile is still on show at the Town House today.
Debate lasted for hours, and it is hard for us today to grasp just how stomach-turning Irish compromise was to those men.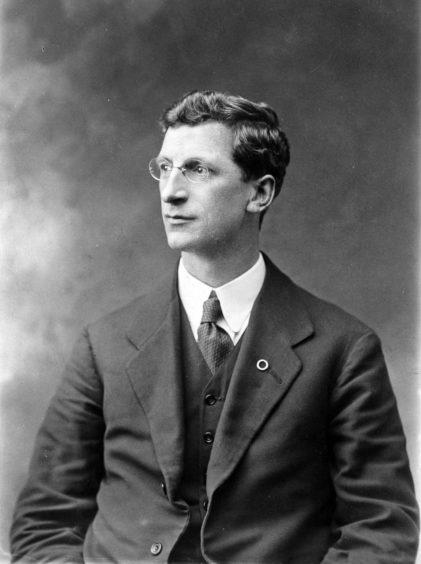 All had grown up with an ever-expanding, ever more glorious Empire; all taught lifelong that Ireland was British. Most regarded the Celtic peoples as their inferiors. And, of course – and with all the cultural baggage, in so many British minds in that era, of treason and superstition, rattling beads, gunpowder plots and Jesuit intrigue – most Irish were Roman Catholics.
But there was scant appetite for sinking more blood and money into the conflict. They wondered, aloud, just how "irrevocable" de Valera was; and agreed what not to concede.
Sir James Craig must indeed be allowed to "sit on Ulster like a rock," the independent south must swear allegiance to the Crown; and Britain must retain untrammelled use of what would soon be known as the Treaty Ports: Berehaven, Queenstown (today, Cóbh) and Lough Swilly.
But should de Valera be invited to an "unconditional" conference, or a conditional one 'on the basis of no separation, no republic'?
It took Cabinet nine drafts finally to find a form of words, seeking clear reply as to whether "Devil-Era," as Churchill would always call him, was "prepared to enter a conference to ascertain how the association of Ireland with the community of nations known as the British Empire can best be reconciled with Irish national aspirations."
This wordsmithery was the "Inverness Formula." And, as Tim Pat Coogan decades later observed, history may usually repeat itself as farce; in Ireland, tragedy repeats itself as tragedy.
Dáil Éireann, the Assembly of Ireland, agreed to negotiate after the Inverness Cabinet's terms – but, fatefully, "that the president would not take part in the conference as a representative."
It was the worst mistake of de Valera's political career – with more than half a century of it still to go. He assuredly knew that there was no chance of preventing partition or of securing a republic; had no intention of sullying himself with a compromise fawning acolytes would see as a sell-out.
Yet he decreed terms that hamstrung Ireland's supposed "plenipotentiaries" from the start and Griffith, Collins and the rest headed to London with no agreed bottom line.
Over these weeks Lloyd George quite outwitted them, finally with midnight threats of a waiting train, a steamed-up destroyer, a message to Belfast and immediate and terrible war…and, at 10 past two in the morning of December 6, the Anglo-Irish Treaty was signed.
"I may have just signed my political death warrant," murmured Viscount Birkenhead, the boozy, High Tory Lord Chancellor. Michael Collins, 31, did not smile. "I have just signed my actual death warrant."
He had: he would be shot, in deepest County Cork, in August 1922, for the crime of grasping that the treaty gave the new Irish Free State "the freedom to achieve freedom." Indeed, by 1939 she had a new, enduring constitution, had recovered the treaty ports and could weather the Second World War in an Allies-inclined neutrality. And, in 1949, she would become a republic.
For now, to de Valera's fury, the treaty was accepted by the Cabinet, by Dáil Éireann and, at the 1922 general election, by the people. Even as he wailed that "the majority have no right to do wrong," events slid wholly from his control.
The wilder elements of the IRA launched a civil war within hours of the Free State's birth; and, though they lost, and fewer than 2,000 died, appalling damage was done to the new state's infrastructure and civil war bitterness lingered into the present century (its last veteran, Dan Keating, died only in 2007).
Lloyd George was toppled by backbench Tories late in 1922, so distrusted he was never allowed office again. De Valera, however, made an extraordinary comeback, dominated Irish politics for decades, entertained President Kennedy, capped his career with two terms as president and survived almost everyone else in this story, dying in August 1975.
It would be 2008 before Cabinet met again beyond Chequers or London. But the questions with which that Inverness outing wrestled 100 years ago – the six counties, the border, frictionless trade over the Irish Sea and, always, the gunmen in the shadows – survived even de Valera. And, a century on, they haunt us still.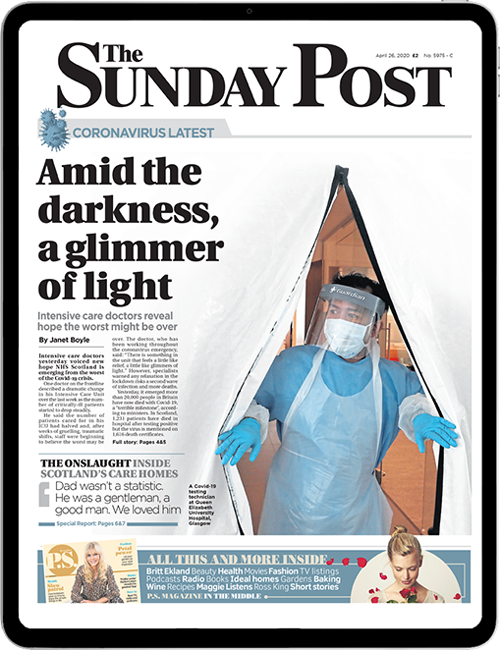 Enjoy the convenience of having The Sunday Post delivered as a digital ePaper straight to your smartphone, tablet or computer.
Subscribe for only £5.49 a month and enjoy all the benefits of the printed paper as a digital replica.
Subscribe